A recent spree of burglaries on Patterson Ave in Pukekohe is inspiring residents to keep a watch out for each other.
Patterson Ave resident Hazel Dales said the street had been targeted on numerous occasions over the last four weeks.
"We have had washing stolen off our line, cars that have been broken into, one woman woke up to a torch shining in her face and another had someone climb in her home through a toilet window."
Ms Dales said these recent incidents had inspired her to start a Neighbourhood Support group, and she had already called a general meeting for her neigbours, with that in mind.
Ex-resident of nearby Princes St Diane Hargreaves said she didn't feel safe in her own home anymore after being burgled.
"I ended up moving house at the start of this year; it just really took its toll. I have always been very trusting by nature but now I have become more wary of people and situations."
Statistics released by the New Zealand Police showed there had been an increase in burglaries on residential properties within Counties Manukau since 2014.
A recent poll conducted on Neighbourly showed 75 per cent of Pukekohe residents believed crime was getting worse over the last few months.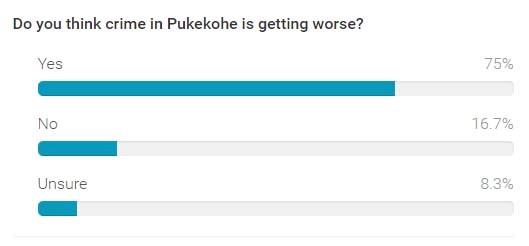 Recent poll conducted on Neighbourly showing the opinions of Pukekohe residents towards crime. Source: Melanie Earley
Pukekohe Community Patrol member Janet Wallington said there had been an influx of new members recently. As well as many streets wanting information on starting their own Neighbourhood Suport groups.
"We currently have around 30 members, and we act as an extra pair of eyes and ears for the police to try and reduce crime. Once a month we attend a Police Partners meeting to view statistics, and we will patrol more in areas that have had recent increases in crime."
Mrs Wallington said it's all about giving back to the community.
"We have day and night patrols almost every day, but we're always ready to welcome new members. The more the merrier."
Franklin Prevention Manager, Inspector Kay Lane agreed that while burglaries were an issue in Pukekohe the main things locals could do was take preventative measures.
"Burglaries are an issue we focus on a lot, and the best thing locals can do is get involved with Neighbourhood Support groups and take preventative actions. Burglary is often a crime of opportunity, so remembering to lock doors and windows as well as adding security lights can help to deter offenders."
Inspector Lane also said residents should write down the serial numbers of any valuable items.