Against all odds, Kiwi shot putter and Olympian Jacko Gill has qualified for the world athletic championships just a year after suffering a life-threatening heart disease.
Gill's Commonwealth Games quest was cut short in December 2017 after he contracted myocarditis, a life-threatening viral disease, which causes inflammation of the heart.
Gill has returned in 2019 in top form, throwing a personal best of 20.71m at the New Zealand Track and Field Championships earlier this month, and now qualifying for the 2019 IAAF World Championships in Doha, Qatar in September.
Gill threw another personal best of 20.76m at the International Track Challenge on March 21 – a distance just eight centimetres short of Tom Walsh, the 2017 World Athletics Championships gold medallist.
Gill says: "I knew that I would be back eventually. I knew I just had to keep the faith. It was just a matter of time.
"It wasn't really too hard to persevere. At one point I wasn't really doing anything and that was kind of hard, but I knew I would be back eventually."
Myocarditis is commonly treated with medications used to treat heart failure. Rest and a low-salt diet are often recommended. Steroids and other medications also may be used to reduce heart inflammation.
Kirsten Hellier, Gill's throwing coach since 2014, says: "I guess you don't really know how you're going to deal with something, especially a life-threatening illness like this, until it actually happens. But I think he's handled it the best way possible.
"He's a very committed, very determined athlete, sets some clear goals around what he wants to do and, I guess, while it was really hard to take an extended period of time away from doing that, the bigger picture was still quite clear."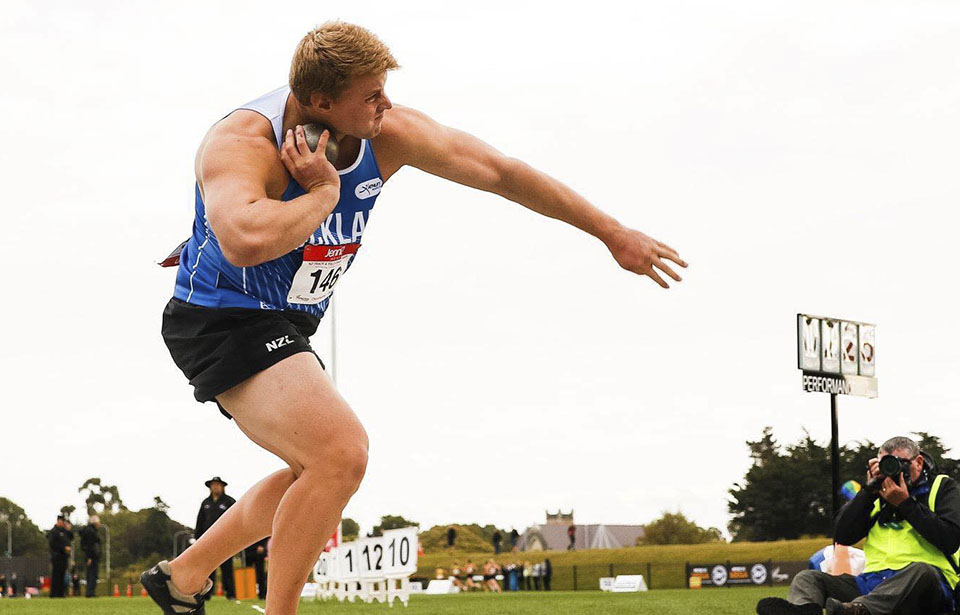 Gill goes for it and qualifies for the world champs. Photo: supplied.
Gill attributes his strong comeback to the "great team" surrounding him.
"I have a great physio for all the injury stuff, I have my recovery weight programmes from a guy in Cambridge, and Kirsten has been there for a long time. Everyone came together and helped me get through it."
Above all, Gill credits his parents. "My parents have helped more than anyone. I think the biggest thing is having a place to stay. I wasn't able to make as much money last year, so just to have their support meant a lot."
Moving forward, Gill says: "I'm focused on doing a lot of athletic stuff again."
A return to basketball is one way he intends to regain fitness and explosiveness.
"I played from eight years old to 15 years old. I was alright. I made the national age group team in my last year playing, then I stopped playing and I think I lost a lot of athleticism.
"Now, I'm playing with my school mates in a local Auckland uni league. That starts in two weeks. I'm really excited for that. We practise twice every week at the YMCA.
"It's really hard on my fitness, so I think it's good for losing weight and training fitness as well."
He promises that once he gets his vertical leap back to 90 centimetres, he will start making more of his infamous "chilli man" videos – exciting news for long-time fans of the athlete, secondary only to the bigger news that he's well and truly beaten myocarditis.