Meme pages could be swinging New Zealand youth's political leanings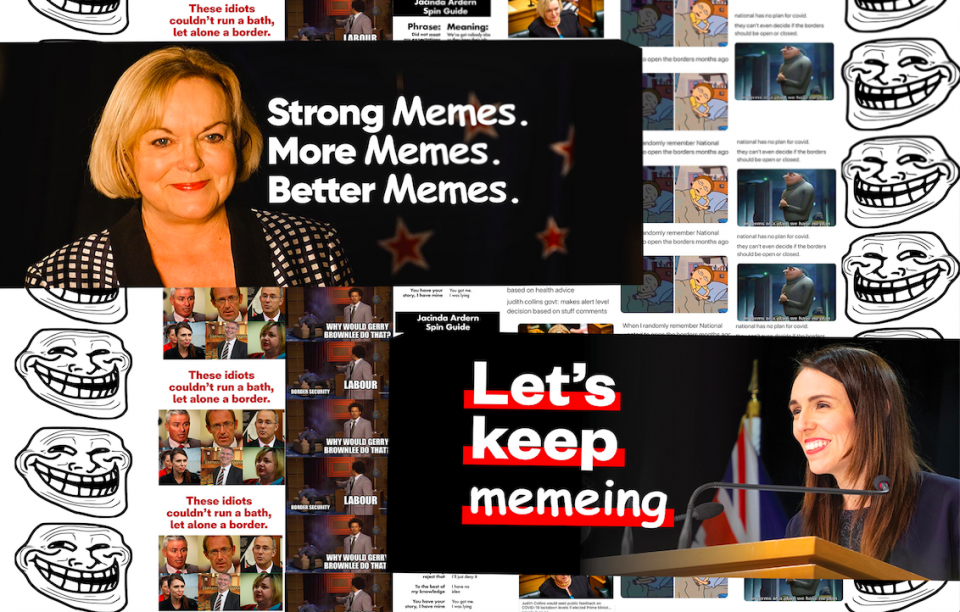 Memes from NZ's most popular meme pages. Created by Tessa Parker
Young swing voters may be influenced by social media meme pages this election with the two most popular Facebook meme pages having a collective following of over 80,000 likes. The pages are independent from political parties, and the administrators use memes to both support and poke-fun in the lead up to the election on October 17.
Victoria University political scientist Mona Krewel says that youth are more likely to be swayed by memes than other voting groups.
"Younger voters are known to more subject to external influences.
"It is not unlikely that young voters without a strong party identification, or only a weak party identification, might be more prone to influences of memes."
Sarah Baker, an AUT communications lecturer, says memes are a form of communication that inject humour into the political conversation.
"Memes in terms of politics allow for satire and cutting commentary. Humour can be used to undermine one party or another, or to reinforce a strength of a politician."
An administrator of the National Party Meme Working Group says the page supports National but is not affiliated to the party. They say humour is used to involve and educate youth about politics to its 21,000 followers.
"We wanted to help increase youth engagement in politics and saw memes as the simple, effective and easy way to explain what is going on.
"We hope our memes will provide young Kiwis with an overview of what our politicians are getting up to in Parliament."
An administrator of Freshly Picked Green Memes, a smaller Green Party-supporting Facebook page with 8,000 followers, says memes are a good way to connect with younger audiences.
"They tend to either reinforce existing biases and views or bring to the fore dormant ones."
"There's absolutely no room for nuance, subtlety or debate in a meme because any fudging on the core message ruins the joke," they said in a direct message.
NZ Swing Voters Against Dogmatic Party Affiliated Memes page with 17,000 followers focusses on non-partisanship, creating general political memes rather than for a particular audience.
The page claims they "hate all parties equally."