A young woman and her daughter have driven thousands of kilometres, in the van that is their home, collecting donated items for other Ihumātao protectors and bringing people on and off the land.
Dani Tollemache has been a long-time protector of the whenua and has lived on site full-time for the past month in her van named Daisy.
"I've been off the land only two nights in the whole time I've been here," she told TWN.
Ms Tollemache and her 6-year-old daughter Lorelei travel round Auckland collecting donated items of use to other protectors, including blankets, building supplies, cooking equipment and clothing.
"I've probably driven around 2000km collecting supplies and bringing people on and off the l'.and when they need to."
Ms Tollemache said she felt responsibility for what "her colonising ancestors have caused".
"For me, it was really important to make it right, so I wanted to stand on the whenua they stood on.
"I'm here to protect the land, and for my daughter. It breaks my heart to know that she might not be able to come here with her children," she said.
She also said protecting Ihumātao wasn't something she planned to stop.
"At the beginning of this year I knew the occupations would start, so this is going to be a lifelong thing for me, to make right what my ancestors did."
She and her friends were also busy creating what they called the "arty witches hut", for which they were currently creating a floor out of placemats.
The hut has a bed, snacks, a fire brazier, and is a place which anyone who needs to get out of the weather or rest in welcome.
Green Party Co-leader Marama Davidson (Ngāti Porou, Te Rarawa and Ngāpuhi) said the community at Ihumātao was an "example of what society needs to be."
Vicki Morehu runs a hot water bottle station at Ihumātao, started from an idea when she was suffering from sciatica one night and couldn't walk, let alone make it out to Ihumātao.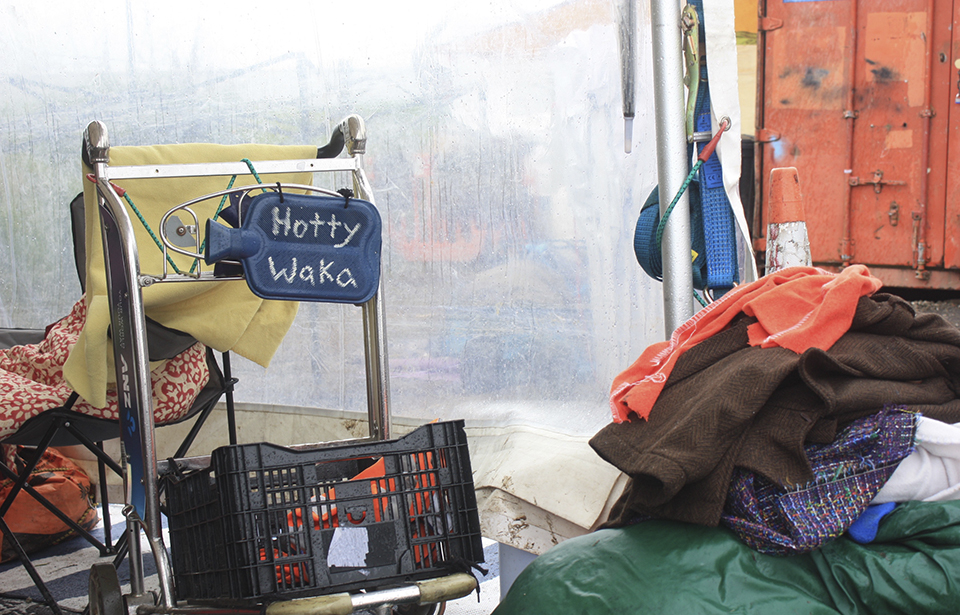 The Hottie Waka delivers warmth to protectors around the clock. Photo: Isabella Durant
"I had hot water bottles all over me and I thought, ahh, we could get hotties out there.
"It took me a few days to figure out how we were gonna do it. We crowd-funded about 150 to 200 second-hand hotties that we got in bulk," she said.
She fills the hot water bottles and delivers them to protectors in her trolley, the "Hottie Waka".
Qiane Matata-Sipu (Te Wai-o-hua, Waikato-Tainui), a mana whenua representative from the Save Our Unique Landscape group said there was real power in people coming together like this.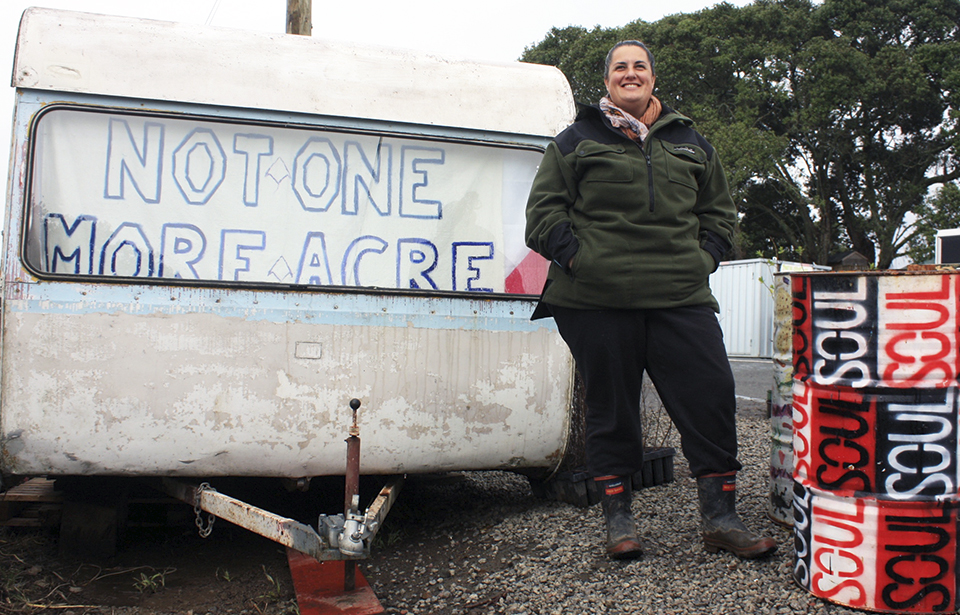 Qiane Matata-Sipu: "When you have a kaupapa that is peaceful, passive, positive protection, you engage the wider community." Photo: Isabella Durant
"In this campaign we have received so much aroha from people who are giving and gifting koha and kai and their presence, all for the whenua," she said.