The community created at Ihumātao sets the bar for society as a whole, says Green Party co-leader Marama Davidson.
With numbers at Ihumātao increasing over the past weeks in response to eviction notices served on occupiers, Ms Davidson (Ngāti Porou, Te Rarawa and Ngāpuhi) said the organic community that had formed, with all its "imperfections and flaws", was "quite simply the best of us, and what I would see as the vision for where we need to be going as a country".
Due to its kaupapa of peace, protection and passive resistance, the community at Ihumātao challenged the hierarchies of normative society, Ms Davidson said.
"It completely negates a lot of the oppressive structures that we have been held hostage to for a long, long time where people are given status, recognition and acknowledgment for things like just having a lot of money. That's it – immediately you are revered and seen as far more superior than someone else."
At Ihumātao, your worth goes beyond material possessions and individual success, Ms Davidson said.
"Actually, your status is based on whether you can revive a dead fire at three am because Marama Davidson, co-leader, smothered it by using dead wood . . . whether you can cook for 300 people at six o'clock in the morning, whether you can fix tents after the storm has blown them away, whether you can garden to provide food for people."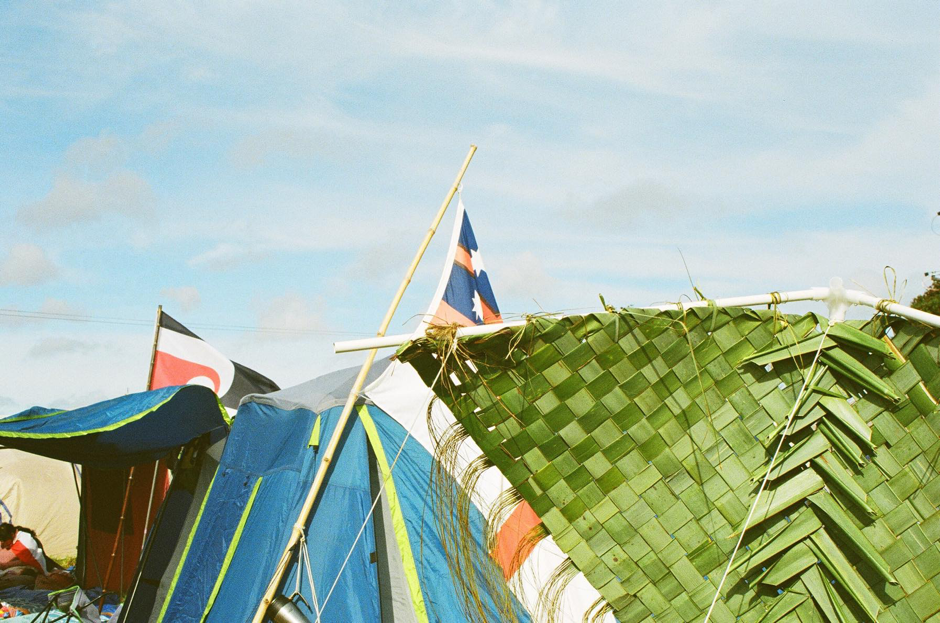 Ihumātao - community in action. Photo: Alice Burton.
Qiane Matata-Sipu (Te Wai-o-hua, Waikato-Tainui), from the group SOUL, which first occupied the land proposed for housing, said the "cycle of koha and aroha" at Ihumātao was how the community functioned.
"Whenever there is a need, people give what is needed for the good of everybody that is there – there's no individual gain."
Student and protector Bella Pollock found this when camping at Ihumātao, saying there was less focus on the individual, and more on how different skillsets could be used to benefit the collective.
"Your usefulness is not in your vocation or how much money you earn. Your usefulness is based on conversations you have with people late at night to keep morale up, or the funny jokes you can tell around the campfire," Ms Pollock said.
Ms Davidson said these sorts of contributions to society had been undervalued for too long, and Ihumātao was a prototype of the sort of communities we need to as part of the solution to wider crises we are facing, such as climate change and inequality.
"This community is a reminder of what's actually required to keep people well and to keep our land well."
Ms Matata-Sipu echoed this. "It's been a really beautiful way to reflect what society should be like. If we focus on protecting our natural resources and keeping each other healthy and safe then we're all good."