Young New Zealand performers are getting to meet their Broadway idols and find their voice under Covid-19 restrictions.
They have been coming together online for workshops with stage stars during lockdown, thanks to Broadway Dreams, a charitable organisation, which organised the sessions aiming to keep their community together.
Patrick Kelly, co-founder and chair of the New Zealand branch, said the initiative was started to keep artists creating and help them to not feel alone or isolated.
"It's all about taking that time and reaching out and connecting in a very authentic way, with people who you are seeing on a Zoom meeting every morning for six weeks, it grows very organically that way," said Mr Kelly.
Students do daily workshops focused on different areas including choreography, acting, singing, and audition skills, all through the video conferencing platform Zoom.
Teaching these were a number of Broadway professionals, including: Kate Rockwell from Mean Girls the Musical, Ryann Redmond from Frozen the Musical, and 11-time Tony award-winner Lin-Manuel Miranda, who wrote and performed in the musical Hamilton.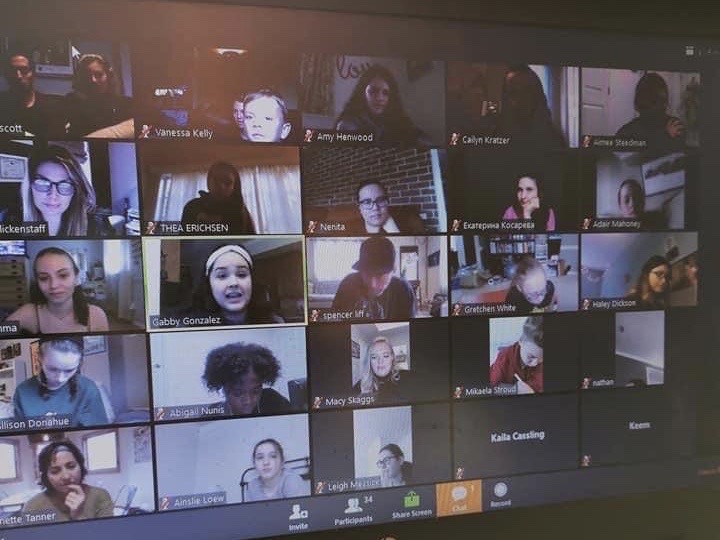 Broadway Dreams students during their Zoom workshop. Photo: Vanessa Kelly
Broadway Dreams student Aimee Steedman, 18, has been involved in musical theatre her whole life and says the workshops have kept her motivated and sane over lockdown.
"It felt good to be able to talk to people, they really gave us a voice".
Miss Steedman met her Broadway idol Taylor Lourderman online through these workshops.
"It was a big deal to meet someone I've always looked up to!"
Mr Kelly said a loss of projects is a common thing in the arts, meaning they adapted easily when it came to this situation. The social distancing restrictions created a new opportunity for Broadway Dreams.
"We are creative, we will always find a way … That's what I love about creatives, we never dwell on the door that's closed, we are always looking for the next door," said Mr Kelly.
Broadway Dreams have since reduced their workshops to be weekly instead of daily.
Click here to hear co-founder and chair of Broadway Dreams Patrick Kelly speak about how he got into musical theatre.