A weekly toi Māori class is using tukutuku and raranga to educate locals and to create wider positive change.
Toi Hono, led by Rangimārie McDowell (Ngāti Hine, Ngāpuhi) at the Onehunga Community Centre, was launched earlier this month and will run until late June.
On its Eventbrite page, the course says it hopes to "create an understanding of Māori culture through art, in a safe and fun space".
While it is open to everyone, students are asked to be open to wānanga about toi Māori, te reo Māori and mātauranga Māori.
McDowell says the class is designed to unite people with their culture, as well as one another.
"Hono means to connect, and that's exactly what the whole kaupapa of the class is - to connect people to Māori culture, to each other and … binding together connections and bonds with each other."
She says she began the course to bring her vision of change to life and to help normalise Māori culture and worldviews.
"It's like that saying, 'Be the change you want to see in the world', so if I had the option to come and learn a traditional art form, then that's what I would wanna [do] … then I was like, 'I'm just gonna do it myself.'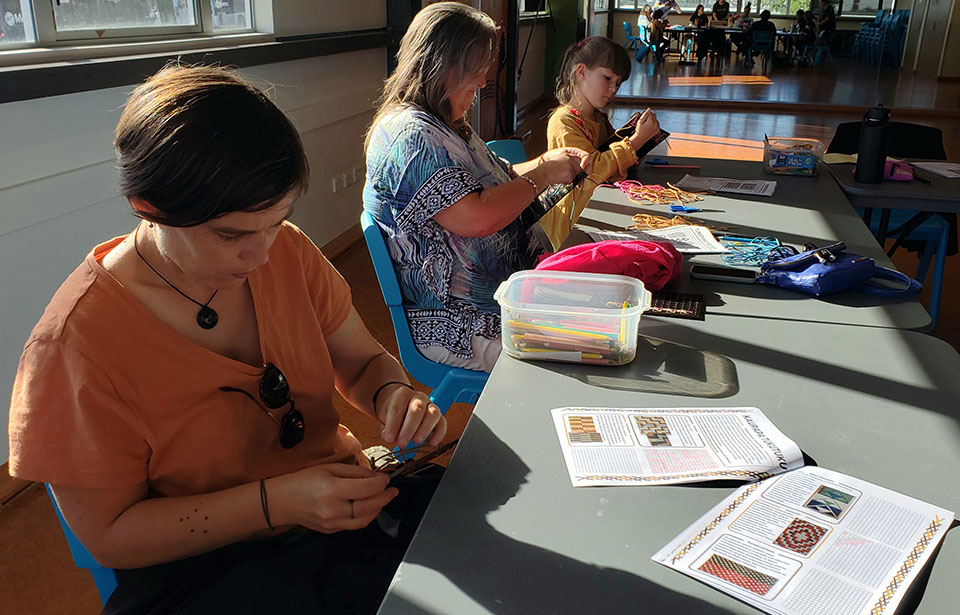 BECK MOYLE (LEFT) FOLLOWS A WEAVING GUIDE FOR A TUKUTUKU PATTERN. PHOTO: DEVIN PIKE.
One of McDowell's students is Beck Moyle [Te Ātiawa] who was inspired to join Toi Hono because of her growing interest in tukutuku.
"I was just interested in how they do [tukutuku] because whenever I go into a whare nui and I see a tukutuku panel, they look really awesome and I've always just wondered how they're done and what they're made of … you don't see classes for that very often.
"There's a lot of basic raranga classes around, but not a tukutuku one."
An experienced harakeke weaver, Moyle says the class is an opportunity for her to connect with both her culture and nature.
"it's kinda connecting to my whakapapa, so I'm learning a lot of reo doing it as well.
"There's like a connection to the plant … you just touch the rau of the harakeke and you can feel the muka … I dunno, there's something real magnetic about it."
While the course is temporary, McDowell plans to continue using tukutuku and raranga in future projects.