Māori creatives call for better representation in theatre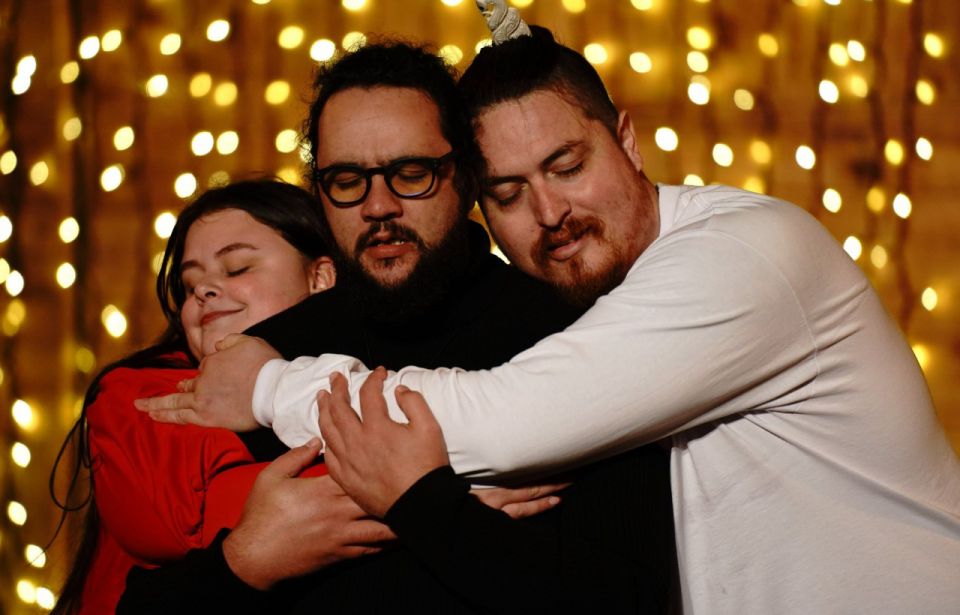 Playwright Mark Wilson (centre) with his two co-stars, Āria Harrison Sparke (left) and Jordan Hōrano Henare (right). Image: Supplied.
Māori creatives are calling for more representation in theatre spaces in Aotearoa.
Chocolate & Carnage, the creative team behind the upcoming show .co.nz, says Māori people and their stories aren't being accurately reflected in Auckland's Theatres.
Playwright and co-producer Mark Wilson (Ngāti Tūwharetoa) says Māori have unique stories to tell.
"I think New Zealand theatre probably needs to give Māori stories more of a chance. I'm tired of seeing the same old stuff in NZ theatres – unfortunately, some of that stuff gets bums on seats. You do your Shakespeare, your Agatha Christie, because 'that's theatre'."
.co.nz explores themes close to his heart, such as cultural belonging, social media and internalised discrimination.
It was inspired by an angry email his co-producer received after signing her correspondence with the Te Reo phrase 'ngā mihi nui'.
"[It is] my love letter to how I feel every day interacting online as a Māori person."
Director and co-producer Meg Andrews says the show is for everyone.
"People from all walks of life could come along and learn without feeling like they were being attacked."
Wilson says that Auckland performance spaces such as Q Theatre and Basement Theatre are at the forefront of progressive performance, but that may not be enough.
"It'd be nice to see the local theatre down the road put on Purapurawhetu or The Pohutukawa Tree."
Performer Āria Harrison-Sparke (Ngāti Raukawa) says there is a lack of representation, but certain places are driving a change.
"I am seeing a lot more happen, especially with locations like Te Pou theatre… trying to really engage Māori stories in spaces. That is happening, but not nearly enough as it should be."
They say there are many ways to uplift Māori in theatre.
"See Māori things. Go engage in it, buy tickets, tell people that it's cool, and then talk about it. Enjoy it."
Performer Jordan Hōrano Henare (Ngāti Whātua Ōrākei) says Māori face additional obstacles when trying to put their stories into performance.
"There are a lot of good initiatives getting Māori stories into theatre, but a lot of the barriers are the natural consequence of being essentially an impoverished demographic. There are not many wealthy Māori and when you're not wealthy, you don't have time to do theatre."
Creative NZ's Te Ha o ngā Toi, a Māori arts initiative, is in place to push Māori led stories into theatre, with a focus on producing and funding.
Wilson says the problem for creatives is a lack of help getting started.
"There seems to be a big push for Māori art… but funding applications are a daunting process and I think the process could be made more accessible."
Chocolate & Carnage have started rehearsals for their 2023 Matariki season of co.nz and are still taking donations on their crowdfunding campaign.