A New Zealand synchronised ice skating will have to pay around $8000 from their own pockets to take part in an international competition.
The gold-winning Black Ice team, based in the Auckland suburb of Botany, dream of participating in the French Cup in 2023.
Sam Snoad, the team's manager, says that New Zealand Ice Skating Association will probably pay for the entry fees, but air fares and accommodation will come from the athletes' pockets.
"We are currently running sausage sizzles, car washes and all things you need to do to raise money, but a lot of the money will be paid by the girls themselves," said Snoad.
"We had a real battle to get where we are now and to even know we can qualify to skate overseas, but we are a minor sport.
"We don't get noticed in the national radar. It's all about soccer, rugby and netball. Synchronised ice skating - no one knows what it is. Every time, we need to explain what we do."
Courtney Wertheim, 19, is part of the team. She said the trip expenses would impact "quite a lot" on her monthly budget.
"I'm just saving as much as I can," said the skater.
Courtney was only nine years old when she started synchronised ice skating and the sport has shaped her life.
She is studying Psychology and Sports Coaching because of her experience with Black Ice team.
"When I first started I was quiet, young and scared of the older girls. But growing up with them was amazing. They are my family," she said.
Participating in an international competition is Courtney's dream.
But to qualify, the team needs to achieve at the New Zealand National Synchronised Ice Skating Competition.
"If we are part of the international A team, we get a bit of funding and some help to travel internationally. [However] if you are part of the B team you get less help [from the New Zealand Ice Skate Association]," said Snoad.
"Realistically, we doubt we will make it into international A because that is quite a high bar."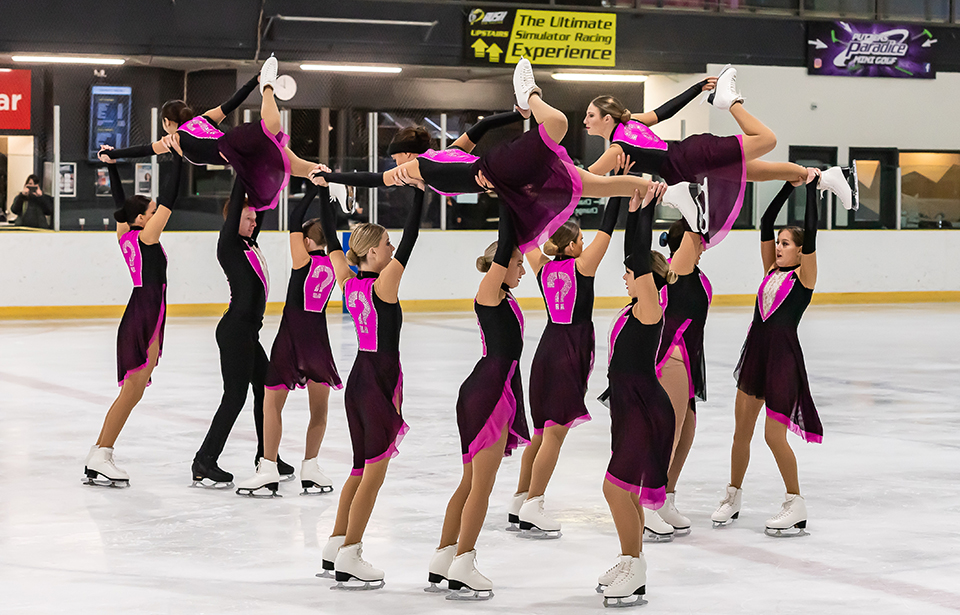 Black Ice athletes will have to pay from their own pockets if they want to compete in Europe. Photo: Travis Gamble
Black Ice history
The team started about 10 years ago under a different name and became Black Ice around six years ago.
It is made up of 15 skaters aged 14 to 24.
Black Ice takes part in all Auckland-based, regional and national competitions.
They've also competed in Australia twice. In 2019, they came back from Australians Nationals with a gold medal.
"[We were] the first team from New Zealand to get a gold medal in the Australian nationals [in the category we were competing]," said the team's manager.
If you are interested in donating to help the team, you can contact the team's manager via their Instagram page or email aucklandsynchro@gmail.com.