An athlete's return from injury was almost ruined after his wheelchair crate was damaged during a Virgin Australia flight.
Jamie Fergus was en route to the Ports of Auckland Round the Bays fun run last week, when the box containing his wheelchair was damaged on his trans-Tasman flight.
The incident meant the wheelchair couldn't be deemed safe to race in.
Fergus, an Australian wheelie, had to quickly find a mechanic with knowledge of racing wheelchairs to ensure he could compete in his first race back after a rotor-cuff injury.
"When I hurt my shoulder I said, "Stuff it I'm still coming," and then my bloody chair got damaged and I thought, really? You can't do this to me."
A Virgin Australia spokesperson says the airline was disappointed to hear that Fergus did not have the experience he was hoping for and will endeavour to cover all costs to do with the damage.
"We're currently investigating how the damage occurred to the box and we will remain in contact with the guest until the matter is resolved."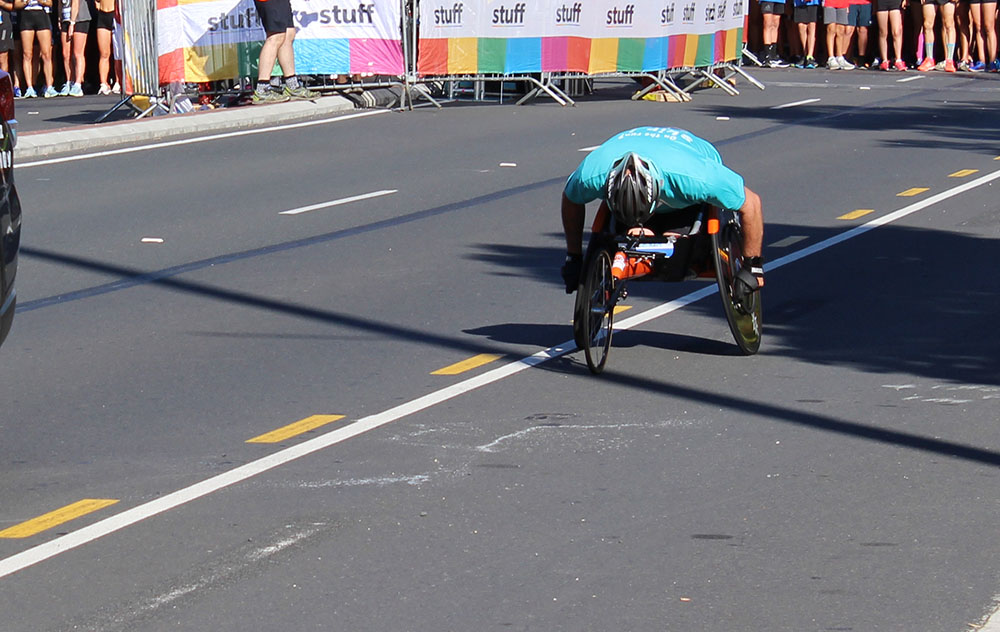 Jamie Fergus starts the Ports of Auckland fun run ahead of the elite runners.
Fergus said that tyre marks on the box showed that his wheelchair had been run over, but Virgin refutes this.
The airline spokesperson said the case highlighted the importance of passengers making sure their packages were boxed appropriately.
However, Fergus says his box was specially made to keep the chair safe.
"The box was made by a company that over-engineered it. I thought it was going to be safe because it had big strips of wood right through it.
"It was an amazing box and they destroyed it."
On the recommendation of his partner, Fergus approached JollyBikes Cycle Adventures in Thames on the Friday before the Round the Bays event.
JollyBike's director, Luen Wong, said Fergus came in concerned about the wheelchair's frame and one of their mechanics was able to fix, and stress test it in time.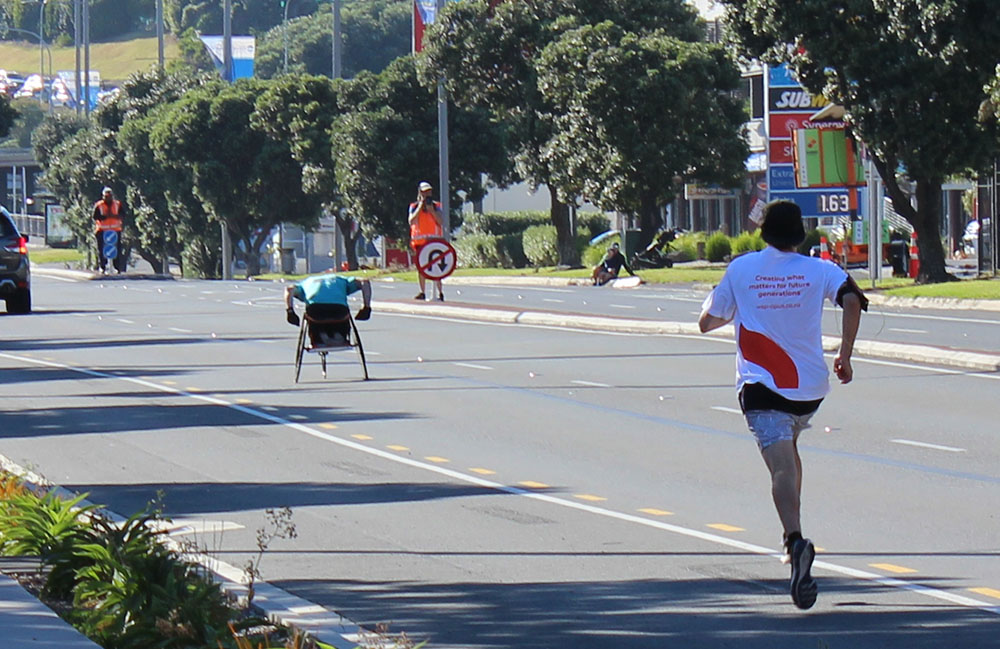 Jamie Fergus gets into his work. Photo: Hannah Kronast.
While he was frustrated with the handling of his wheelchair, Fergus says he is just grateful he was able to compete in the Round the Bays event, which was part of his preparation for the New York City Marathon.
"New York's the big one for me. They only take 70 wheelies – the 40 fastest wheelies in the world on times and then they take 30 on [their] stories. So, I got in on a story . . . and because I'm defence force. The the Americans really like the defence force thing."
This year's Ports of Auckland Round the Bays event attracted 29,600 participants, the largest number ever.