FIFA Women's World Cup brings pitch upgrade, fans and inspiration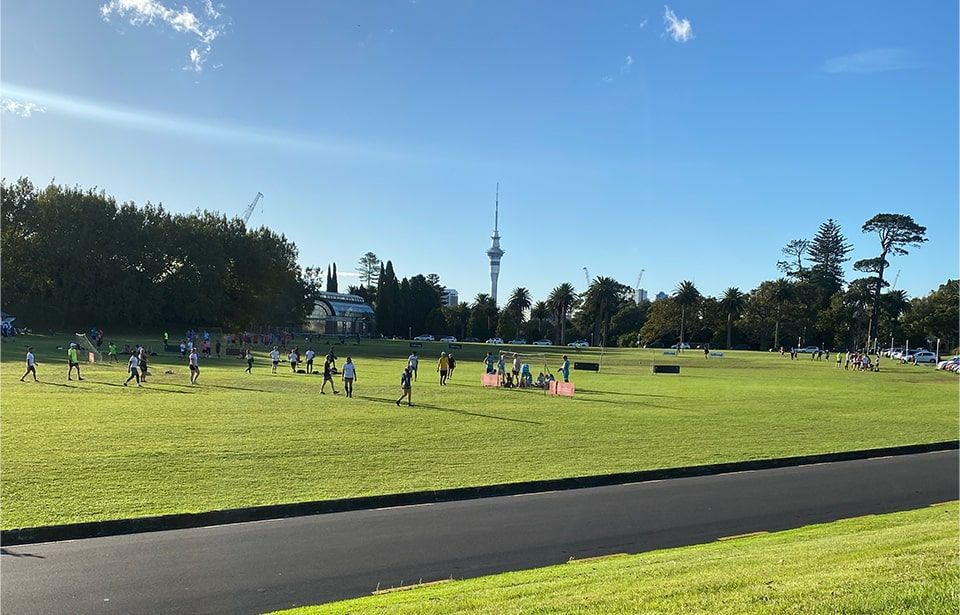 Football game takes place at a freshly laid out pitch upgraded for the World Cup. Photo: Daniel Dmello.
The FIFA Women's World Cup is bringing significant improvements to New Zealand football grounds to meet the standards for the July tournament.
New Zealand is hosting 16 different nations including teams from the USA, Argentina and Portugal for the event.
The World Cup is set to bring in fans from around the world, with former All-White player Fred de Jong saying that over 25,000 fans are expected to come from the US alone.
"Typically, the football crowds overseas are much more expressive than the crowds we normally get to big events, and I think this will be very colourful."
De Jong is currently director of football at Auckland-based club Ellerslie AFC which has upgraded its facilities for the World Cup.
"They've upgraded one of our grass pitches, the one in front of our new clubrooms as that's going to be the training venue for the Argentina team and that needs to be at a FIFA training standard, so that's been completely renovated."
The New Zealand Government is investing $19 million in the improvement of facilities ahead of the World Cup, and de Jong believes that could make football a more attractive sport for aspiring Kiwi players.
"People will come down and see that this is what a top-level pitch looks like because most people don't really see that at their local ground, they'll see that these are what top-level or what FIFA-level pitches look like and that raises the bar."
Auckland University of Technology (AUT) Women's Footballer Faaizah Begum says that the pitch improvements make her more passionate about the sport.
"I think with the whole quality of the grounds changing and upgrading, I think it definitely inspires me seeing that people are taking football more seriously."
The World Cup is also a chance for fans to see female players at the highest level of the sport for the first time, and Begum says that is a huge motivator going forward.
"I think for other women in football it definitely motivates us to push on and try to reach those kinds of levels," she says.
The FIFA Women's World Cup kicks off on July 20, 2023, with New Zealand facing Norway in the opening game at a sold-out Eden Park.