AUT alumnus and gold-winning Paralympian Cameron Leslie says his priorities have changed since becoming a dad.
Tokyo will be Leslie's fourth time competing at the Paralympics. The three-time gold medalist says he hopes to reach the podium twice at the same games, something he has yet to achieve.
At the 2008, 2012 and 2016 Paralympic Games, Leslie won gold and set a world record in the Men's 150m Individual Medley.
Leslie will represent New Zealand in both swimming and wheelchair rugby at the postponed 2020 games.
He will be the first New Zealand Paralympian since 1988 to compete across two para sports.
But Leslie, who completed a Bachelor of Communication Studies at AUT and has worked as a sports journalist, says his motivation has changed as he has got older. At 31, you "pride yourself on different things", he says.
Age isn't such a defining factor for Paralympians, so having family and so very human goals is important, he says.
Both the swim team and the Wheel Blacks have welcomed Leslie's family into their environments.
His focus for the 2020 games was to compete in front of his fiancé and two-year-old son. He says they had all their tickets booked and it was almost happening.
But the Paralympics was postponed thanks to the global pandemic and are now set to take place from August 24 to September 5.
The Paralympics will look different this year. Leslie says playbooks are being announced by the IOC on how the games will run, which is something athletes have never had to focus on before.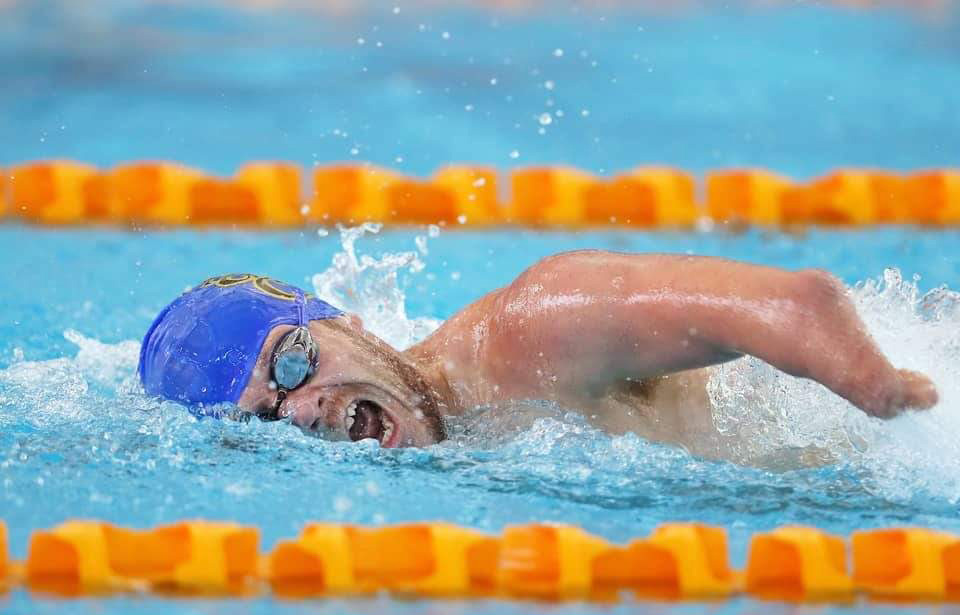 Multiple medal winner Cameron Leslie. Photo: supplied
The on-again, off-again nature of Covid-19 has disrupted a lot of their preparation, he says.
Despite wishing he could have competed a year ago, Leslie is always looking for the positives.
"It is just another opportunity to train longer," he says.
Leslie has seven training sessions a week, five swims and two in the gym. He also has multiple mini training camps in the lead up to the Paralympics.
Leslie, NZ Paralympian #164, has a quadruple limb deficiency and is a big fan of promoting younger athletes with disabilities
"It is so important for people to know what people with disabilities can achieve," he says.
Also overcoming physical and social barriers meant they have gone through different challenges to the Olympians, he says.
The Paralympics is one of the largest events that promotes social inclusion.
The Olympic and Paralympic Games will be held in 2021 due to the global covid-19 pandemic but will keep the Tokyo 2020 tag.