Australian yachtswoman Lisa Blair made history last month, becoming the first woman to circumnavigate Antarctica below a latitude of 45 degrees with only one stop.
After spending 104 days on the ocean on her 15m yacht Climate Action Now, battling snow storms, sea sickness and a dismasting, she has cruised into the record books, finishing an epic journey.
The official time record for her ocean odyssey was 184 days, including eight weeks off the water in Cape Town, South Africa, to repair her boat after it was dismasted 895 nautical miles off the Cape of Good Hope in April.
Blair was the recipient of the 2017 Australian Geographic Society Nancy Bird Walton Sponsorship, which supports ground-breaking projects led by women and made the trip possible.
While she had been on boats during her childhood because her mother was a sailor, it wasn't until she was in her early 20s when she secured a job as cook and cleaner on a charter yacht in the Whitsundays that her love for the sport took off.
"I simply couldn't get enough of it and asked a million and one questions until I learnt to sail," she told TWN.

"The most challenging part of the record for me was getting to the start line.
"No one really thinks about all the time and effort to getting there but it took me three and a half years to raise the money and get to the start. I was also challenged again once my mast snapped in rough conditions more than 1000 nautical miles from land.
"I ended up fighting for four hours to save the boat and my life in freezing conditions, and it was another eight days before I was able to make landfall.
"I was in a life-or-death situation and was quite depressed that all the hard work and effort for this world record had come crashing down in seconds.
"But once I realised that I was able to repair the vessel in Cape Town and re-start the record [attempt], that again became my sole focus."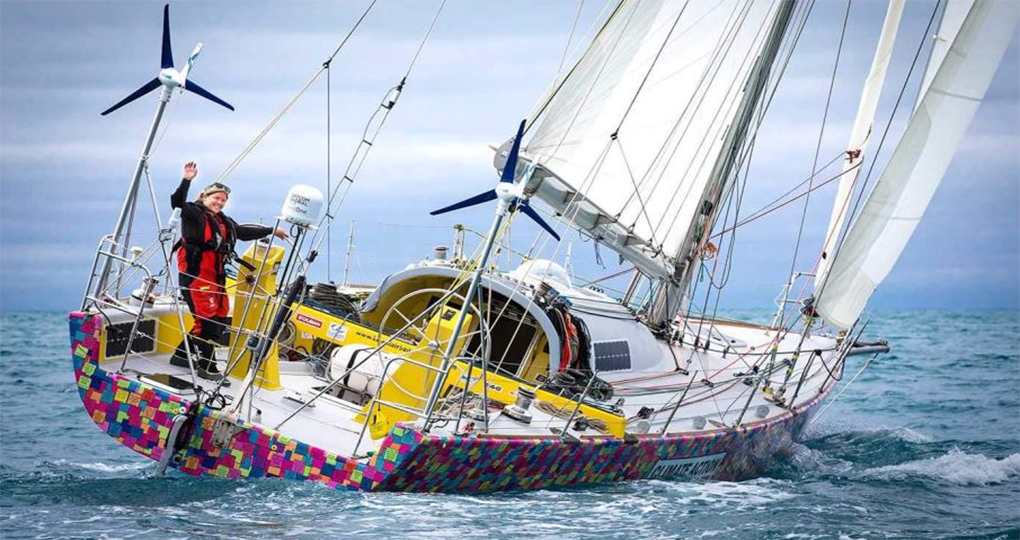 Lisa Blair on Climate Action Now. Photo: supplied
The only time Blair ever considered giving up was after she had re-started from Cape Town and was trying to sail south back to the position of the dismasting.
She had been at sea for five days, battling very bad conditions, she was seasick and had a head cold. After being pushed back by storm after storm, she was still only 150nm from Cape Town. She was very close to giving in but didn't.
Dick Smith, iconic Australian adventurer has been sponsoring such events for more 30 years and donated AU$75,000 toward Blair's trip.
"This solo circumnavigation record in a sailboat of Antarctica has only been beaten by a man in 2008, Fyodor Konyukhov, taking 102 days in total, so this is a huge achievement for a woman.
"I have sponsored many sailors before including a few who have died at sea.
"I met Lisa over a year ago at a boat show in Sydney. I knew Lisa's trip was highly risky but I also knew she was highly responsible.
"In fact you are more likely to die in a car accident than at sea," said Mr Smith.
Jeff Jauncey is Blair's onshore manager and a long-time ocean skipper. He puts the paper charts together and monitors the course speed.
"The hardest part was undoubtedly the demasting and the refuelling of the ship 900nm south of Cape Town but Lisa came through it all with flying colours.
"We also put over 1000 plastic containers of water in the hull so if she hit an iceberg she would still float," said Mr Jauncey.
In her spare time Blair works on yachts and ferries in Sydney harbour and teaches sailing.

While, adventure sailing is still a real passion for her and she has lots of ideas for her next trip, she hasn't locked in anything just yet.
To follow Blair;'s adventures, read her blog here.