Youth issues tackled at Auckland mayoral debate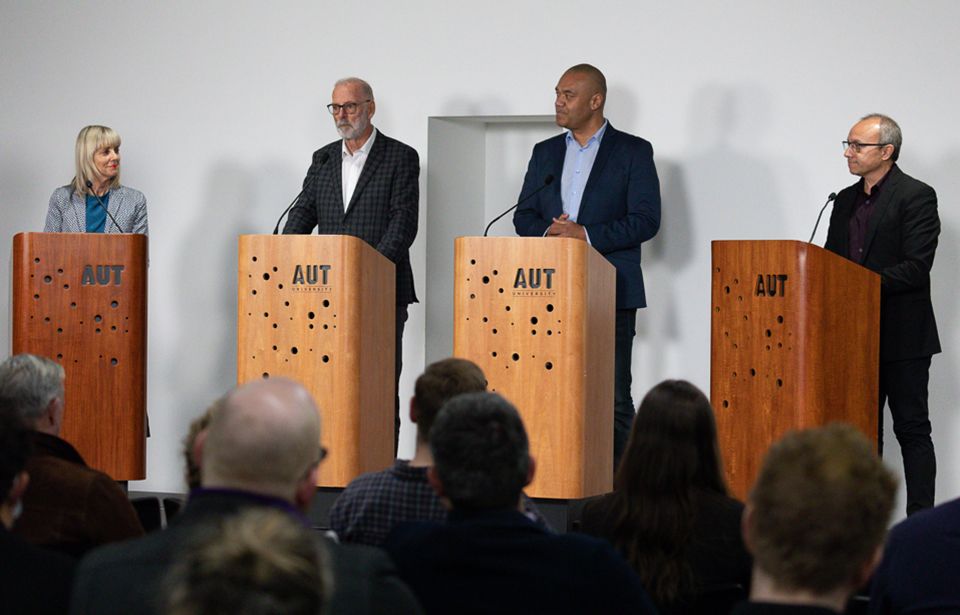 Only one will be the mayor of Auckland. From left to right: Viv Beck, Wayne Brown, Efeso Collins, Craig Lord. Photo: Alex Cairns
The four leading candidates for the Auckland mayoralty were pressed on youth issues in a debate last night at AUT's City Campus.
Stuff journalist Todd Niall oversaw a 45-minute affair between Efeso Collins, Viv Beck, Wayne Brown and Craig Lord.
He started off the night by asking, "Why should you be mayor?"
Heart of the City director Viv Beck said congestion, emissions, crime, and the transport network were at the top of her list.
Wayne Brown said we need to fix Auckland, finish projects, and get the cones off the streets.
Efeso Collins said he wanted to create a "just and sustainable city" for his daughters.
Craig Lord replied: "I'm not a politician. Politicians create problems."
Towards the end of the debate, the attention turned to youth issues.
A recent article by The Spinoff showed in 2016, those aged 18 to 24 were about half as likely to vote in local elections as those who were over 65.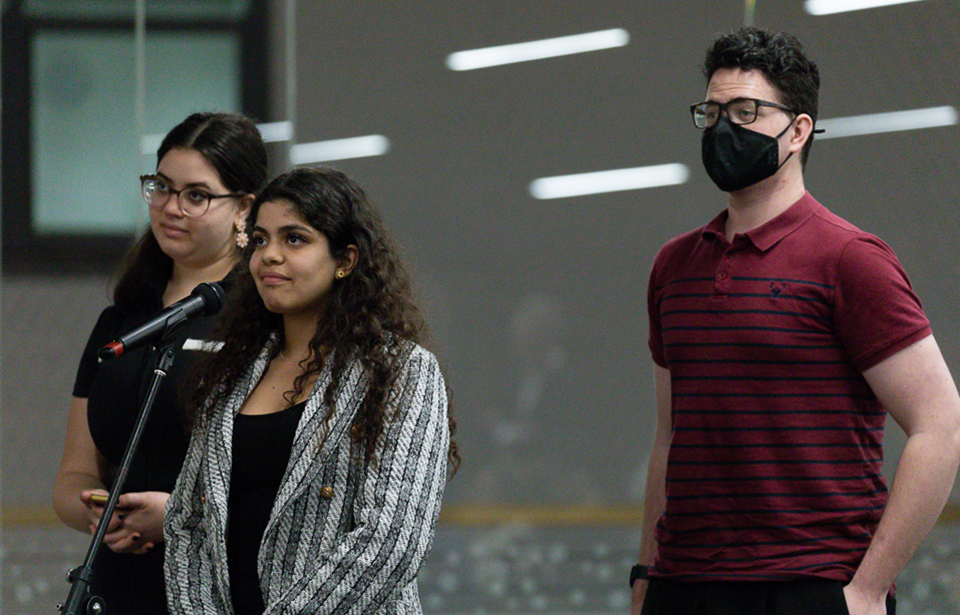 Student representatives got to ask candidates how the youth voice would be heard under their mayoralty. Pictured are Zina Abu Ali, Vice President – Community (left), Sara Youssef, President (centre), Maccauley Cunningham, Vice President- Academic. Photo: Alex Cairns
AUTSA President Sara Youseff asked how young voters would be heard under a new mayoralty.
Craig Lord said he wanted to use the local-board and the advisory-panel systems better.

"The mayor can't sit in the ivory tower and hear from everybody. We have to use the progressive chain of information coming up."
Collins pointed to his youth policy. "It looks at how we can widen the impact of the youth governing boards, and how young people can have a seat at the table rather than just giving feedback."
Niall had to push Brown several times into saying there should be a youth representative to whom he would talk about issues facing young people.
Beck said she concerned there were groups across the region which felt they are were not being listened to.
According to Elections New Zealand, only 65 per cent of 18- to 24-year-olds were enrolled to vote. Compared to 98 percent of 60- to 70-year-olds.
AUTSA community vice president Zina Abu Ali asked the candidates what they thought were biggest issues facing young people and what they planned to do to address them.
Beck said they were safety, accessibility and affordable housing.
Collins said climate change, housing, and fares free public transport.
Brown said he would like to bridge the age gap and come in and talk to young business groups, and have other older groups come in and mentor them as well.
"You don't just speak to them, but you receive information as well."
Lord said he couldn't assume anything, but he guessed the cost of living crisis.
This year's race has been one of the closest Auckland has faced since the creation of the supercity.
Associate professor of politics at Massey University Dr Grant Duncan says, "That's good from the point of view of it not being a foregone conclusion, voters have a real choice and close elections improve turnout."