Auckland's Sudanese community are calling for Government action to provide urgent pathways for people affected by the recent conflict.

Conflict between the Sudanese army and paramilitary group, Rapid Support Forces, had been brewing for several weeks before violence broke out on April 15.
The violence has ended hopes for a peaceful transition to civilian rule.
This has resulted in hundreds of deaths and countless more injuries, with 100,000 Sudanese refugees fleeing abroad.
During a rally at Aotea Square in Auckland, speaker Rahman Bashir called on politicians to push for similar urgency and treatment as they did with the Ukrainian crisis.
"There are many valid struggles around the world, but we see the inequality of how these struggles are acknowledged, we've seen the rapid movement from the Government in their acknowledgement of the Ukrainian crisis, but we also ask for equality in the discretion of Government in acknowledging us [the Sudanese community]" says Bashir.
WATCH: 'Rally for Sudan' speakers call for action to support those affected by the recent conflict.
University of Auckland students Omer Abdelrazig, Marwan Bashir and Sarah Rabah are acutely aware of the crisis in Sudan, with all having family and friends still in the country.
To them, this conflict is "heart-breaking".
"It's awful, as you are far away from your family, you see the gunfire, the explosions... you just feel so helpless," says Rabah.
Rabah wants the Government to be aware of this situation and "help those who can't get out — especially my father". Rabah's father is a New Zealand permanent resident who is currently stuck in the country's capital Khartoum where the heaviest fighting is taking place.
For Bashir this ongoing war has led to a "feeling of much pain".
"Recently I've been in Sudan in a time of peace, and now I see my family fearing for their lives — its distressing."
Abdelrazig calls for the wider public to become aware of the situation and look out for people from Sudan in their community.
"We saw a great response to other conflicts by Kiwis, showing solidarity and support, we want the same towards the conflict in Sudan."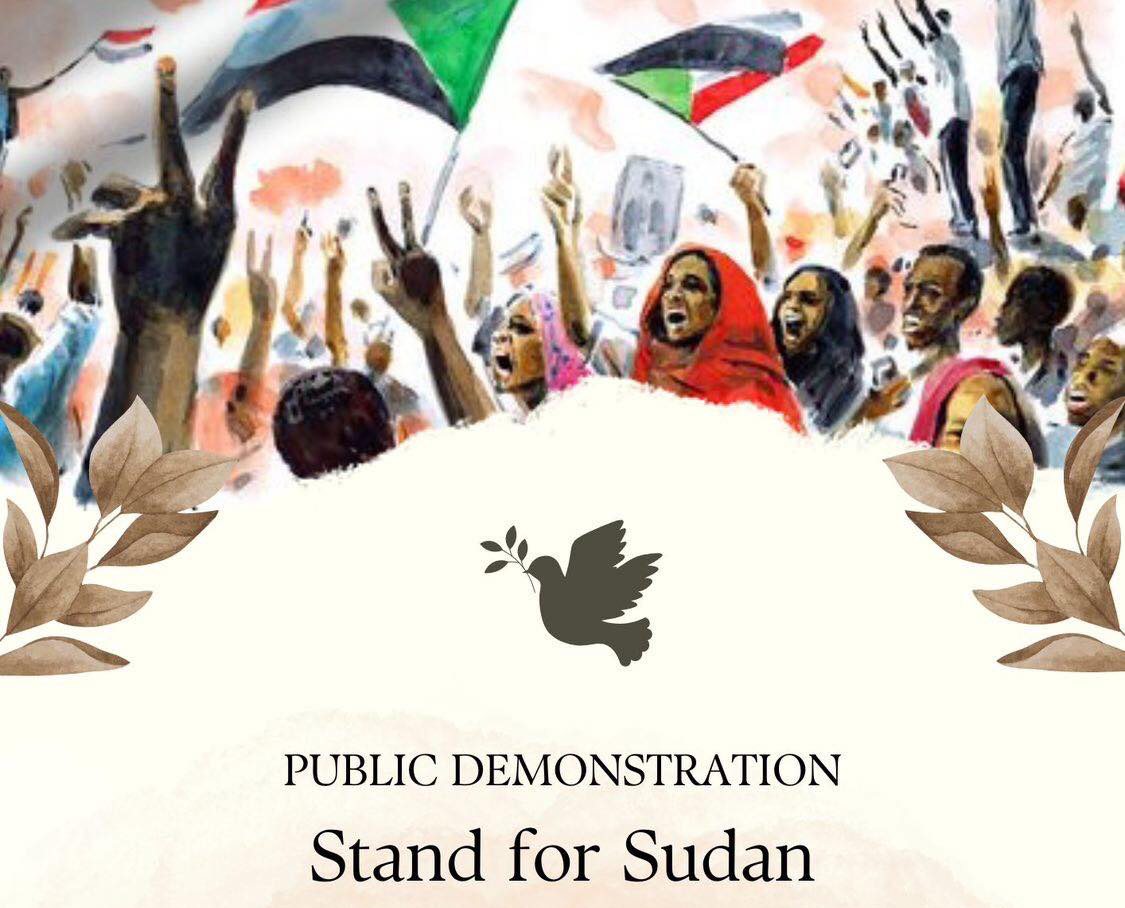 A poster of the upcoming 'Stand with Sudan' event occurring this weekend. Image: Supplied.
Sudanese people living in Auckland are holding a special 'Stand with Sudan' event on May 14.
The event will take place at Te Komititanga Square at 1pm.
A spokesperson for the Auckland Sudanese community, Dr Ala Farah, says the purpose of these events is not only to raise awareness of the conflict but also solidarity.
"The Sudanese diaspora are going through a difficult time and any show of support or solidarity would be absolutely heart-warming."
Farah encourages all, if possible, to attend to the event to show support for those here in Auckland and in Sudan.
"All are welcome to attend, and we would love to have the support of our Kiwi family."
More information on the event and how to donate to the Sudanese society, which is helping those in the country, can be found on the Sudan NZ Facebook page.