Lack of rental policies underwhelms young renters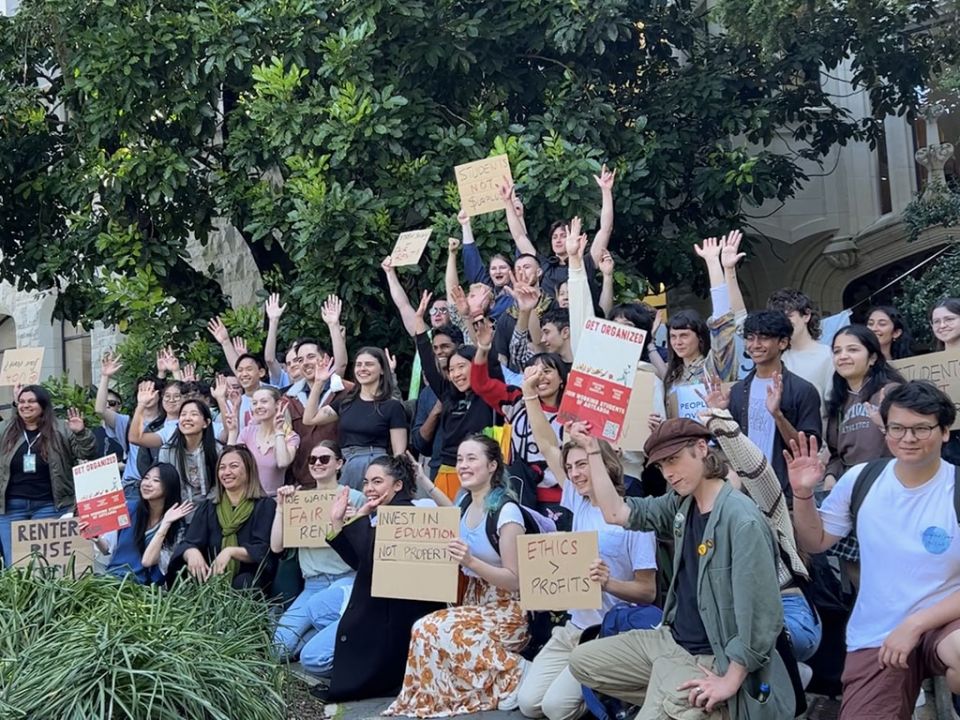 Politicians join with students advocating for more affordable rentals. Photo: Evie Richardson
Auckland Central candidates joined a student-led rally to hear their concerns about the rising cost of rent, which they say is impacting their studies.
The rally, organised by Students for Fair Rent (SFR), wants the next government to address universities' increasing rents, which they say are unfair as students are already struggling with the cost of living crisis.
Currently in New Zealand there are no government regulations that specifically address the cost of student accommodation.
The newest pricing for Waipararu, a University of Auckland hall, is $510 per week which equates to 25 hours of minimum wage work.
The rally at the University of Auckland was joined by National's Mahesh Muralidhar, Labour's Oscar Sims, Green Party's Marama Davidson, James Shaw and Chloe Swarbrick, and TOP's candidate for Epsom, Dr. Nina Su.
Despite renters making up a third of the population, National and Labour both lack a specific policy aimed at renters and make no mention of renters' rights. The ACT party goes one step further, believing that current policies to protect renters are the cause of increased rent.
The Green Party is in the minority being the only party with a specific rental policy. The policy outlines six key promises to renters, including stricter rent control and a rental 'warrant of fitness'.
SFR chair Matthew Lee says it's disappointing to hear the two major parties lack a rental policy.
"All political parties need to do more. They can do it, they should do it, it's a matter of actually doing it."
Current rental policies from National and ACT want to give more freedom to landlords and reduce regulations and policies implemented by Labour, which they say are 'anti-landlord'.
The new policies would include reinstating mortgage interest deductibility and reduce the Brightline test from ten to just two years, with ACT wanting to remove it completely.
Labour has ruled out a rent control policy to help renters. Meanwhile, the Green party, a potential coalition partner of Labour, is promising voters rent control if elected.
Currently, a quarter of renters spend more than 40 per cent of their income on housing costs, 10 per cent above the affordable level, yet both major parties are not considering implementing rent control.
Student renter AJ Rollinson-Jackson says she shouldn't have to spend so much time being stressed about money.
"I think it's unreasonable, I'm working 25 hours a week and I have a student loan, yet I'm still spending 50% of my income on accommodation."
The young renters at the rally felt it's important their voices are heard this election in order to force the change that is necessary for a future of fair rental policies.
Further information about the Students For Fair Rent campaign and petition can be found at https://sfr.org.nz/.