Will Jacinda Ardern's honeymoon with voters last long enough for Labour to win the election?
That's a question being pondered by political marketing expert Dr Edward Elder, who argues political phenomena that burn brightly can burn themselves out quickly.
Labour is currently riding a wave, as shown by the latest RNZ poll of polls which had the party up 11.5 percent in the space of a month to 35.5 percent.
Jacinda Ardern was made leader on August 1, and has since drawn large crowds to events, including the party's campaign launch at the Auckland Town Hall on August 20.
Dr Elder said with so much coverage of Ardern at the moment, voters may become turned off.
"People get sick of politicians, and there can be backlash – just like with any consumer product, if they have too much of them too quickly. It could be a case of Jacinda Ardern becoming overexposed."
He said most political leaders struggled to maintain popularity when they moved from campaigning to governing, citing the plummeting popularity of Emmanuel Macron in France as an example.
However, with the election so soon after Ardern took the leadership, her political honeymoon might help carry Labour into government, he said.
"The positive for Labour is that the renewal has come at a time when people are actually paying attention to politics.
"That said, with so much attention on politics during the campaign, a slip will be magnified tenfold."
Supporters and activists at the Auckland Town Hall campaign launch were upbeat about Labour's chances.
Attendee Michael Robinson said Ardern could "send a message well in a way that people respond to".
And swing voter Belinda Nash said she was planning to have voted Green with her party vote while Andrew Little was Labour leader, but now Ardern was in the top job she would get her vote.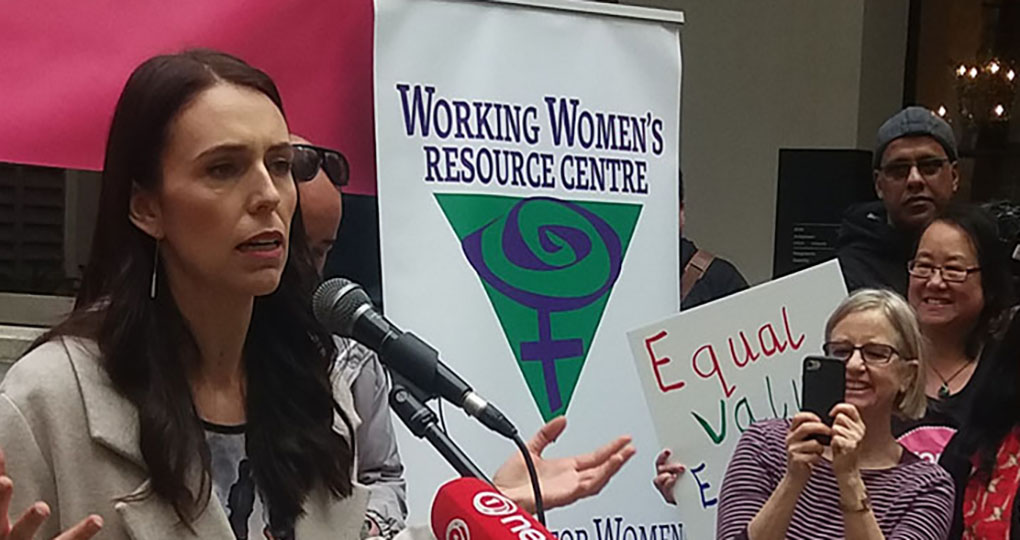 Jacinda Ardern speaks at a recent pay-equity march in Auckland. Photo: Alex Braae