Thousands have been killed in battles along ethnic lines in Ethiopia, pushing the New Zealand Ethiopian community to call on the Government here for some concrete action.
A petition by the New Zealand Ethiopian community calling for New Zealand to publicly condemn ethnic-based atrocities in their motherland was submitted to Hutt South MP Ginny Anderson at Parliament on Tuesday.
Turmoil in Ethiopia has hit a peak in recent months.
Civil war between the Government-backed Ethiopian National Defence Force (ENDF) and partnering forces, primarily Amhara, exploded after the Tigray region's ruling party, the Tigray People's Liberation Front (TPLF) attacked in a show of "pre-emptive self-defence".
There has also been rising number of incidents of ethnicity-driven civilian killings in Oromiya, in an extension of ethnic warfare.
The New Zealand Ethiopian community hopes to remedy this by bringing "awareness of the crisis", says spokesperson and petition organiser Degu Geddebo.
"I am hopeful that if enough people like us, in other countries, speak up, that the right people will start listening."
When asked for comment the Ministry of Foreign Affairs said in a statement: "The New Zealand Government strongly condemns violations of human rights and humanitarian law in Ethiopia and calls for all parties to immediately cease the use of violence."
According to Mr Geddebo, the condemnation doesn't go far enough.
His assertion is backed by former Prime Miniser Helen Clark in a World Peace Organisation report detailing the "human tragedy" occurring in the region.
"The international community must respond quickly and effectively now to save many hundreds of thousands of lives," she said.
Mr Geddebo called for Government to more firmly urge the Ethiopian Government to stem the tide of violence.
The New Zealand Foreign Minister, Nanaia Mahuta, called out the escalating violence in the Tigray region on Twitter: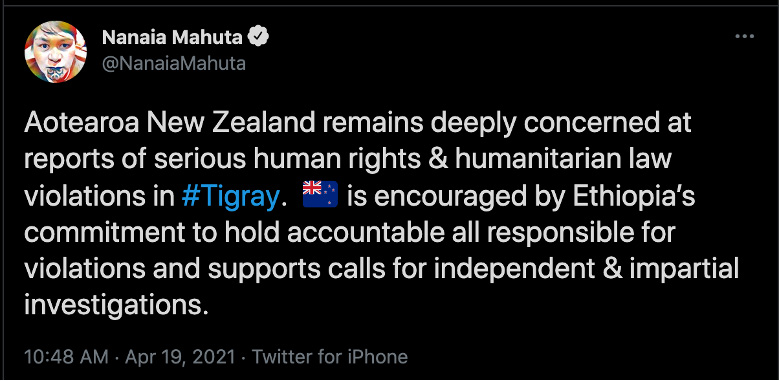 Foreign Minister Nanaia Mahuta's public announcement on the situation in Ethiopia.
However, the situation in Ethiopia extends further than just Tigray and the petition focuses on conflicts in the central Oromiya region,
Asked why no formal statement has been made by MFAT, a ministry spokesperson said:
"The Minister uses a variety of channels to express her views on issues, including social media, which is an effective platform that has significant global reach."
Officials across the globe have moved to make formal condemnations on the Ethiopian crisis.
The Biden administration, have voiced concern over the "deteriorating" humanitarian situation in the country.
The USA has put forward US$305 million to date in response to the crisis. This includes medical care, emergency food, support for victims, and temporary shelter.
The New Zealand Government has committed $1.5 million to the Red Cross.
Ethiopia has long experienced conflict among ethnic lines. However, the advent of a democratically elected government provided hope the violence would be stemmed under a united power.
Mr Geddebo says the country needs as much support as it can get.
"We must all realise that no matter how far away human rights abuses are happening, they are an offence to all people because we are all human and if we all voice our concerns together, it will make a difference."