A key two-person race in the upcoming Auckland Council elections is being contested by a candidate refusing to elaborate on what she stands for.
Faith Aaron is standing for the Ōrākei councillor's position, taking on sitting councillor Desley Simpson.
She is also standing for the Ōrākei Local Board.
Aaron has provided very little information about herself to voters.
However, Te Waha Nui understands it is the same Faith-Joy Aaron who ran for the Epsom electorate in the 2020 general election, standing for the Advance New Zealand party.
TWN has made multiple attempts to contact Aaron by phone, email and social media.
We have only been told: "She is very, very busy."
Her candidate statement says she is a qualified teacher with a social-justice background.
"My focus in Ōrākei will be on small businesses to increase their resilience during hard times; the protection of land, housing, forests, parks and waterways in the area," she says.
However, Aaron's Facebook page features multiple anti-vaccination and conspiracy theory posts.
In November 2021, she shared a video which features the lines, "The only way to have your freedom is by not taking these injections," and, "This pandemic will only last as long as you decide to play along."
In October 2021, she shared an anti-vax image from fringe-conspiracy website We Are Change.
In the same month, she shared the banned film Planet Lockdownwhich parrots Covid-19 falsehoods such as the vaccines contain an operating system, and can change your DNA.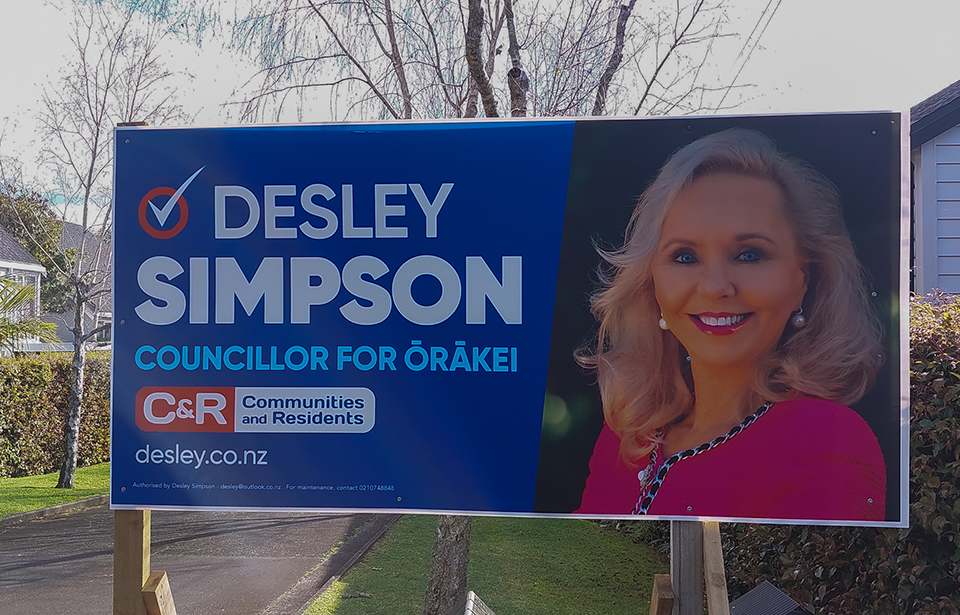 A Desley Simpson billboard in the Orakei ward. Photo: David Williams
Current councillor for the Ōrākei Ward Desley Simpson says she has not heard anything from Aaron.
"She didn't turn up to the Parnell meet the candidates, and she didn't turn up at the Ōrākei Residents Association," Simpson says.
"It is a pity if someone puts their name up that they are not willing to front up and talk to the community about why they are standing."
Simpson says that if you're putting your hand up for this job, people need to be able to meet you, message you, and contact you.
Advance NZ was an umbrella movement of four different conspiracy parties: Reset NZ, Direct Democracy New Zealand, New Zealand People's Party, and the New Zealand Public Party.
Former National party MP Jami Lee-Ross and known conspiracy theorist Billy Te Kahika were leaders of the party
Advance NZ received 28,429 votes, or just under one per cent of the vote in the 2020 election.
It was deregistered as a party in August 2021.