Hundreds gather for fundraising walks for Motor Neurone Disease awareness. Photo: Supplied


A doctor at the forefront of motor neurone disease (MND) research says current studies have exciting implications for identifying cause and treatments for the debilitating ailment. Dr Emma Scotter is leading a team at the Centre for Brain Research at the University of Auckland School of Medicine, working on the first study of MND genetics in New Zealand. The team is studying tissue from patient's brains and spinal cords donated to the centre and the department of anatomy to screen for mutations in genes that may lead to neuron death.

"Neurodegenerative diseases are becoming more prevalent as our society lives longer, but there are currently no drugs to cure these diseases," Dr Scotter said.

"The same could have been said of most cancers a few decades ago, but the massive engagement in cancer research is really starting to pay off – I believe research will eventually conquer neurodegenerative diseases too."

Increased awareness and research funding must be translated into understanding the way the disease works, before patients can benefit from better treatments, she explained. Dr Scotter's comments came after a recent series of fundraising walks, 'Walk 2 D'Feet MND', took place in 14 cities across New Zealand , to bring awareness to MND.

More than 4000 people - almost double the number in 2015 – took part.

The disease, which 100 Kiwis are diagnosed with each year, affects the nerve cells controlling our muscles: they degenerate and die, leaving people unable to move, speak, swallow or even breathe. Eventually, they become 'locked' in their own body. Most people with MND die within three years.

The walks are the Motor Neurone Disease Association's only fundraiser and are crucial to supporting those living with MND in New Zealand, said the association's communications manager, Annabel McAleer. Funds raised from the walks was split 50/50 between research and field workers. Health care for MND sufferers is complex – a person can require more than a dozen health workers at one time, ranging from speech therapists to palliative care professionals and dietitians. People with MND were often the healthiest and most active types before the disease struck , Ms McAleer said.

"So navigating the healthcare system when you have never been in it is difficult."

Awareness was another obstacle: many sufferers had not heard of the disease until their diagnosis, she added.

This is true for 49-year-old Wayne Cotton, who was diagnosed with MND five years ago. Sister Sheree Dooley said that when he first started showing symptoms and they didn't know what it was, they went online, and that was the first time they'd read anything about MND.

"Immediately we thought, 'well, you don't want that, forget about that'!"

The self-proclaimed 'fittest man in west Auckland' was "super-active", before his diagnosis and that was part of the challenge:"but Wayne just takes it on like another challenge".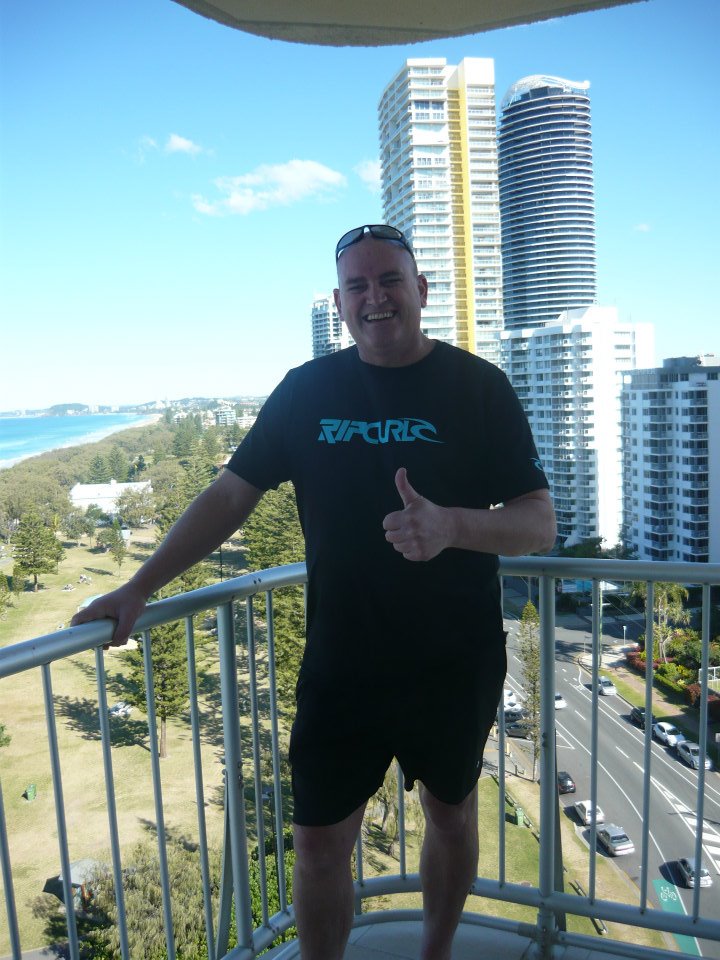 Wayne Cotton pictured one year after his diagnosis. Photo: Sheree Dooley

Mr Cotton meets people who are newly diagnosed, and he and his sister have taken part in both of the fundraising walks.

"This year there were new people, new to the world of MND who wouldn't have known anything about it last year. But there were also people at the walk last year who weren't there anymore – I found that really tough," Mrs Dooley said. Her brother's initial prognosis was one to three years, and after almost five years she said they were still fighting.

"He's not unrealistic, but every anniversary that comes around we get more positive. He's so lucky."