Vibrant Kiwiana-inspired rail safety illustrations are popping up across Tāmaki Makaurau on trains and signal boxes.
Graphic artist Malcolm White has been collaborating with Auckland Transport (AT) and KiwiRail designing graphic wraps covering entire commuter trains, and wrap-around murals on Montrose power boxes.
The project emotionally resonated with White as his friend was hit by a train when he was a boy.
"I was 10 or 11 at the time and it really affected me quite badly. It really hits you when a friend dies like that, so young too," he says.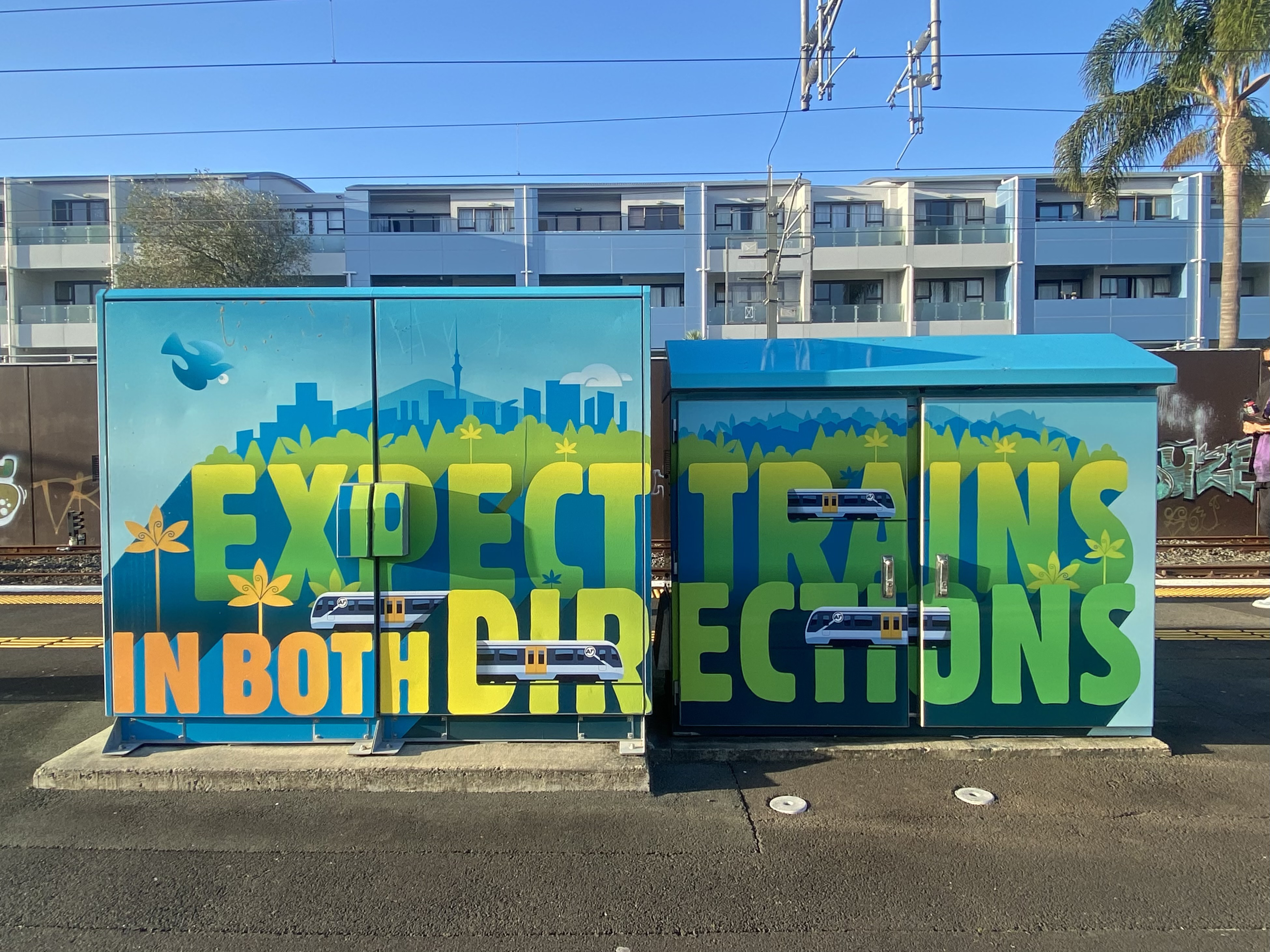 Important rail safety messages from White's art for Auckland Transport. PHOTO: Jessica Dolphin.
White says, "after the incident I had a fear of trains . . . I remember being so anxious every time the car approached the train tracks, and the crossing signals were going."
The project promotes safety around trains while beautifying railways, says Isaac Bahn, Auckland Transport's operations performance lead.
"As well as looking superb, Mal's graphic wraps are much more cost effective and environmentally friendly than paint."
Bright bold colours are used to reinforce safety messages that also appeal to children around the tracks.
TrackSafe manager Megan Drayton says collisions between pedestrians and trains are declining, however people still need to be encouraged to be safe around trains year-round.
"There are still many near misses where pedestrians either cross through the lights and bells when they are operating, or they might be distracted by their phone or headphones and walk out without looking for trains," she says.
"People do make mistakes, but the sad reality is that making a mistake on railway tracks can be fatal.
"So, we encourage pedestrians to always be extremely aware and careful . . . They need to Stop, Look, Listen, and Think, before crossing the tracks."
The public can expect to see more safety campaigns from AT, TrackSAFE, KiwiRail and Auckland One Rail ahead of Rail Safety Week in August.
Rail Safety Week, which is coming up in August, will see more safety campaigns held AT, TrackSAFE, KiwiRail and Auckland One Rail. Source: Malcolm White.