Delwyn Battersby says she hasn't gone out of the front gates since January or seen her family since Christmas day.
She lives in one of Auckland's many vulnerable elderly communities which has had to introduce extra precautions against the Omicron virus, as the region's cases remain high despite indications the outbreak is over the peak.
And last week's more than 100 deaths made it the country's deadliest week since the start of the pandemic, according to the Ministry of Health.
"I put that rule in place for myself because I felt I don't only have to look after myself, I've got to think about the other people in the village, and I don't want to be the one that brings it in," said Battersby, who is also resident committee secretary at Pinesong, in Green Bay.
Like other retirement homes across Auckland, it has reinforced precautions as elderly people, many with underlying health conditions, have a higher risk of severe illness from Covid-19.
"There are a lot of frail people here," says Battersby.
Various activities and trips are being cancelled because many residents aren't showing interest as they don't want to be a close contact, she says.
"They're too afraid to leave their homes."
She says there are fairly stringent rules for this outbreak, including compulsory mask-wearing, physical distancing, and capacity limits for activities at Pinesong, a MetlifeCare village.
Retirement homes including both Ryman Healthcare and MetlifeCare villages, say their reinforced precautions include staff RAT testing prior to shifts, and increased use of PPE, to deal with the Omicron outbreak.
Ryman Healthcare says their villages were well prepared for the Omicron wave after it hit villages in Australia back in December.
"It helped us know what to expect - making sure we had plenty of staffing and contingency plans in place ... making sure we were well stocked on RAT tests and PPE," says David King, corporate affairs manager.
Staff at all 11 Ryman villages in Auckland are mindful of mitigating the risks of community transmission, says King.
"We even had 11 staff members move in at Logan Campbell village to prevent bringing in Covid in from the wider community."
MetlifeCare says although they were well prepared for the Omicron wave, staff shortages across their 18 villages in Auckland were no doubt a big challenge.
"Not only did our village team step up to help with shortages, but staff from our support and head office made themselves available for manual work, such as kitchen hands and village maintenance; in order to make sure residents were being looked after," says spokesperson Lara Harrison.
Pinesong village resident Stella Lewis says residents are generally very cautious and will be for some time.
"As long as I wear my mask and keep my distance, I will still go out for walks."
The recent outbreak has already seen a surge in Covid-related deaths, after previously low numbers in New Zealand.
Now 386 people have died of Covid-19 within 28 days of testing positive, of which 75 percent were aged 70 and above, according to The Ministry of Health (April 5).
The Covid-19 Protection Framework recognises higher risk of severe illness from Covid-19 for older people and those with underlying conditions and advises them to take extra precautions to keep safe.
Simple steps such as maintaining good hygiene and good cleaning practices, and physical distancing from others are recommended by the Ministry of Health to protect the elderly, their whānau, and staff.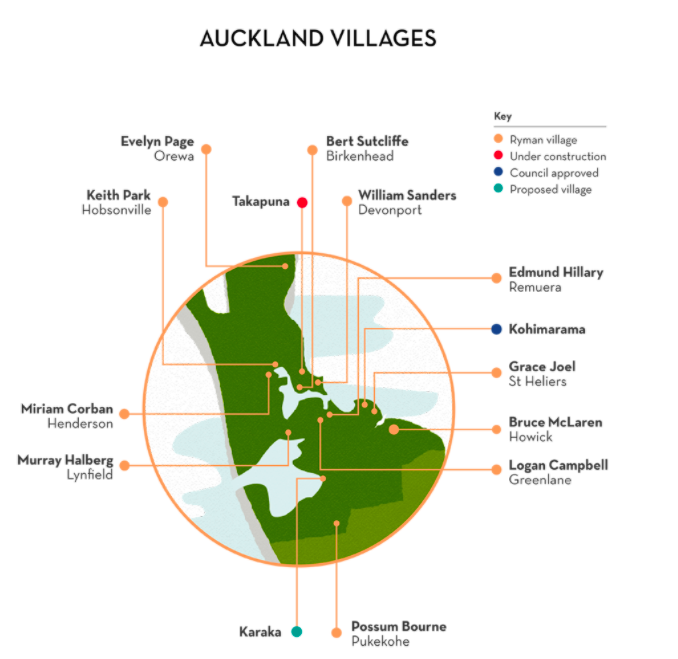 Ryman Heathcare is NZ's largest rest home operator, with 11 in Auckland PHOTO: RYMAN HEALTHCARE