An Auckland councillor says some Asian Kiwis are being dissuaded from getting a Covid-19 booster after seeing rampant misinformation on social media.
Howick ward councillor Paul Young, the city's only Asian councillor, said health officials needed to have more "culturally competent" outreach as misleading claims spread unchecked on non-mainstream platforms like WeChat.
He told TWN overall rates of Asian vaccination were high but there had been substantial differences when booster uptake data was broken down by age and sub-ethnicity.
"Because Asians did good in the first and second vaccination, [people believe] they don't need support."
Young said he was particularly concerned about lower rates of uptake among elderly Chinese populations. However, he said the rate had improved in recent weeks.
Only 84 per cent of Chinese over-65s have had the booster vaccine as compared to 91 per cent of the entire eligible population, according to Ministry of Health data.
Last month, the councillor organised a meeting of more than a dozen Chinese health and community leaders to discuss ways to improve booster shot uptake.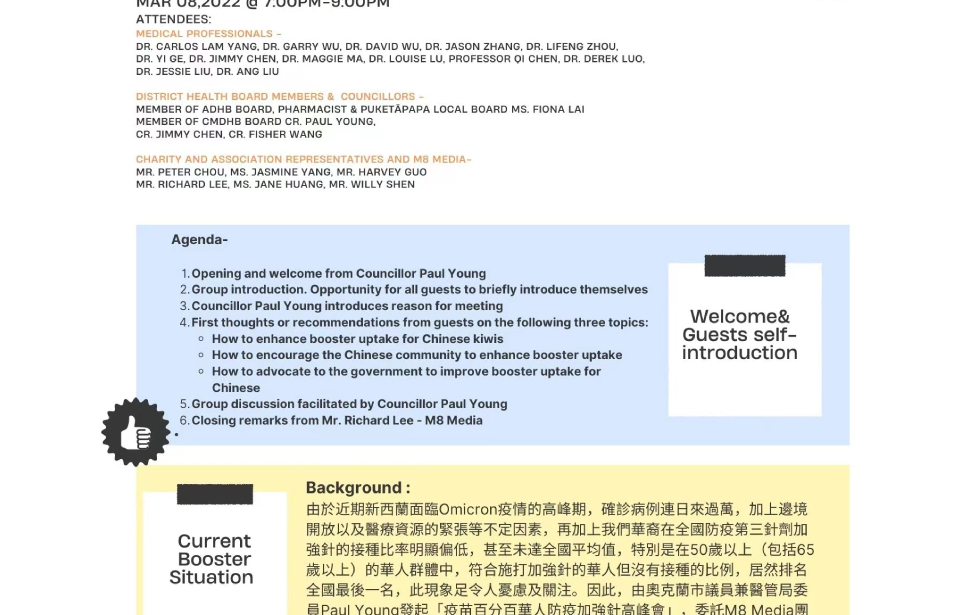 An invitation sent to attendees of a meeting hosted to discuss Chinese booster vaccination rates. Image: supplied
Their recommendations to health authorities included working more closely with GPs in ethnic communities and greater recognition of the role misleading information played.
Young said there needed to be more official communication from health providers on social media apps used by ethnic communities like WeChat.
He said the outreach to Asian communities should include doctors talking in their "own language" while speaking on the benefits of vaccines.
"They should consider the language, cultural background and cultural feedback. That's very important," he said.
"I've tried [reaching out] but people say, you're a councillor and therefore you're speaking for the Government."
Ministry of Health immunisation programme equity group manager Patricia Joseph said there was "more work" being done to achieve better booster uptake across all communities.
"Asian communities in Aotearoa have led the way in vaccine uptake across the motu, with all Asian New Zealanders double-dosed, based on Health System User data," she said.
"The Ministry of Health is currently working with the Ministry of Ethnic Communities to ensure that ethnic community leaders and organisations are resourced to help increase vaccine uptake amongst their communities."
The ministry pointed to "culturally safe and inclusive" vaccination events, like one held for the Chinese community in Christchurch last year.
"We have recorded a new series of videos in Mandarin and Cantonese that promote booster uptake, and will be publishing these online shortly, as well as distributing these for use by communities and partners around New Zealand."