Waitakere residents are being urged to sign a petition about their only public hospital's future after the "disappointing" news the Ministry of Health declined to make a decision on future redevelopment funding.
It comes despite health experts warning "unprecedented growth" in the area has increased demand with many locals unable to afford transport to hospitals outside the area with more beds and critical care departments.
"It is so disappointing for our community. West Auckland absolutely deserve the same level of care as others in the district," said Linda Cooper, chair of Waitakere Health Link, the local community health organisation.
The ministry rejected Waitakere District Health Board and Health Link's appeal on funding towards their 20-year redevelopment plan for Waitakere Hospital, instead passing the decision to another incoming health body, which will also cause delays.
"Already the beds per head of population in Waitakere Hospital are well below regional and New Zealand standards," said Cooper.
"With unprecedented growth underway and a community with complex health needs, it is urgent that funding be committed immediately for a Waitakere District Hospital."
The existing facilities are "at capacity", said Dr Jonathan Christiansen, Waitematā DHB Chief Medical Officer.
"Waitematā DHB continues to plan towards the future development of Waitakere Hospital to ensure efficient, high-quality local care for the West Auckland community," he said.
"With existing facilities now at capacity, it is important that improvements to the hospital campus remain an urgent focus."
More than 2700 people have already signed the Health Link petition, with a target of 5000 to support calls to the ministry to reconsider.
The ministry's investment committee (CIC) decided that the decision on the funding will be passed to the incoming Health NZ entity which is set to 'replace' the DHB in July.
But this means the planned redevelopment will be pushed out to the 2024/25 financial year at the earliest for consideration of funding.
Waitakere Health Link wants the case reistated for the current financial year – before the DHB changes over to Health NZ.
"We need the services to match the growth and the needs. We need it sooner than later," said Cooper, adding they do not know what the changeover to Health NZ means for Waitakere Hospital plans.
A Ministry of Health spokesperson stated "The Programme Business Case did not request any funding. It sought agreement to the proposed redevelopment programme but funding decisions would be made on future tranche business cases.
"CIC considered the Programme Business Case and acknowledged the planning work to date. A decision has been made to defer the endorsement decision to allow Health New Zealand governance the opportunity to participate in decision-making."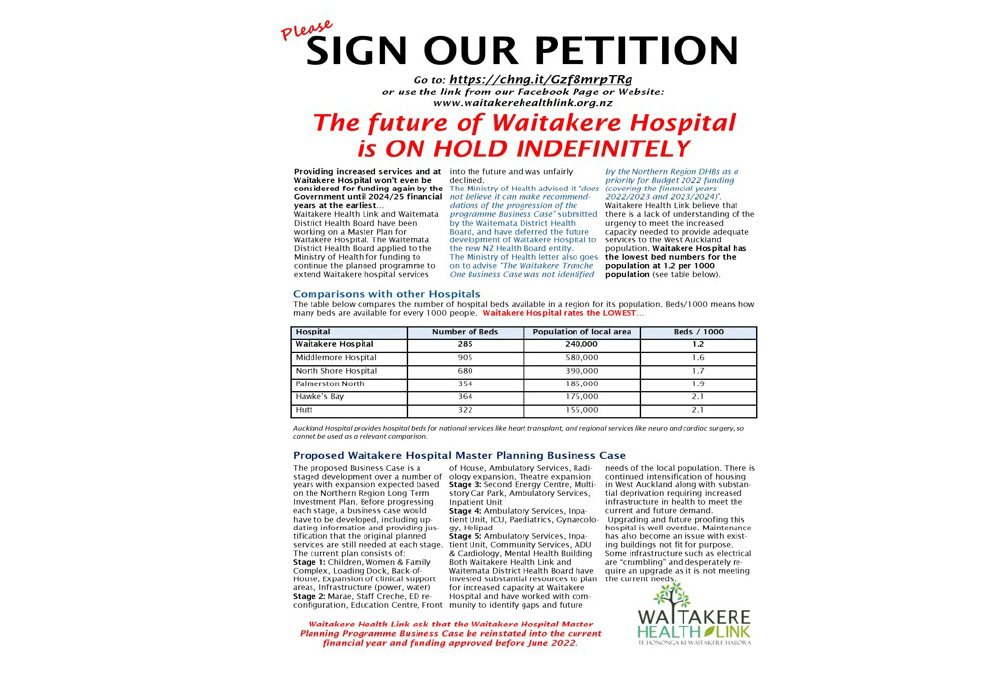 The petition residents are urged to sign after the MoH decision on Waitakere Hospital's future development.PHOTO: ENYA MURPHY