The Titirangi Protection Group (TPG) was due take on Watercare New Zealand at the Environmental Court today as it steps up its battle against a new water-treatment plant.
President Simon Kitson said this came after months of protesting against the building of a new plant at the foot of the Waitakere Ranges.
"We didn't take this decision lightly," he told a community meeting of about 200 residents last night.
"Watercare has a designation to use the land for water supply usage. Our lawyers have looked at that and think it is very vague, which is why we want to challenge it."
Mr Kitson said there were three main reasons for opposing the building of the plant.
Firstly, the three-year project would "change the entire character" of the area. "It's a huge pressure on our roading infrastructure."
Secondly, the new building would take out a huge section of vegetation and "not just grass and scrubs, as we've been told".
Finally, the environmental impact it would have on the native bush had many conservationists angry.
Speakers from groups including Forest and Bird, Eco Matters and Zero Waste expanded on the environmental issues at the meeting.
"You can be part of the solution too," said Zero Waste's Kristy Lorson, when she addressed the crowd.
At the meeting, two candidates from each of the Greens, Labour and National took part in a panel discussion moderated by Radio New Zealand's Anusha Bradley.
None of the parties said it had any policies for subsidies for solar panels and water tanks for a more sustainable environment, but National candidate Chris Penk thanked Ms Bradley for the "implied suggestion" and said it would be raised.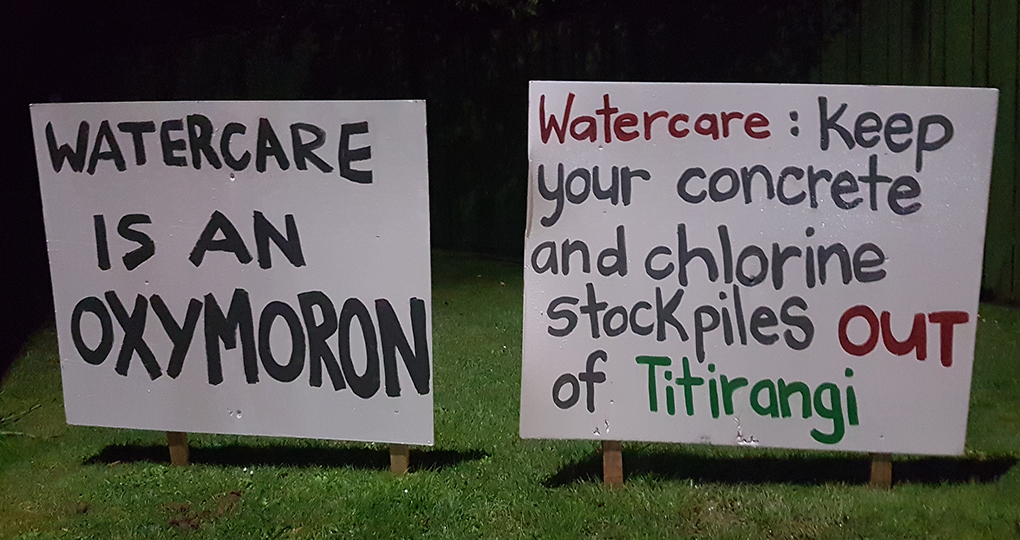 Protest signs at Waima. Photo: Sinelle Fernandez
The Greens and Labour candidates said they not think New Zealand was "100 per cent pure", with Labour's Deborah Russell saying her party had a starting policy of cleaning up waterways without a huge cost.
"It is a classic marketing technique [by the current government] to oversell and under-deliver," said Labour's Kurt Taogaga.
The evening ended with the debate and a chance to speak with the candidates and the TPG.
National candidate Paulo Garcia said the water treatment plant "has to be built."
"The current one is quite old. We need to future-proof it . . . the question is where?
"People really need to be consulted properly . . . they feel they were railroaded as they were only given one choice [on where the plant would be built]."
Mr Kitson said he thought TPG had a strong case for Watercare to lose the controversial designation.
In the meanwhile, he's encouraging people to join the movement.
"Join our Facebook page, sign the petition, donate to our GiveALittle page if you want to. Get involved."
Organisers told the meeting Watercare had been invited to send representatives but had not shown up.