This summer will be a test of New Zealand's wildfire readiness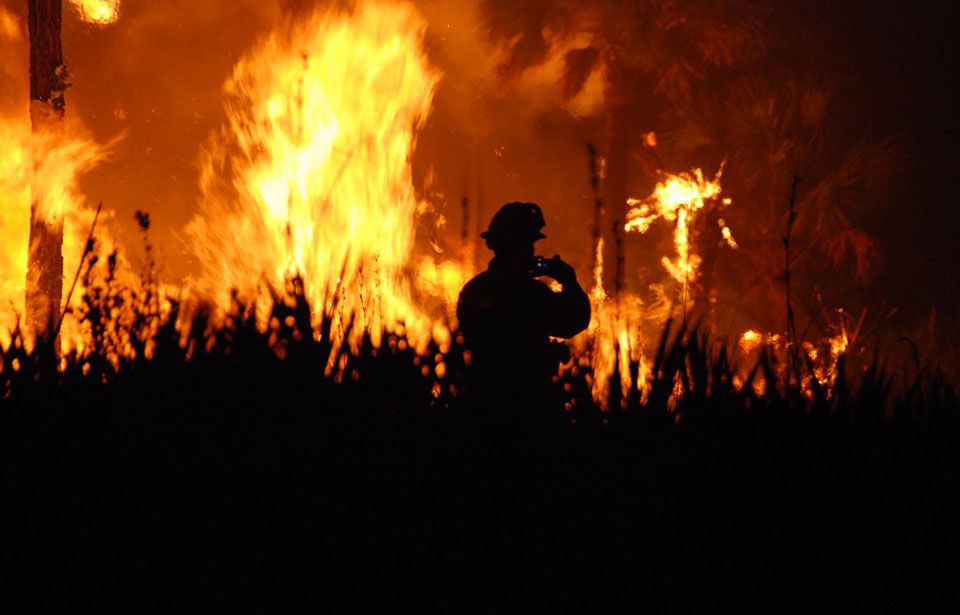 A wildfire at Florida Panther NWR. Photo by Josh O'Connor - USFWS.
The coming summer will be a test of New Zealand's preparedness for a future with increased risk of wildfires due to climate change, says a wildfire expert at Fire and Emergency New Zealand.
National wildfire specialist Tim Mitchell said New Zealanders needed to be particularly vigilant going into this fire season because activities that might not have started a fire in this year's wet summer could well cause a fire this season.
"This wildfire season will be a test. We need to take wildfires seriously. We need to take climate change seriously," Mitchell told TWN.
"If we don't, the risk is that we are absolutely going to see more of these fires on a larger scale."
While Mitchell says we are likely to be dealing with much higher risk of wildfires in the future, whether we actually see more wildfires depends on our fire awareness and behaviour.
"It's very much dependent on what we've done to manage the landscape as best we can in terms of those fuel loads," said Mitchell.
David Bowman, professor of pyrogeography and fire science at the University of Tasmania, told RNZ in August that New Zealand was going to see "something pretty bad soon unless it gets a grip".
According to Bowman, the evidence shows we are in a global wildfire crisis, and New Zealand is underprepared, with a large amount of accumulated fuels in the landscape, and a fire season on the way.
"We are all just sleep-walking into a very, very dangerous situation."
Management of vegetation, or what Bowman describes as reverse engineering of landscapes to reduce flammability, is an important tool for wildfire management, and one he says we need to be using now.
He told RNZ we needed to "think locally to create ecological circumstances where the capacity for these uncontrolled fires is actually reduced".
Tim Curran, plant ecologist at Lincoln University, said New Zealand's landscape had become more flammable through practices such as deforestation and the introduction of flammable species.
"Humans' use of the landscape in New Zealand has modified the flammability by introducing more flammable species from overseas, species like gorse for instance, a highly flammable introduced species which has enhanced fires in a number of locations around New Zealand."
The introduction of pines and eucalypts, which was increasing around the country, also increased the intensity of fires and changed the way they impacted the landscape.
Curran, whose research focuses on the urban-wildland interface, said New Zealand was behind countries like Australia when it came to planning for wildfires in towns and suburbs.
"We don't have as good regard to bushfire hazards in our planning legislation in New Zealand as what they have in say Australia or North America."
Curran said while there's been important discussion about where to put housing and infrastructure in New Zealand in terms of floods and earthquakes, we needed to have this conversation in the context of fire.
"There needs to be clear input for the likes of Fire and Emergency New Zealand and other similar agencies into the planning decisions that are made by local and regional government regarding where houses get put, where suburbs get built and how much we encroach our houses into those parts of the landscape, those parts of the landscape that are likely to burn."
Mitchell said one of the reasons New Zealanders may not be adequately prepared was that most New Zealanders haven't been impacted by wildfire.
"People understand that wildfire does cause an impact, but the problem is that we don't have enough fires frequently enough for people to really value and think about preparation. It's not properly front of mind compared to if you lived in Australia."
Another challenge was how to engage people to work together as a community to prevent fire outbreaks, particularly in urban-wildland interface zones where Curran said fires were more likely to occur.
"All of those landowners need to be pulling their weight, in terms of protecting the landscape from fire, because if one doesn't they could be the weak link that allows fire into that area, and then it can spread very easily from household to household."
Mitchell said these social dilemmas made the decision to prepare challenging for people.
"Why am I investing my time and my money to do this . . . when it's unclear how much of that is going to be undone by the fact that my neighbours haven't done anything."
What can you do to reduce the risk of wildfire this fire season?
Demonstrating plant flammability with Samuel Whitelock
Low flammability plants with Samuel Whitelock
Reduce your risk - protecting your property