Pets not pests - the rising cat concern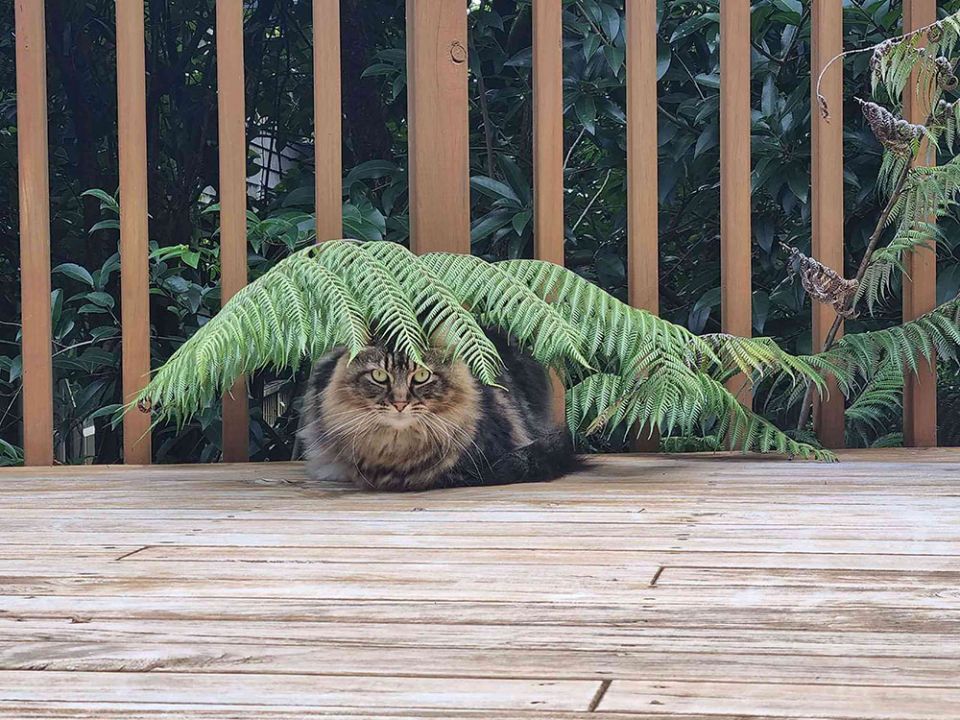 Pet cat Rocket's outdoor life may be a problem. Photo: Maddy Smith
Catios could be the new future for the protection of Aotearoa's native birds, says a Waiheke conservationist.
Karen Saunders, founder of Native Bird and Rescue, advises cat owners to consider keeping their cats indoors, whether through Catios or dog-like licensing.
"I love cats to bits, but they have to be contained on their property, if we want to save our wildlife in New Zealand."
Under the law, individuals would be mandated to ensure their cats remain confined within their own property.
"We are in a country, where our main endemic native species is taonga are birds, and then the other one is skinks and geckos and wetas and all of those are predated on by cats."
Native birds are a significant part of New Zealand's cultural identity, making it important to protect them, says the Department of Conservation.
Rats, stoats, and cats are native birds' biggest problem for survival with the Predator Free 2050 mission aiming to eradicate most except cats.
Domestic cats alone are killing 1.12 million native birds a year, according to Forest and Bird with as many as 40% of households in the country having at least one cat.
The dangers of the common pathogens cats carry, can infect wild species, says Saunders.
"All you need is one entry wound and that bird will be dead in 24 hours."
Pasteurella Multocida is carried by cats in their mouths, with potentially fatal consequences for prey even after escaping.
Keeping cats indoors may prove to be mutually beneficial for both wildlife, owners and Aotearoa's feline friends.
Stay at home cats enjoy healthier and longer lives and are less likely to encounter risks such as cars, other cats, diseases and poisons according to the SPCA.
"For many people their emotional well-being comes through their pets, …it's so important to have cats and dogs in our lives. But we need to balance it with our wildlife and environment."