A website that claims to measure other sites' carbon footprints has left some New Zealand organisations red-faced, though not everyone agrees on its effectiveness.
Websitecarbon.com advertises itself as "the original website carbon calculator". It prompts visitors to enter the URL of a public website, which it then measures for carbon output.
To reach this calculation, the tool claims to consider factors such as the amount of energy required to load the page, the sources of energy involved in the process, and overall website traffic.
The results are ranked against other websites with a percentage, determining how "clean" or "dirty" the site is.
The tool was built by Wholegrain Digital, a design agency based in the United Kingdom. According to a description on websitecarbon.com, its goal is to "help inspire and educate people to create a zero carbon internet".
Of the websites that Te Waha Nui tested using the tool, those that received "dirty" results included the homepages for Greenpeace Aotearoa, the Ministry for the Environment, Auckland University of Technology and TWN itself.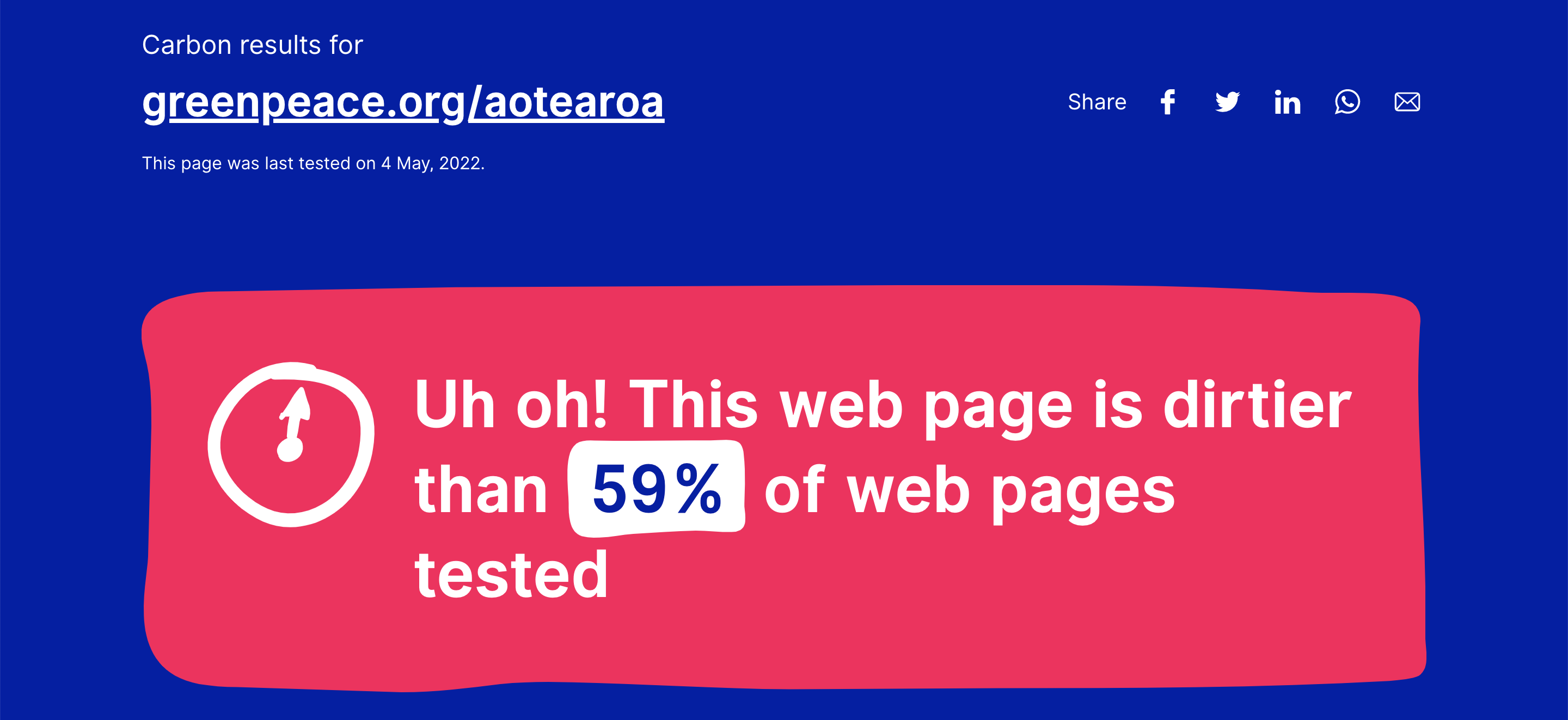 According to websitecarbon.com, Greenpeace's site could be better. Image: screenshot
In an email statement, a spokesperson for Greenpeace said that while websitecarbon.com was "an interesting tool", it was also simplistic, as it only assessed one page at a time.
"Homepages tend to be a little heavier than other common pages in a website, and ours is no different."
They added that Greenpeace's results regularly fluctuate, "depending on what we've got on the home page".
A spokesperson for the Ministry for the Environment said they were not familiar with websitecarbon.com.
They noted that Wholegrain Digital "seems to be in the business of providing paid advice to organisations who supposedly have high website emissions based on its own estimates".
The spokesperson questioned how the tool reached its conclusions, emphasising that the ministry "hosts its website locally using largely renewable energy".
"We want to be confident that Website Carbon's analysis took this into account."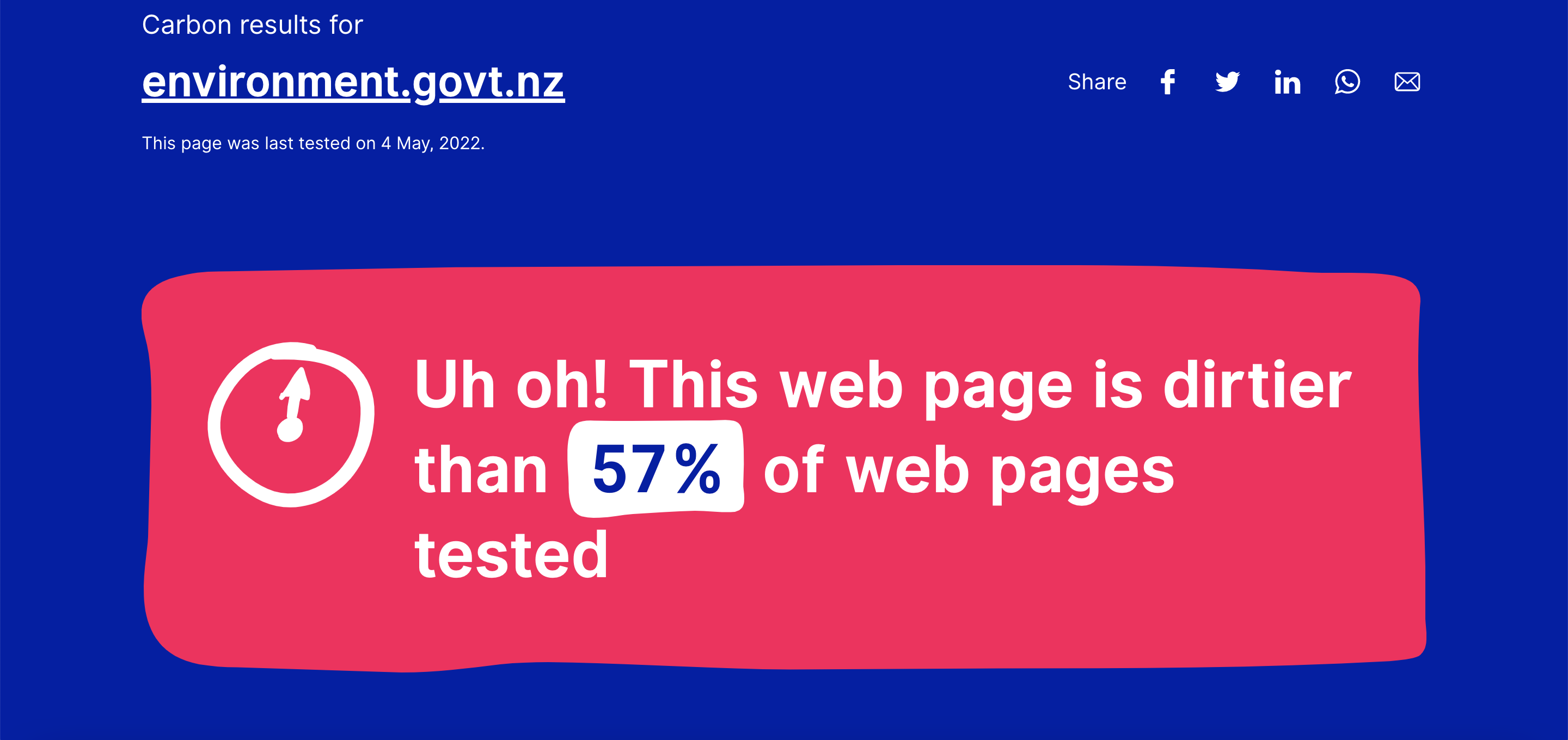 environment.govt.nz didn't come out so well. Image: screenshot.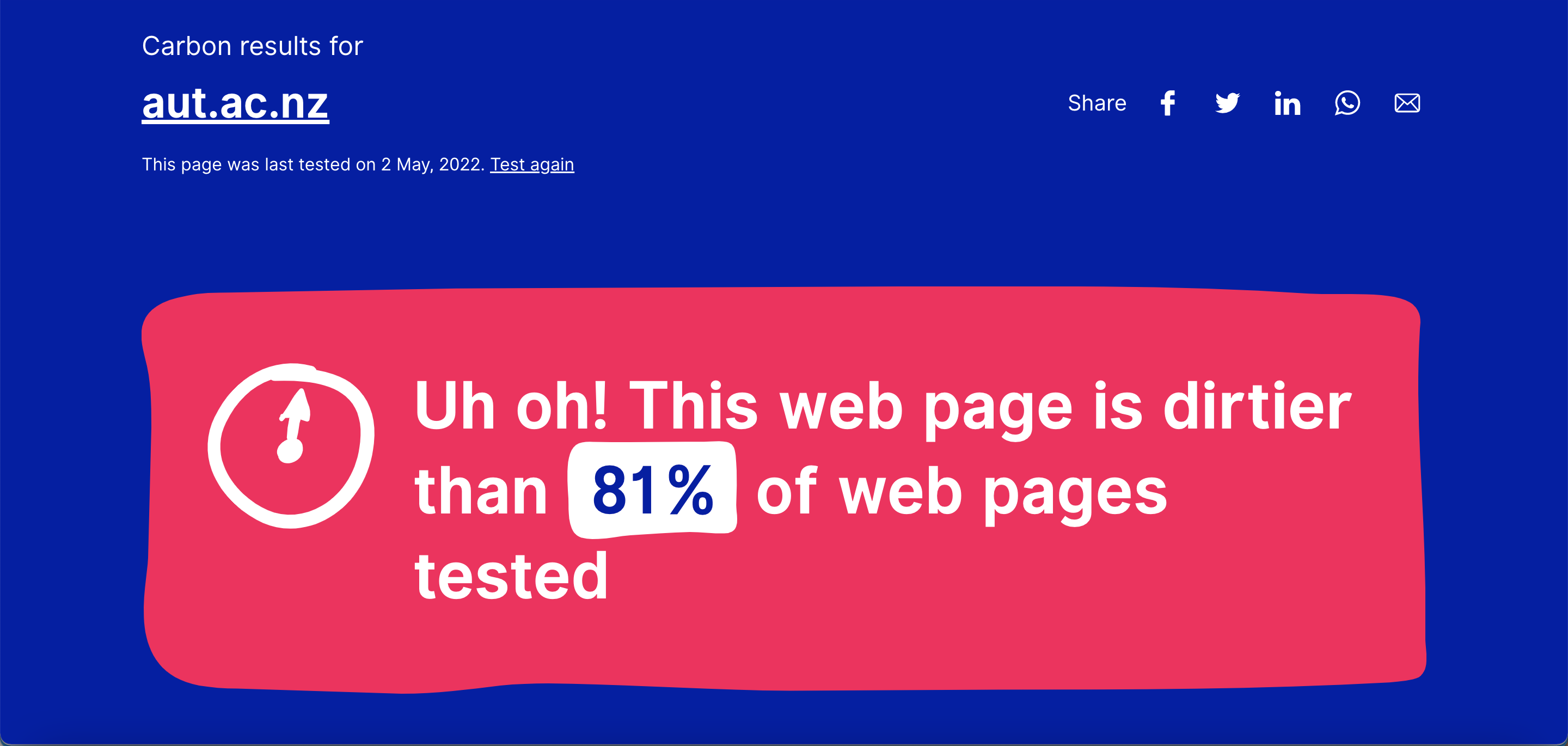 The result from aut.ac.nz. Image: screenshot
In a section of the site detailing their methodology, websitecarbon.com acknowledges that it has some limitations, including its ability to recognise when a site's host is using renewable energy.
They require hosts to register with The Green Web Foundation, a not-for-profit organisation based in The Netherlands.
To date, only one hosting company in New Zealand has done so.
Despite such limitations, Dr Kenneth Johnson, a senior lecturer of engineering, computer, and mathematical sciences at AUT, gave a much warmer appraisal of the site.
In an email statement, Johnson said websitecarbon.com was "a good service and quickly provides a reasonably reliable measure of a website's carbon footprint".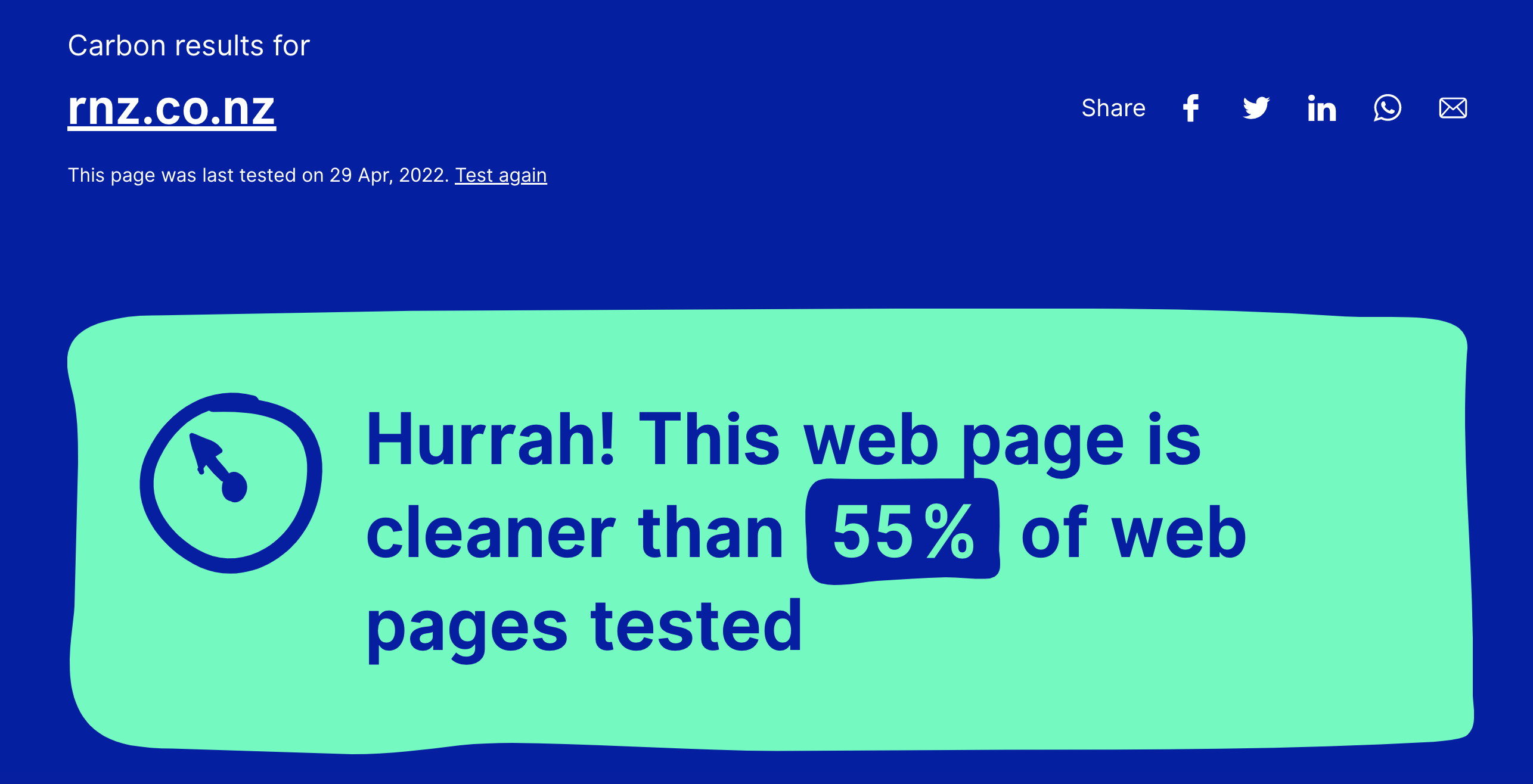 rnz.co.nz came out clean. Image: screenshot
He said that the metrics the tool uses "are indeed the main factors influencing a webpage['s] carbon footprint", and that website designers should be minimising data use to make their sites sustainable.
"Developers should use only the necessary amount of small graphics on a website. A good example of this in industry is the Google.com homepage.
"A well-planned, simple-to-use website means the end-user spends less time browsing to find the information they need."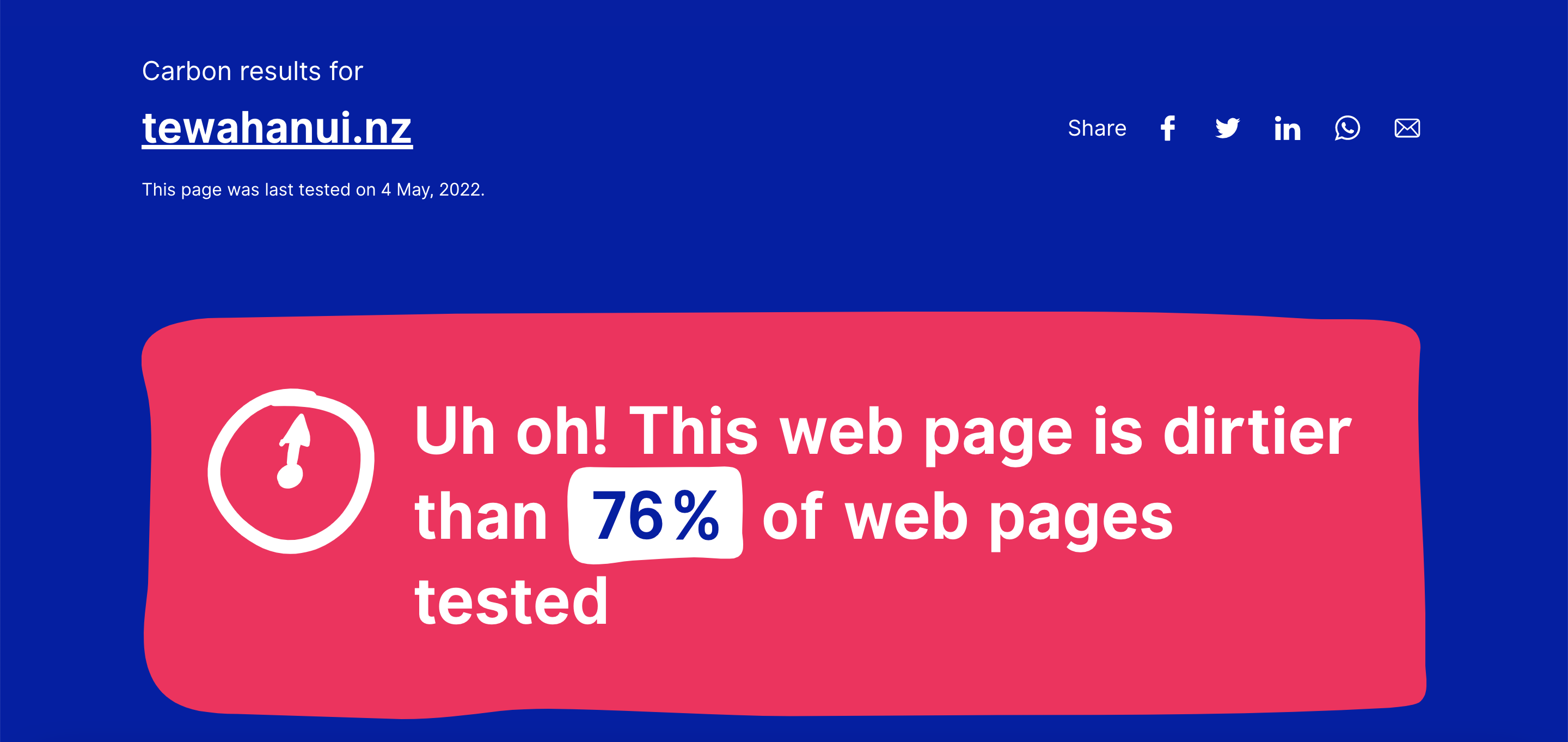 tewahanui.nz did not come out clean. Image: screenshot