One fish, two fish - help DoC monitor our marine reserves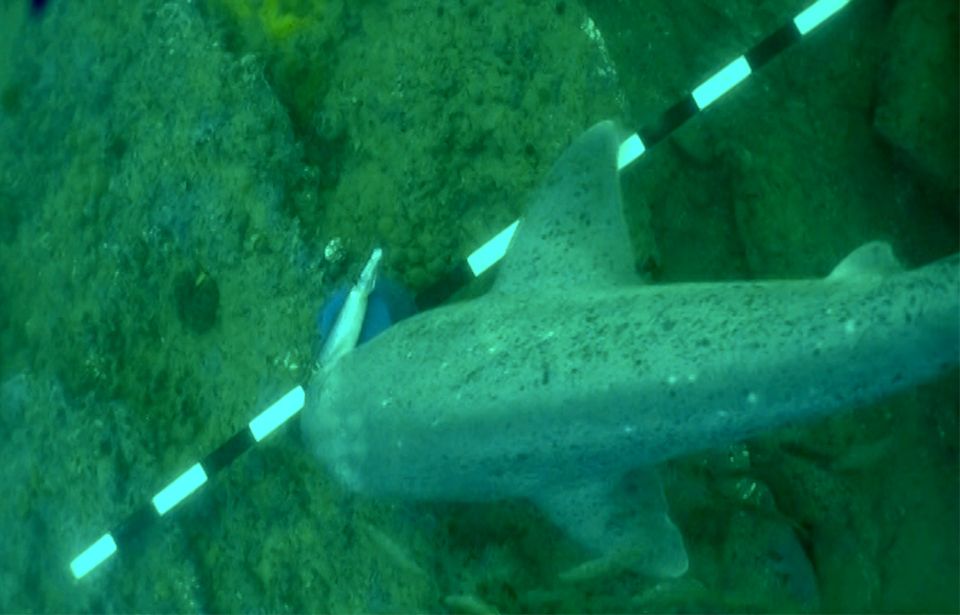 A sevengill shark swims over a size marker to investigate a bait box. Image: screenshot
While traditional conservation methods of beach clean-ups, pest control and planting are crucial for supporting the natural environment, one way to help can be done from the comfort of your couch.
Spyfish Aotearoa is a citizen-science project where the community helps marine scientists identify and count fish throughout New Zealand.
The programme was promoted as one of the key ways to help in Conservation Week earlier this month.
Participation can take place at home, with users shown 10-second videos taken underwater at marine reserves around the country before identifying and counting the fish that appear.
Monitoring the large, underwater ecosystem's of New Zealand is no small job, which is why the Department of Conservation (DoC) is seeking public assistance to monitor activity beneath the ocean's surface.
"At DoC, we have 44 marine reserves and we try and do monitoring in as many of those as we can," says Monique Ladds, a marine technical advisor for DoC.
"One of the techniques we use is called baited underwater video, which involves dropping an L-shaped' frame with a Go-Pro on top facing a bait box with a measure tape along the bottom.
"What we're trying to do is encourage the carnivorous fishes to come in and have a look at the bait box, then we film them and count them," she says.
"Every 30 minutes of video requires an hour and a half to two hours of analysis, so it's super labour intensive and we just don't have the resource power to get that done."
Videos are broken down into 10-second segments and then are uploaded onto the platform Zooniverse.
"Citizens watch the 10 second videos and identify when they see a fish and then they have a selection of fishes on the side," Ladds says.
"They then select which fish they've identified and what time that happened, which gives us a timestamp on the video so we can take that image and put it through the model, training the [artificial intelligence software] so it will be able to identify the fish in future.
"It's a really useful technique and gives us an estimate of density."
Current video footage is 64 per cent reviewed but future uploads mean community help will be needed to review new footage.
"We had a really good uptake when we started it about two years ago. We've just hit 2200 volunteers, and they're global. It's not just New Zealand - there are people all over the world helping us identify our fish," Ladds says.
"We're always looking for more volunteers as we're about to upload videos from three more marine reserves, as well as some South Island footage.
"The learning curve can be a little bit big at the beginning, so I highly encourage you to do half a dozen videos, because once you've got the hang of it you'll be able to do it a bit more quickly. but the first couple take a bit of time."
Conservation Week ran from September 5 to 11, with 82 seperate events listed on the DoC website alone.
In addition to pest control, planting, weeding and beach cleans, there were also quiz nights, movie nights and an eco-safari hosted by Auckland Whale and Dolphin Safari, during which DoC marine scientist Clinton Duffy joined a trip through the Hauraki Gulf as a guest speaker.
Director-General of DoC, Penny Nelson, says taking care of nature not only benefits our environment, but also our personal well-being.
"Whether you are in the city or the country, there's always something you can do to help, from beach clean-up to volunteering your time with a local community group."
DoC says more than 4000 New Zealand species are at risk, including birds, fish, fungi, snails and lizards.
"Each of these species are part of what makes New Zealand unique and thousands of New Zealanders are already involved in conservation activities," says Nelson.