Groups behind a new environmental charter hope to revive the health of the polluted Puhinui Stream in South Auckland, where ducks now forage for food among old mattresses.
Te Whakaoranga o Te Puhinui brings together mana whenua, Auckland Council, local boards, government organisations and community groups in a collaborative approach to cleaning the stream and creating healthy, open spaces.
The stream runs 12km from the headwaters at Totara Park down into the Manukau Harbour.
Driven by Te Waiohua iwi, which includes Ngāti Te Ata, Ngāti Tamaoho and Te Ākitai Waiohua, the charter has taken four years to implement.
Karen Wilson, chair of Te Ākitai Waiohua, says in an Eke Panuku media release that the charter is an important step towards realising their own tino rangatiratanga.
She says the initiative will allow them to "carry out our manaaki and kaitiaki responsibilities which we have been fighting to be able to do for over 200 years".
Apulu Reece Autagavaia, chair of the Ōtara-Papatoetoe Local Board told TWN the charter would create jobs for South Auckland locals and had already seen $30 million investment commitments from partners.
Autagavaia says the strategy has enabled community groups to connect in new ways and the new approach "is already helping".
He says the partnership with mana whenua is an important step at trying to implement local government responsibilities under Te Tiriti o Waitangi.
Alexanda Whitcombe (Te Āti Haunui-a-Pāpārangi, Ngā Rauru Kītahi) is the empowered-communities leader for the project, a role created to coordinate groups restoring the stream.
"[The charter is] a significant millstone in acknowledging the aspiration and vision of Te Waiohua," he says.
He says the stream has been polluted for decades and people have shifted away from living in harmony with nature.
"The state of the stream is a reflection on the state of the people's health," he says.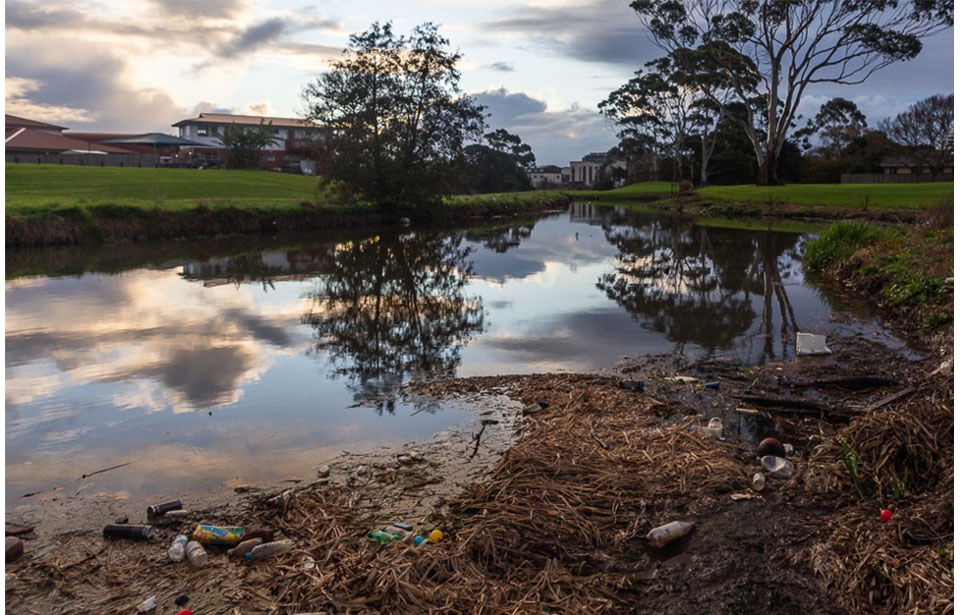 THE POLLUTED PUHINUI STREAM IS THE FOCUS OF A NEW CHARTER, AIMING TO CLEAN Things UP THE STREAM. Photo: ALEX CAIRNS
He says much work has been done around the stream over the years, but the charter is a commitment to a generational approach to restoring the mana of the stream.
"You've got a mix between natural ecology with native trees, native plants, thriving spawning species and then you come to an area like Wiri which has a lot of stagnant water [and] a lot of pollution," he says.
He told TWN the Manukau Beautification Trust removed 300 shopping trolleys from the stream last year.
"It's a really sad sight to see when you're seeing natural species like ducks having to forage through mattresses," he says.
Whitcombe says 10,000 native plants will be planted along the stream over this coming Matariki weekend. He hopes the programme will provide education, create fun open spaces, and connect people to a living body of water.
Autagavaia says the collaboration is more important as ever "as we face climate change, increased urbanisation and intensification, and limited green spaces in our town and suburbs".