Street protests have come to a grinding halt because of Covid-19, but that isn't stopping students taking the climate strike online.
School Strike 4 Climate NZ is calling for people to join a fifth day of climate action this Friday from inside their bubbles using #unitebehindclimate.
Spokesperson Lucy Gray said it's encouraging to see people demonstrating while under lockdown.
"Young people care enough that they don't have to get out of school for this… they want to do it no matter what".
Friday's demonstration will lack the spectacle of protestors flooding our streets, but one climate scientist says virtual solidarity can still have an impact.
"The fact people are getting together inside a space, rather than outside on the streets, still conveys the same message," Victoria University Professor James Renwick said.
Activities for this Friday's strike include messages on posters and driveways, petitions and livestreams.
Miss Gray said we need to continue demanding for climate change action.
"We can only let Covid be the focus for an amount of time… now it's time to have a green recovery."
Ramping up the momentum around climate change action again won't be easy, said Mr Renwick.
"After the pandemic dies down, everybody's going to be tired, run down, and short of funds".
But he says people may start taking notice again as extreme weather events wreak havoc around the world.
"Last summer we had the Australian fires… as those kinds of things come back on peoples' radars, I expect it will galvanise a sense of urgency again to take action".
Social media will be a big part in keeping the pressure on.
"We don't know when we'll be able to have strikes again… we have to keep social media campaigns going," said Miss Gray.
Social media is after all "the origin" of the student movement, she added.
September's school strike saw 170,000 people shutting down cities across New Zealand.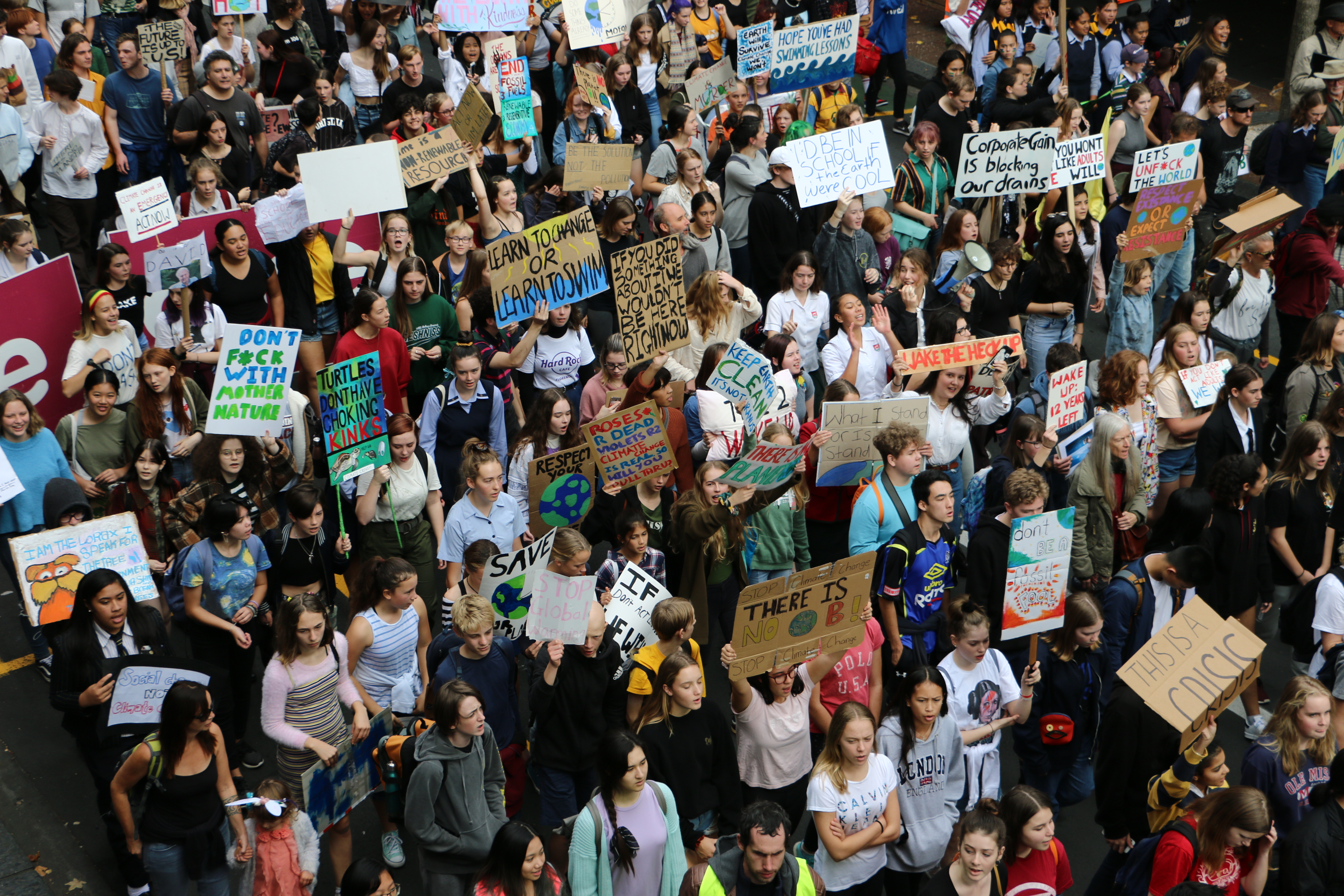 170,000 students shut down cities across New Zealand at last September's school climate strike. Photo: Irra Lee
The Friday school strike movement started shortly after the International Panel on Climate Change (IPCC) 2018 report was released.
The report says we must limit global warming to 1.5C above pre-industrial levels by 2030, or risk "irreversible change".
This would require slashing carbon emissions by 45 percent around the world, and reaching net zero by 2050.
The Zero Carbon Amendment Act has set several emission reduction targets in law.
Mr Renwick says we need to listen to science and act now.
"Every week we leave it makes it harder to reduce emissions and it's already been two years".