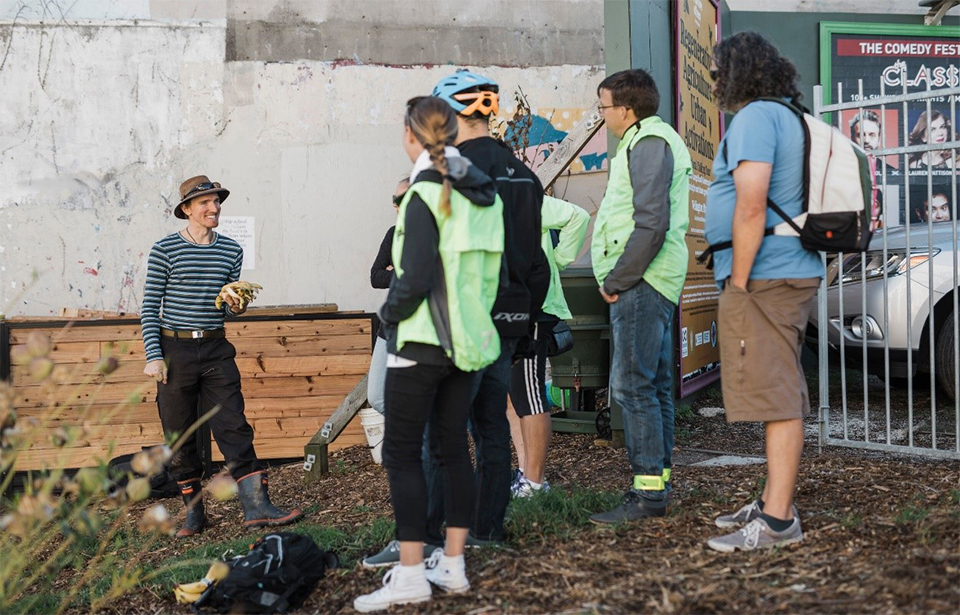 Gardener Levi describes the composting process to bikers at the Organic Market Garden. Photo: Claire Mossong
Aucklanders took to their bikes last week to discover the city through the unique viewpoint of a bee.
"Biking Bees" were organised by community group For The Love of Bees in the CBD to raise awareness and celebrate Organics Week Aotearoa.
Biking Bee facilitator Greer Rasmussen said the venture was about "slowing down and noticing what Auckland looks like from the perspective of bees and other insects".
"A key part of creating bee-friendly cities is the reduction of pesticides, which is also a key part of organic farming. We featured a couple of inner-city organic farms along the way, as well as businesses who sell or produce organic products," said Ms Rasmussen.
The first stop on the Biking Bee trip was the Organic Market Garden on Symonds St.
Participants received a free Fairtrade banana and were taught about the composting process of the garden.
Businesses on the trail included the Kokako coffee factory and roastery, Common Sense Organics, and the Bread and Butter Bakery.
At each stop, participants were given a selection of organic products. They were taught about the challenges of being organic in New Zealand, and the reasons why each business had decided to become organic.
Participant Sara Thomas-Hall said she found it very interesting.
"There were lots of different perspectives about encouraging sustainability in our food production, as well as our behaviours in an urban setting where not everyone has the space, time or access to resources," she said.
For Ms Rasmussen, this spreading of knowledge and information was the key reason for holding the Biking Bee.
"I really like the people who come on the ride to maybe discover places or things going on in the city that they didn't know about before."
Another garden the Biking Bee visited was the Morningside Urban Market Garden, a social enterprise which works with refugee women to grow edible flowers and herbs for local cafés.
Ms Thomas-Hall said she was impressed with the scale of connection between different organisations.
"There are gardens and gardeners who are talking to business owners…the networking that exists is really cool, and I wasn't aware of that," she said.
Ms Rasmussen said one of the defining features of the Biking Bee was how immersive it was.
Ms Thomas-Hall said this was the aspect she enjoyed the most out of the experience.
"It totally enriched my connection to other people who care about these things…sustainability is super important to me, and it's nice to feel like there are other people who are doing things and working towards the same goals that I am," Ms Thomas-Hall said.
The Biking Bee was funded by Auckland Transport.