A $3 million funding boost for Tāmaki Makaurau maunga will see a "decades" worth of restoration work completed over the next three years.
The Government's funding for the Tūpuna Maunga Authority's pest eradication programme will see a new programme of plant and animal pest control on the city's tūpuna maunga (ancestral mountains), alongside the re-planting of native flora and fauna species.
The maunga authority manages Tāmaki Makaurau's 14 tūpuna maunga under a co-governance arrangement between mana whenua and local government.
The authority chair, Paul Majurey (Ngāti Maru, Ngāti Whanaunga) said the new programme would enable the authority to work towards its ultimate vision of pest-free maunga.
"What could have taken a decade, or more is going to be achieved in several years, in an intensive way, and [that] contributes to their restoration."
Majurey said maintenance on many of the city's maunga were put off right until the 2010 supercity amalgamation that saw the creation of Auckland Council.
"They were recognised as important, but from an administration point of view, they were [treated] like reserves and parks. What that has meant is that there has been many decades of deferred maintenance in terms of protecting and restoring those taonga."
The maunga authority's project was chosen for funding by the Department of Conservation (DOC), and would help create 39 full-time jobs, according to the authority.
Majurey said the funding would "accelerate" existing pest eradication schemes that the authority was running.
He said rabbits that burrowed on the maunga had been a "prime example" of how pests "[undermined] the cultural and archaeological fabric" that tūpuna maunga held for Māori.
Manukau ward councillor and authority deputy chair Alf Filipaina (Ngāpuhi, Ngāti Hāmoa) said the new funding had come at a good time for Auckland Council.
"I know that we [council] would not have put $3 million over four years for them… because of the funding issues we are currently having, especially with our annual plan now. "
Filipaina said he was excited by the employment opportunities enabled by the new funding.
"It not only allows some of the restoration that comes through, but it also gets our rangatahi employed… and also enhances and hopefully, to some extent, gets the maunga back to some resemblance of what it was before it got trampled on."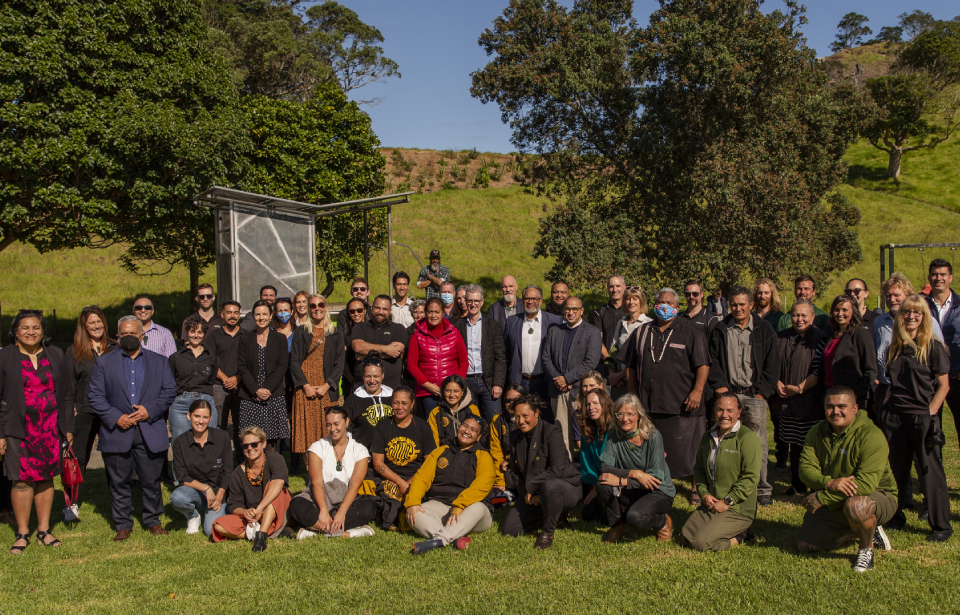 A group photo, including Conservation Minister Kiritapu Allan amongst manuhiri, taken in late April at the launch of a $6 million package of Jobs for Nature projects. PHOTO: Brooke Waterson / Tūpuna Maunga Authority
Conservation Minister Kiritapu Allan announced the authority's funding in late April as part of a larger $6 million investment into Auckland conservation projects from the Government's Jobs For Nature funding programme.
In a statement, DOC partnerships manager Daniel Harrison said the programme was part of the Government's job-creation response to Covid-19.
"With over 200 Jobs for Nature projects managed by DOC, the primary focus was getting projects up and running and people employed as quickly as possible," he said.
Harrison said the Government had invested $1.2 billion into the Jobs for Nature programme, $488 million of which had been allocated to DOC, and which would be used over the next four years