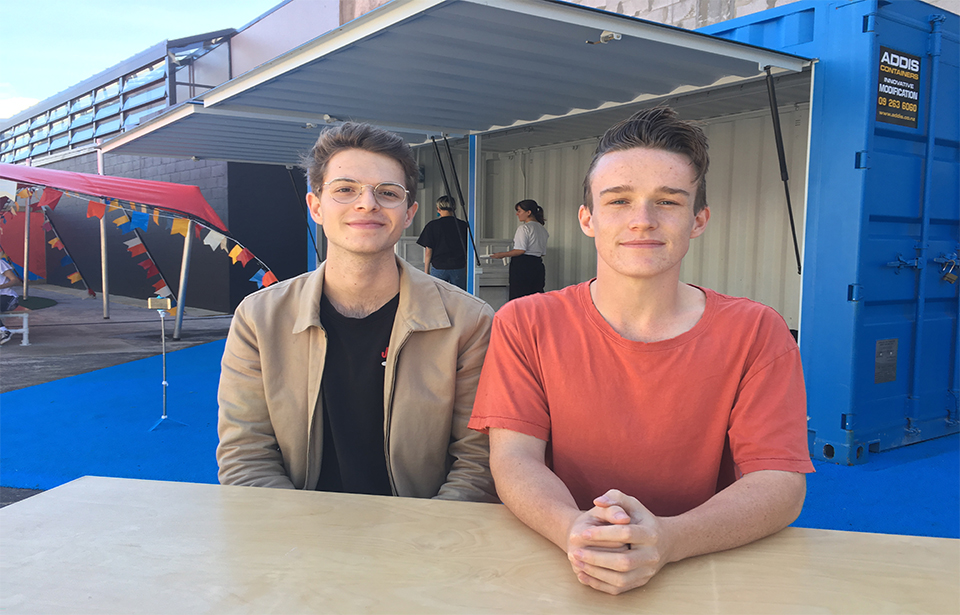 Matthew Goldsworthy, 19, (left) and Zak Devey, 19, are helping young artists and their work be exposed to the community through Youth Arts New Zealand. Photo: Ellen Sinclair.
Young Auckland artists are painting a public piano for a musical showcase held in Takapuna this month.
Youth Arts New Zealand (YANZ) is running a 'Paint This Piano' project every Sunday in May, recognising New Zealand Music Month.
The piano gives artists an opportunity to have their work seen in public, as well as being the centrepiece of the final show.
Artist Isabella Jin, 19, said she was approached by Youth Arts NZ to work on the project and thought it would be "a cool opportunity to get to make something".
"I kind of just said yes because it's not every day someone asks you if you want to paint a piano that is going to get put in public."
Co-founder of YANZ Matthew Goldsworthy, 19, said a lot of art happened behind closed doors.
"Bringing these artists and musicians to the forefront of the community in a public setting will boost their confidence," he said.
Co-founder Zak Devey said it was an opportunity for young upcoming artists to have their work in a public space.
The 19-year-old said treating the artists as professionals was important because they were "very dedicated creatives".
The project is being shown at 38 Hurstmere, a public space in Takapuna. Pedestrians walking past will be able to see the progress and connect with the artists.
Youth Arts NZ is an organisation that provides opportunity and recognition for young people and their art throughout the country.