A group aimed at bringing Samoan communities together globally is taking one step further to achieve its aim.
The 'Walking Samoans' – an initiative driven by Radio Samoa – started in Manukau in 2013.
The number of clubs has since grown from one to 12, stretching across Auckland, thanks to the efforts of directors and coordinator So'oalo Setu Mua and Teleiai Edwin Puni.
Mr Mua said it was a great opportunity to promote good health and fellowship among the Samoan community.
They recently held a combined walking day where all 600 members came together.
"Health-wise, people in here don't have that opportunity to work physically in the plantation like in Samoa, so they don't have anything to do here," said Mr Mua.
"It also prolongs life for the elders because when you sit at home all alone it brings you down, but here they can mix and mingle and share a laugh."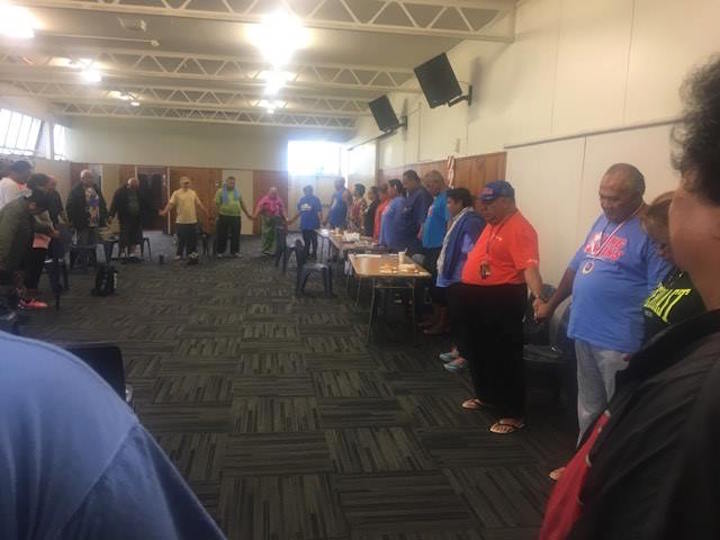 Mangere's 'Walking Samoans' end their session in prayer.
Reverend Minister of the Assembly of God, Motu Matia, 76, is a member of the Māngere Walking Samoans group.
They meet every Tuesday morning and walk for an hour around the Māngere Town Centre in groups according to their ability.
Advanced members walk for an hour, intermediate for 45 minutes and those who are slower walk for half an hour.
For Reverend Matia, the distance can sometimes be challenging, but he enjoys the fact he is doing it with a group of people who encourage him.
He has also seen a change in his health since joining the movement last year.
"I feel a lot happier and all the other pains I felt in my feet and arms are gone once I started walking," said Reverend Matia.
Others to enjoy the benefits of the group include Situpu Olo, 53, who joined two years ago. Her weight has since dropped from 103kg to 96kg.
Mrs Olo worked a 12-hour night shift at Auckland Hospital and was still able to join her Walking Samoan group at 9am.
Busy women like her should always make time to work out, she said.
"Leave some work for another time and make the time for yourself to be healthy and active."
She said she felt most comfortable working out with her fellow Samoans and losing weight with the group.
Walking Samoans meet both in the morning and afternoon in various locations across Auckland.
The directors and coordinators have set their sights set further afield. They hope to expand to Hamilton, Napier and beyond, and then possibly to Australia and American Samoa.