Two young Chinese run NZ's first international queer film festival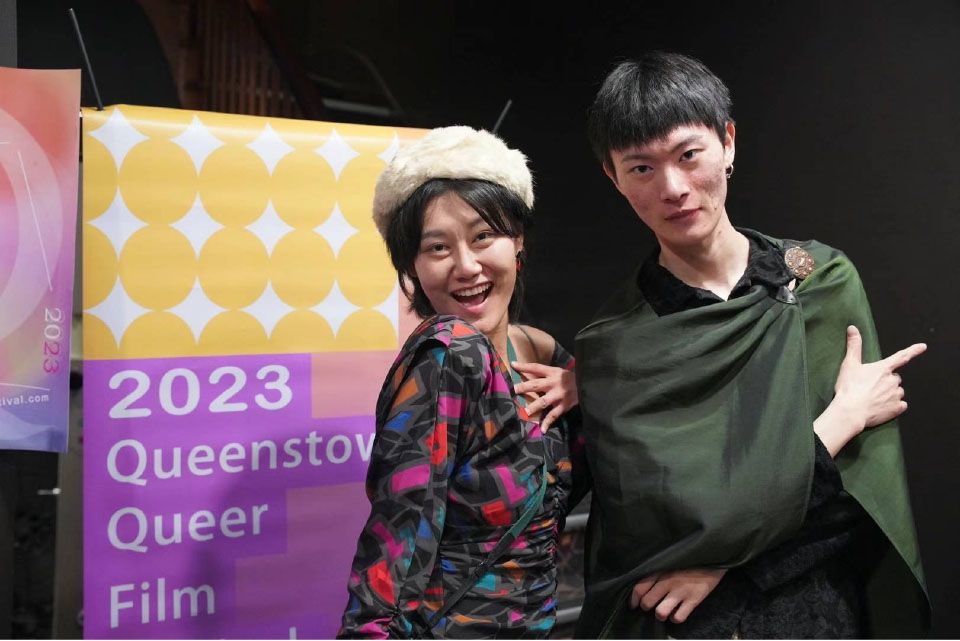 He (left) and Jiang take a photo with the poster of QQFF. Photo: supplied
New Zealand's first international queer film festival – run by two young Chinese on a working hoilday in Queenstown with limited funding and manpower – attracted 643 entries from 81 countries and regions, opening an LGBTQ+ window from Aotearoa to the globe.
Out of 643 films, 16 films were selected, competing for four awards and a total prize pool of $2000 in Queenstown Queer Film Festival, which ran from August 25 to 28.
However, right up to the last day of the festival, one of the organisers, He Wenjie, still had concerns. "What if there are no audiences?"
Attendance wasn't great. On the first day, He placed 80 chairs in the theatre, but only around 20 audience members showed up. The second and third days saw only a dozen or so.
Another organiser, Jiang Zihao, put off surgery to host the awards ceremony. The pain made standing difficult but more than 40 audience members on the final day made him smile as he stood on the stage.
The pair of young Chinese had only decided to organise the festival in early July, on short notice.
Both of them graduated with a major in theatre and film studies but had no experience in organising film festivals.
In a month and a half, He and Jiang undertook massive tasks, from building the festival's website, recruiting film submissions, recruiting volunteer judges from around the world, selecting 16 films from more than 600 submissions, promoting the festival online and offline, selling tickets, and arranging venues.
Most of the work was accomplished by the two, with a few friends volunteering to help.
"Watching over 600 films one by one was certainly exhausting, especially for Jiang. He had a regular job during the day, so he could only review films overnight. But we couldn't dare to slack off.
"You never know what sacrifices some filmmakers made to bring their films to light. We didn't want to miss any good films," He told TWN.
One highlight was an Iranian fillm, Home is Home, directed by Mohammad Safaeipour, which tells the story of a woman painting another woman in a house and how a relationship develops between them.
The trailer for Home is Home.
The film had rough production qualities and relatively simple audiovisual techniques, but what shocked He was the male director's portrayal from a completely non-male perspective. "After watching the film, I had no idea it was directed by a man. It was fabulous."
TWN found there was almost no personal information or award history about Mohammad Safaeipour available on the internet, but he impressed He a lot.
"You can feel that some directors from LGBTQ+ friendly countries in Europe and America are already very professional.
"They provided us with comprehensive information in a single email. But Safaeipour took a really long time to send us his information. In the end, we had to tell him that if he didn't provide the information soon, we might have to disqualify him from the competition."
He told TWN that she didn't know the possible reason for this delay, but she could sense that Safaeipour's situation was challenging.
One of the juries for QQFF, Kevin Mwachiro, a gay activist and a jury member of the 2019 Teddy Award at the Berlinale, said that in Kenya, even though homosexuality was legal, there was widespread social and religious stigma, discrimination, and even threats of violence against the Rainbow community.
Mwachiro noted that there were no African films in the selection. He raised his concern to He and Jiang, as he believed that LGBTQ+ films from Africa should not be overlooked by QQFF.
"We are Black, queer directors or people from indigenous tribes. I think [holding a queer film festival in New Zealand] would be so significant that people can see queer stories exist in other parts of the world," Mwachiro told TWN.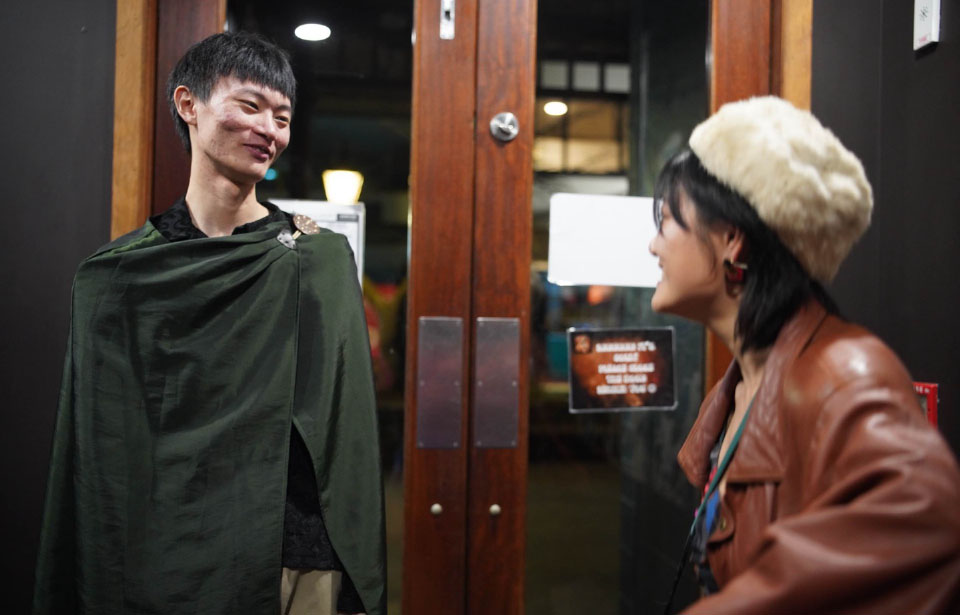 He and Jiang, pictured during the QQFF. Photo: supplied
He said very few African film were submitted to the QQFF. "We really need these diverse voices. We want to present an international perspective and the ecology of queer culture from different countries."
With this in mind, QQFF's juries were from diverse backgrounds. Huang Shuli, the Awards Director of Festival de Cannes and Sundance Film Festival, comes from China; Kevin Mwachiro is from Kenya; Missy Molloy was born in the United States and currently serves as the film programme director and a senior lecturer at Victoria University of Wellington.
He told TWN that during the judging process, the diversity in queer culture was evident.
"In some European countries, their films are already discussing issues like same-sex parenting, while [other countries] are still struggling with coming out and whether the Rainbow community can be accepted by the public.
"These issues might not be as attention-grabbing at film festivals in developed countries.
"This is the reason why we chose to hold the festival in New Zealand. We want to showcase all the challenges with tolerance," said He.
Jiang identified himself as a gay when he was young. He shared his experience as a member of the Chinese Rainbow community with TWN. Despite graduating from one of China's top media universities, it was difficult for Jiang to find queer culture among young Chinese directors.
"We have many talented filmmakers at our university, and some of them are interested in LGBTQ+ topics and might make relevant videos.
"However, no one creates LGBTQ+ themed films as their official movie products. In China, such works could affect your resume and future prospects."
One of the founders of the Beijing Queer Film Festival, established in 2001, is Jiang's friend. He could sense that in recent years, the environment has become increasingly challenging, and the festival has gradually gone underground.
"In the past, I could still see information about the film festival on various social media platforms. In recent years, I didn't even know when they opened. They can't even publish articles related to LGBTQ+ on their WeChat official account anymore," said Jiang.
Jiang has invited one of the founders of the Beijing Queer Film Festival to be one of the judges for QQFF next year. He also told TWN that after establishing this film festival, some director friends in China said to him, "I'm really envious of you."
He told TWN that when she suddenly decided to hold a queer film festival in early July, her intention was simply to "leave something behind in New Zealand".
"Before coming to New Zealand, I suffered from severe depression, but life here cured my pain. My working holiday visa will expire in October this year, so I wanted to leave something behind in this beautiful place."
As a result, He and Jiang worked intensely for over a month, self-learning many professional skills. He said she didn't even know what format films should be delivered to the cinema in before the festival. By the day before the festival's opening, they had sold more than 20 tickets in total and gave away many tickets to residents of Queenstown.
"We invested more than $3000 ourselves this time, so the losses are definitely substantial," Jiang said with a smile.
One of the judges for this film festival, Missy Molly, said that although New Zealand had a rich film culture, queer films were still niche here. "The more viewers here attend niche festivals like QQFF, the more this sort of curated content will seek us out," said Molly.
He told TWN that although the audience wasn't large, they gained a precious group of viewers. "I can feel that they genuinely enjoy these less mainstream films and understand what we want to convey. They told me, 'Even though I didn't see much of a plot, tears flowed involuntarily,' 'I felt dazed when I left the cinema, thinking about the film all the way home.'"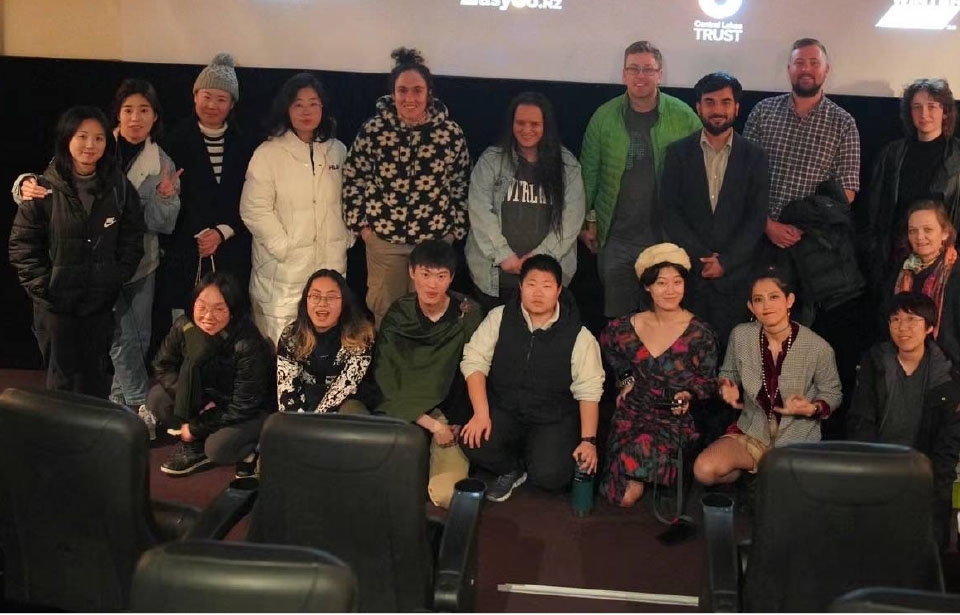 Audience members and directors at the Queenstown Queer Film Festival. Photo: supplied
"We know that this film festival is very young and immature, and its influence is still very limited, but we're making progress step by step. Even if it's just one flower blooming, we're letting it bloom, no matter its fragility, " said Jiang.
QQFF plans to tour cities such as Auckland and Wellington with the award-winning films. He plans to return to China in October of this year, but she said she will continue to be involved in the planning of the film festival's touring events online and keep QQFF going.