The New Zealand film industry is booming, but concerns over job and funding security persist.
Representatives from five political parties were challenged at an Auckland Screen Industry election forum on how their parties would support the film industry, and its workers.
Film industry tax consultant Pieter Holl, who addressed the forum before questions were put to politicians, said the industry needed a cross-party commitment to entrenching the New Zealand Screen Production Grant.
Mr Holl said he didn't see much strategic focus from either central or local government towards the development of the film industry.
Support that did exist was given "begrudgingly", he said.
Arts and culture minister Maggie Barry took issue with that, saying the Government was committed to the sector.
She said she was "surprised" to hear Mr Holl said the grant was given begrudgingly.
"When we brought it in, we were absolutely aware of the need to be able to attract really big projects here, so we could build a career path that gives you something to do all year round. By giving this money it provides consistency."
At the forum there was cross-party support for continuing incentives for the industry, with Ms Barry saying they were "here to stay".
However, Green Party representative Chloe Swarbrick, standing in for MP Gareth Hughes, said while her party supported government incentives for filmmakers, they were opposed to weakened labour laws in the industry.
The so-called "Hobbit law" passed in 2010 means film industry workers are effectively contractors, rather than having the full protections of employees.
Forum moderator Russell Brown noted that the New Zealand Film Commission cited labour laws as a competitive advantage for international projects.
Minister Barry defended the current laws, said overturning the labour laws could endanger the industry.
"Those labour laws, frankly, if they hadn't changed, we wouldn't have been able to attract the international movies that we did."
Mika Haka, of The Opportunities Party, said health and safety regulations were lacking for workers in the industry, and that needed to change.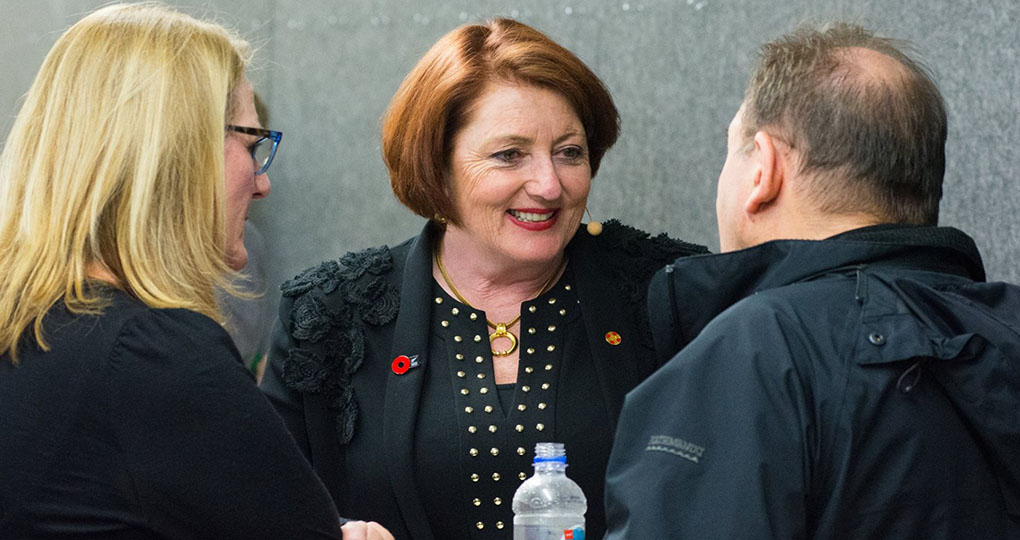 Arts, culture and heritage minister Maggie Barry at the Auckland Film forum. Photo: supplied