An upcoming fashion show promising to provide an inclusive platform for designers has the community buzzing.
The Rogue Fashion show, founded by flatmates Billy Blamires and Kat Aucamp, aims to create a more collaborative and diverse space for creatives in Aotearoa.
Blamires says that the title is a play on Vogue and was born out of a frustration with New Zealand Fashion Week's inaccessibility for young designers and artists.
"With tickets costing as much as they do and being involved costing as much as it does… we respect that NZFW has its place in the fashion world, but it just isn't really a spot for people like us."
NZFW launched a call out for emerging designers called Viva Next-Gen during its recruitment stage. Aucamp says it appeared to be a shoulder-tap opportunity, only to cost almost $4000 to be involved.
"Why pay $4000 when we can do this shit ourselves?"
Rogue Fashion aspires to promote those feeling the shortfalls of NZFW the most.
"There is a lot of cool shit going on in New Zealand that doesn't necessarily get seen," says Blamires.
"We're going to create our own space for young people, models and designers who wouldn't necessarily get a spot in Fashion Week."
Flatmate and facilitator Stella Nichols says this separates them from traditional fashion shows in New Zealand.
"It's not merely 'do you fit our brief?' It's, 'so what are you about?' We want you to be a part of this – come as you are."
The team has just closed their open casting call for models, many of whom they say have never modelled before.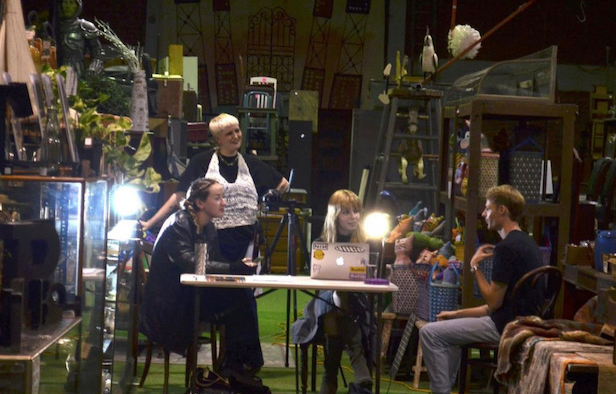 The Rogue team at the most recent casting call. Photo: Sophie Watson.
They've been focusing on casting models who are gender, racially, and physically diverse.
Blamires says representation is something NZFW has been lacking.
"Sometimes fashion week - the inclusivity they have feels a little bit performative… they're doing it because they have to, not because they care about these people."
NZFW have just announced their lineup of designers, including their first Māori creative to open the show, Kiri Nathan.
Nichols says this milestone is Fashion Weeks' main push for publicity at the moment.
"It's great, but it's too late... It's why people have been so excited about what we're doing – they've found [NZFW] a bit stale and not creatively fueling for them and they'd rather be with something more inclusive."
Since the group's initial social media post on April 6, they've garnered around 300 responses from creatives both supporting and offering help.
Aucamp says it's been a long time coming in their community.
"We realised everyone had been waiting for someone to do something."
They also say this boom hasn't gone unnoticed among professionals.
"All we know from talking to people working in the fashion industry is that everyone is talking about us."
Aucamp says Rogue is prioritizing their focus on their community of creatives.
"We're not trying to emulate a big flash runway show – it is what it is, and that's the charm of it."
But they still have big dreams for their future.
"Ideally, what we'd like to do, is create a platform that makes contacting easier," says Blamires.
"We've been able to see that we do have the opportunity to do something [big] with it. If we're doing this, we might as well push it as far as we can. I definitely think we can get it somewhere."
Rogue plans to host their first fashion show in September of this year, with affordable tickets for both students and creatives.