The first original student theatre show by AUT students has premiered after a successful crowdfunding campaign.
"The Multiversity", an original production by the AUT Performing Arts Club, is the first entirely student-run theatrical show.
Viola Ember, AUTPA president, said it had been challenging but rewarding to develop the show, which follows two friends travelling between dimensions that parody various fandoms and popular franchises.
"It was very hard, we had no support, no experience… it's been like a full-time job alongside everything else."
The show was originally meant to premiere last year but had to be adapted into a Zoom production due to the Covid-19 lockdown.
Yuvraj Patel, who plays one of the leads, said, "I hadn't even met my co-stars, I hadn't met anyone and I was acting to literally my bedroom wall."
The stage version of the show was funded in April through the Auckland Arts Comeback, a crowdfunding initiative spearheaded by arts funding organisation Boosted.
The Auckland Arts Comeback worked through a match-funding partnership with Auckland Council to fund 25 artistic ventures in Auckland.
Each project ran an individual crowdfunding campaign. The donations they raised were matched by Auckland Council, which doubles the total amount.
AUT Performing Arts exceeded their fundraising goal, raising 110% of their $4,000 goal.
Ember said that it was important to prioritise the arts during the post-lockdown recovery process.
"We are the next generation, if you don't help us and give us the support it's [performing arts'] going to die out."
She also said that theatre boosts people's confidence and helps people grow their compassion and empathy.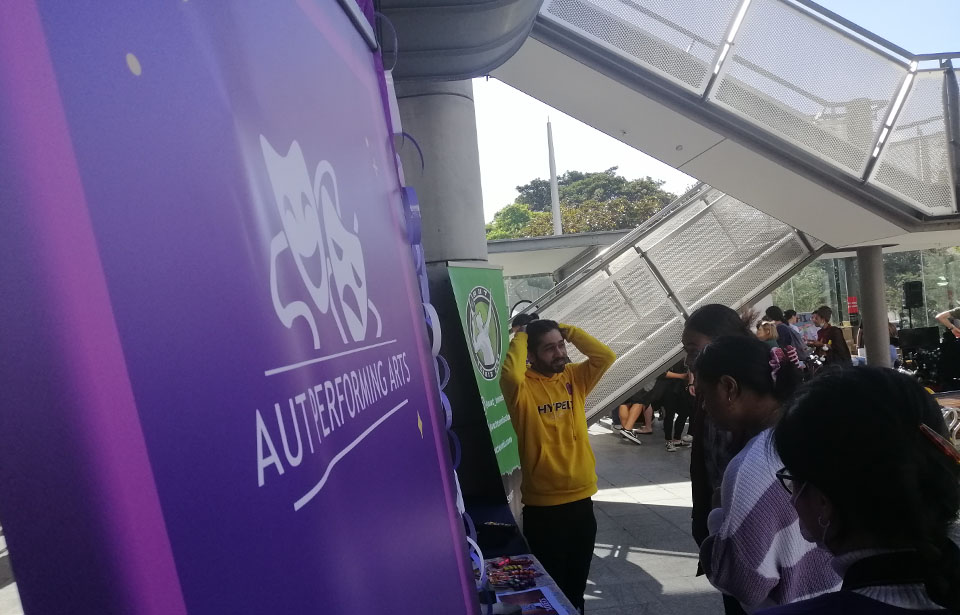 Interested students visit the Performing Arts stall at AUT clubs day. PHOTO: Joseph Hisayasu
"Even if it's not because you like theatre, invest in it for the sake of creating that culture."
Boosted Coordinator Lili Bay said that funding the arts is important because it enriches people's lives, often without them realising.
"Especially during covid, creativity and creative projects are what got us through, movies got us, music gets us through… arts, from Boosted's perspective, are such an integral part of New Zealand culture," she said.