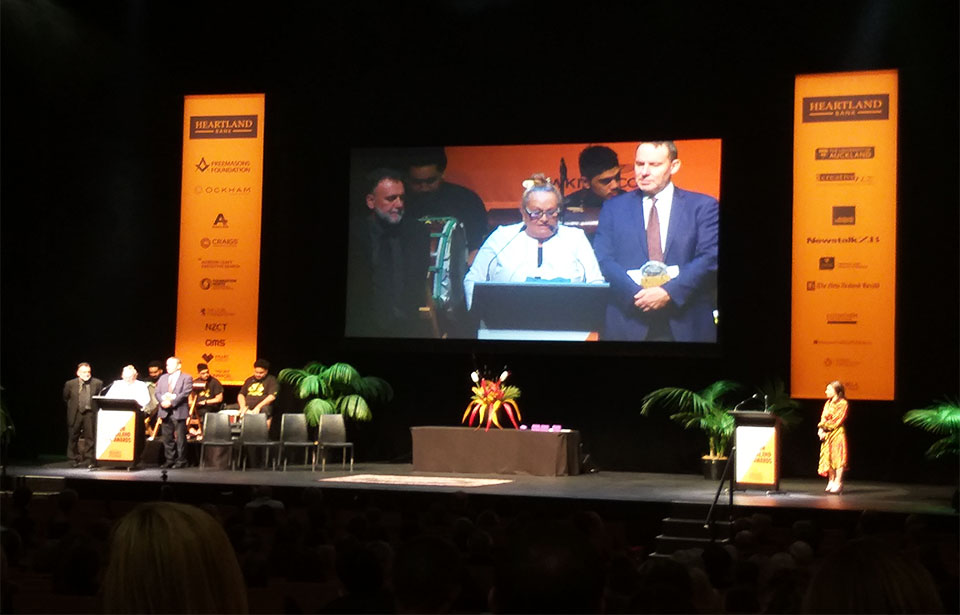 Tania Ka'ai received the award on behalf of Sir Tīmoti and the family of Dr Milroy. Photo: Esme O'Rafferty
Two of New Zealand's pioneering Māori language academics were honoured at the Ockham New Zealand Book Awards last night, receiving the Māori Language Award.
Sir Tīmoti Kāretu and Dr Wharehuia Milroy were honoured for their book He Kupu Tuku Iho: Ko te Reo Māori te Tatau ki te Ao at the Aotea Centre.
It was the only finalist for the discretionary award, reflecting the authors' influence on te ao Māori.
Dr Ruakere Hond, who judged the category, said that the value this book had for New Zealand was undeniable.
"Staunch advocates of our spoken reo have relentlessly sought to sit down with these two most influential exponents of reo Maori," he said when presenting the award.
"Few have had the opportunity; this book now opens the door."
Dr Hond also said that this award recognized the need to specifically emphasis Māori writers.
"To have their book awarded this prize of Te Murau o te Tuhi [the Māori Language Award] is significant. It's made extremely difficult, however, with the loss of Te Wharehuia last week," he said.
Dr Milroy received this award posthumously, after passing away last week at the age of 82 after a long illness.
"As the judge for this award, it's very difficult to talk about the way in which he influenced many people such as myself…his real skill was with a few words, saying something very deep and meaningful," Dr Hond said.
Dr Hond said that while there were a few other books considered for this award, Sir Tīmoti and Dr Milroy's work was of such a standard that it was the clear choice for the winner.
"It's not just about having a book that's written in Māori. It's about having a book that actually exemplifies the ability of writers and encouraging people to read in Māori," he said.
He also hoped that the influence of this award and seeing this book published would encourage more writers in te reo Māori to publish their work in the future.
"It will inspire a whole generation of writers. That's what I hope, but it's more than what I hope – it's what I believe," Dr Hond said.
Chair of Creative New Zealand Stephen Wainwright, who presented the award, agreed.
"We have all borne witness to and been delighted by the public surge of interest in te reo Māori, and seen how te reo Māori is increasingly becoming integral to our identity as New Zealanders," he said.
"This is an award that has traditionally very few applicants, and so my wero, my challenge, to all of us who support this work is to champion the development of writers writing in te reo Māori."
"In a few short years, we hope that this category will be bursting with books," he said.
Professor Tania Ka'ai, director of Te Ipukarea, the National Māori Language Institute, accepted the award on behalf of Sir Tīmoti and the family of Dr Milroy.
She thanked Auckland University Press for being "bold" in not publishing the book with an English translation.
"Our hope is that you will continue this practice as a vehicle for other writers of te reo Māori to be published, as well as to inspire other publishers to adopt this practice," she said.