Video games are proving a popular way for people to socialise during the Covid-19 pandemic.
Video game use has rocketed by 75 per cent in the United States after governments urged people stay at home and isolate, according to a Verizon study.
The numbers playing online roleplaying game Toontown Rewritten have tripled since late March.
Toontown Marketing Lead, Brad Flory, says games like Toontown provide a sense of community, designed around fostering relationships, friendships and teamwork.
"Even though you're isolating yourself, it really makes you feel a connection to other people."
The virtual world is a "home away from home" for Mr Flory, who says games like Toontown provide an escape during unprecedented times.
Toontown's servers were forced to upgrade to accommodate 3,300 new players.
Auckland University Software Engineering student, Terence Qu, says his gaming habits have doubled since level 4 lockdown.
He says online multiplayer games have filled the social void in his life, with titles such as Counter-Strike: Global Offensive recreating the feeling of being with friends, while respecting social distancing rules.
Multiplayer first-person shooter CS:GO reached its highest peak in players since it's 2012 release.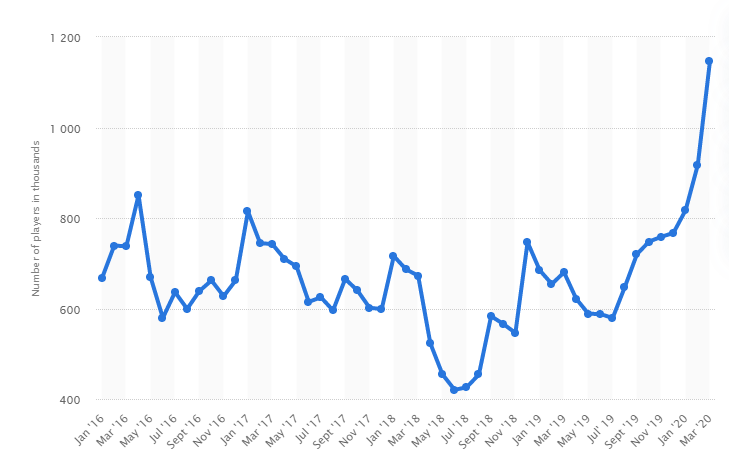 CS:GO Peaks at 1.15 Million Concurrent players. Source: Gough, 2020
Senior Desktop Engineer, Chris O'Connor, says there's a difference between socialising in person and online.
Despite gaming for over 10 years and winning a Counter-Strike tournament in 1999, Mr O'Connor says excessive play can be dangerous.
He says while games can help promote friendship, skill and teamwork, they can also be "seriously addictive"
"I was falling asleep at work from gaming all night, it wasn't healthy."
Mr O'Connor retired from gaming in 2006, but made numerous friends from playing online, many of which he remains in contact with today.