Gallery thrilled to help indigenous artists 'pay their rent'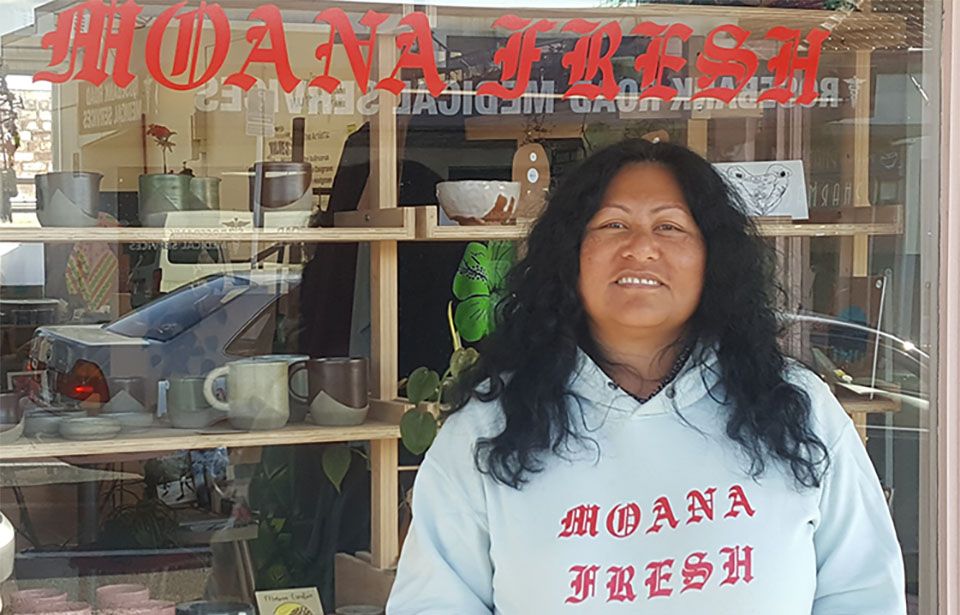 Maila Urale says she is proud to promote artists from her Moana Fresh gallery. Photo: Nina Tapu
Moana Fresh gallery director Maila Urale says she gets giddy at the thought of paying out her artists.
"It feels really amazing when we can pay our artists. Like yay . . . this can help towards paying your rent."
Urale co-founded Moana Fresh in Avondale with Ahilapalapa Rands in 2019 and since then the gallery and community space that celebrates Pasifika and Maori creatives has garnered more than 50 creatives on the books.
Artists exhibit their work via the shop's window gallery Kū Kahiko, which draws in art enthusiasts and patrons into the store who can view and buy the works.
Moana Fresh stocks and sells artworks including jewellery, ceramics, books and accessories on behalf of their Moana Nui a Kiwa artists and in only three short years have completed nearly 7000 orders.
"We are trying to be sustainable. We are trying to provide some sort of income stream for our artists," says Maila.
Fifty per cent of the Moana Fresh customers are women and are of Pasifika descent.
Urale stands by the gallery's for-us-by-us kaupapa and stresses the need to "serve the community".
The gallery is not profit-driven and is a social enterprise owned and operated by artists who are sensitive to the needs and expectations of artists.
"It's not just a sales transaction. People get to take away knowledge. There's so many layers. It is quite political having this type of representation."
Past experiences in the art world have taught Urale there is a standard of treatment artists need to look out for, especially when it comes to interacting with dealers.
"A lot of dealers are not artists. They are businesspeople who are passionate about art."
Urale differentiates her practice from dealer galleries that promote indigenous art by "curating through an indigenous lens".
Moana Fresh is passionate about artist advocacy and runs a Creative New Zealand programme helping emerging creatives navigate the art world.
"We hold very informal talanoa-korero sessions and get leaders in like Victor Rodgers from Savage Colonisers and Jessica Papalagi who did a session on arts funding.
"We have curators come through and had an accountant in to teach about how to do your tax."
Maila says it is a privilege and an opportunity to tautoko artists of the Pacific diasporas and that Moana Fresh's guiding principle is whanaungatanga.
Underscoring that whanau-friendly approach, Maila takes a call from her next exhibitor, Samoan artist Sean Hill, and offers him a petrol voucher as he makes his way up from New Plymouth.