An anti-fascist art workshop kicked off over the weekend, starting a campaign targeting bigotry through art.
The event was organised by Tāmaki Anti Fascist Action, a collective that includes Auckland Peace Action and Organise Aotearoa groups.
Participants screen-printed shirts and made stickers and posters.
Auckland Peace Action member Valerie Morse said art was a way of spreading messages of tolerance.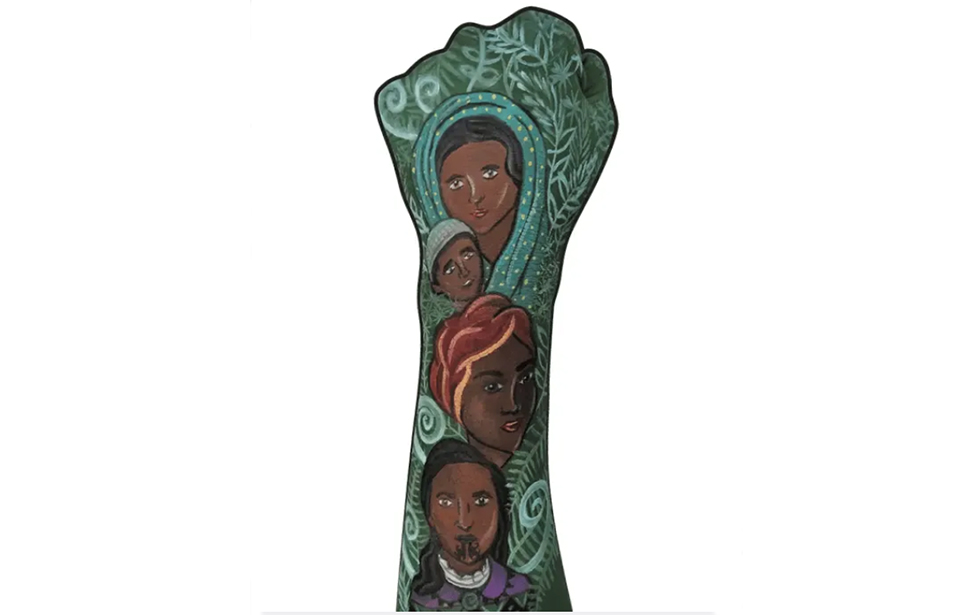 A painted arm from the project Bodies Against Bigotry. Photo: Paint for Purpose
"It's just about finding different ways of communicating those messages that touch people in different ways.
"Without a doubt, New Zealand is a racist society. It was founded on colonialism and violence. But I think in the particular political moment we are in, we are seeing a serious resurgence of white supremacist violence," Ms Morse said.
She said the problem was not racism alone.
"The face of fascism is a multi-headed beast. It isn't just about white supremacy; it's about a whole set of beliefs that are kind of mutually reinforcing.
"We want to build an anti-fascist culture where people not just talk about fighting the Nazis in 1945 but talk about what fascism looks like today, and that doesn't look like 1945."
She said modern fascism looked like hate-mongering, having Islamophobic and transphobic views and incorrectly justifying it as free speech.
The workshop also saw the debut of Bodies Against Bigotry, a project which is a part of artist Jenni Porter's Paint for Purpose.
The project invited people to share experiences of racism and bigotry in Aotearoa and have unique art painted on them. It encouraged those with a message against racism to be painted too.
"This is a very quick way for people to visually be drawn to something and see a piece of art that's kind of cool, and then read the message beside it.
"The idea is that it empowers people to participate in the projects and gives them a platform to share what's really important to them."
Ms Porter was drawn to the theme after witnessing the "disturbingly fast far-right rise" in the UK.
"It's always been there, but it's really gained speed. It's almost become quite normalised for people to talk about quite extreme, negative, bigoted opinions," she said.
Sarah Roark, a workshop participant and recent immigrant from the United States, said she was glad to attend.

"To finally connect with people who were both on my art wavelength and on my activism wavelength was really comforting and cheering.
"It's a little thing, but it's a beginning," she said.

Ms Roark is on the editorial board of Refuse Fascism, an organisation calling for candle-lit revolutions that are disruptive and non-violent to get President Trump impeached.
She said she felt New Zealand would play a part in the global stance against fascism.