Helping young people from underrepresented backgrounds be recognised as leaders is the aim of a newly-launched organisation.
New opportunities for ethnic rangatahi are among the priorities for Multiethnic Young Leaders NZ (MYLN) which was officially launched at Government House, Auckland, hosted by Their Excellencies, The Right Honourable Dame Cindy Kiro and Dr Richard Davison.
From mentorship programmes to networking events, the non-profit network of ethnically diverse young leaders is committed to furthering equity and diversity in leadership.
It is difficult for rangatahi from underrepresented backgrounds to be seen as leaders by those who are in positions of power, says Michelle Huang, MYLN's chair and interim general manager.
"We try to provide platforms that help to increase the mana of our people, from diverse backgrounds, in front of all the executives, directors and commissioners.
"We want that to be normalised," she told TWN.
LISTEN: Michelle Huang explains why people need to join in MYLN's efforts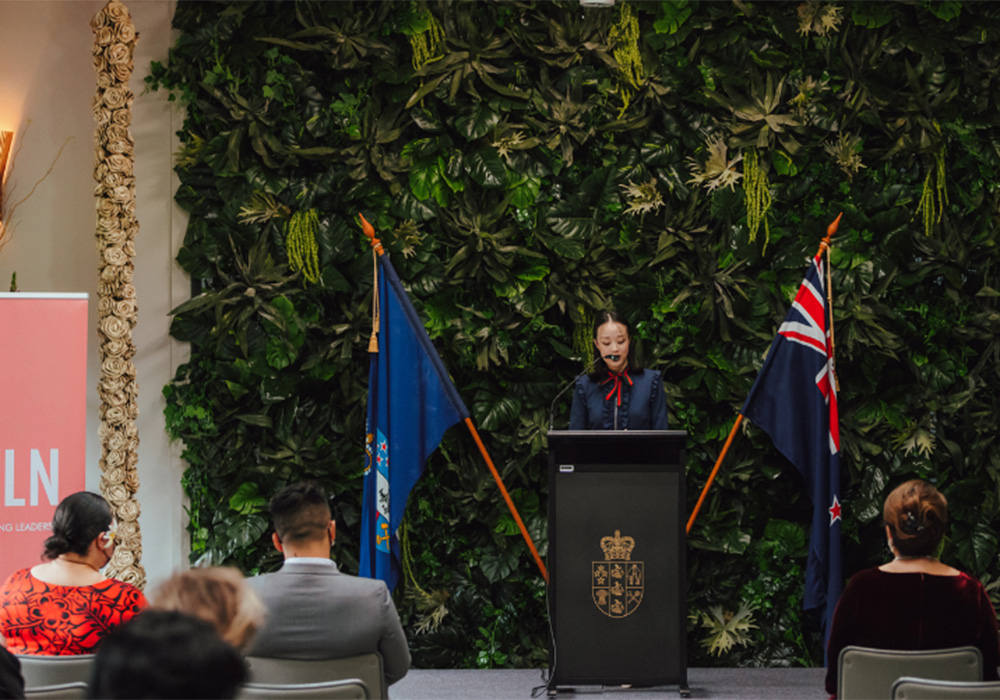 Michelle Huang speaking on the kaupapa of Multiethnic Young Leaders NZ at Government House. PHOTO: MULTIETHNIC YOUNG LEADERS NZ
Te Ariki Te Puni, MYLN's Māori vice-chair, said as an organisation that promotes diversity and equity within Aotearoa, it is important to have a Māori voice.
"Our people are some of the most affected in terms of social inequities throughout history and so our programme must reflect this accordingly," he says.
MYLN has been working on normalising Māori tikanga and Te Reo Māori within diversity, equity, and inclusion (DE&I) initiatives.
The young Maori leader has already featured on RNZ's midday news segment, Māpuna, to talk more about this kaupapa.