A distilling renaissance: New Zealand welcomes a wave of whisky distillery openings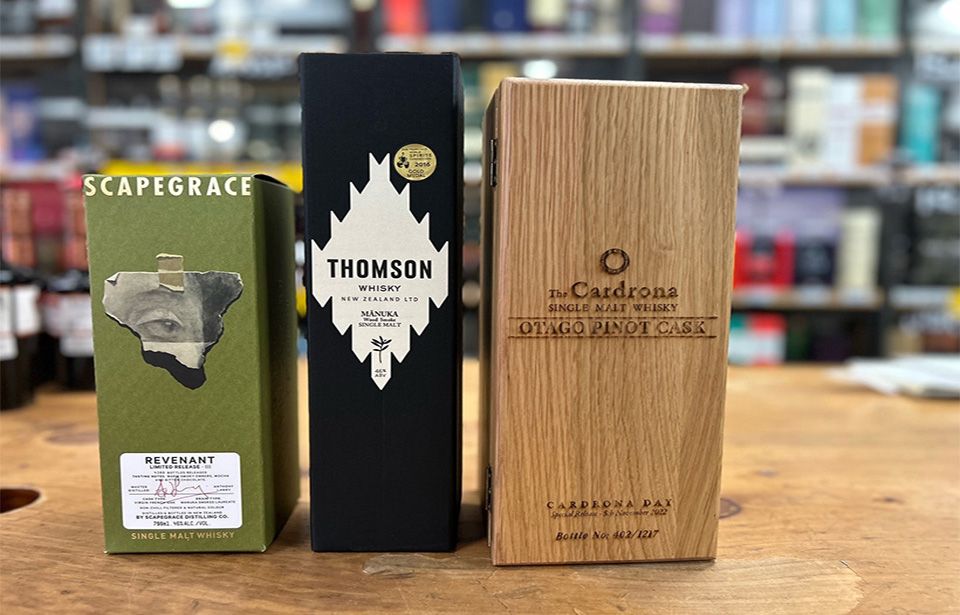 New Zealand shops offer now a wide range of Kiwi-made whiskies. Photo: Nick Ball.
The New Zealand whisky industry is seeing a revival with the number of distilleries on the rise.
Glengarry Wines' Aroha Jakicevich says despite being small, the country's whisky industry is growing.
"We've had periods of no distillery with the closing of Willowbank in Dunedin in 1997. As of now, we have 20 distilleries producing and aging distilled spirits in New Zealand."
One reason for the growth in the number of distilleries is the high demand for Kiwi whisky locally and overseas, says Waiheke Whisky's head distiller Patrick Newton.
"New Zealand-made whisky is on the up, every year a couple of new distillers seem to pop up."
Newton says that the recent lockdowns as well as increasing carbon output awareness have also contributed to the growing popularity of New Zealand whisky.
"During and after the lockdown people started to source more things locally in terms of what they eat and drink. It's a good thing that people are aware of carbon miles and trying to be a bit greener."
To compete with other whisky makers, New Zealand distilleries use local ingredients such as Canterbury malt and manuka smoke to give their products a distinctive flavour.
Some distillers also use ex-wine barrels that were used previously to age New Zealand wine, says Newton.
"We use ex-Waiheke chardonnay casks to age some whisky. What better way to show Waiheke to the world than use a barrel that previously aged Waiheke chardonnay? Some others use pinot noir. It just contributes to the sense of place."
As a former winemaker in Hawkes Bay and Waiheke, Newton prides himself on producing whisky that has a "sense of place".
"One of the most important things is making a product with a sense of place, we're not trying to make a Scottish whisky or Irish whiskey (with an e), we're trying to make a Waiheke whisky."
Waiheke Whisky uses raw malt from Canterbury and local rainwater in the distilling process. Further giving Waiheke whisky a unique flavour, Newton says, is the environment in which it's made.
"The terroir of where we make our whisky comes out. We are close to an estuary on Waiheke which provides sea spray. When the wind is right it comes into the distillery and has sometimes gone into the mash. This means that our whisky has a different flavour from the sea spray to a whisky made in Canterbury for instance."
In the future, Newton wants Kiwi whisky to be well-regarded internationally.
"I'd like to see New Zealand whisky become a recognisable product around the world. Maybe one day I could walk into a bar in say Belgium and see enjoying it. We're already making headway; it just takes time."