Vape store owner devastated after third burglary in two weeks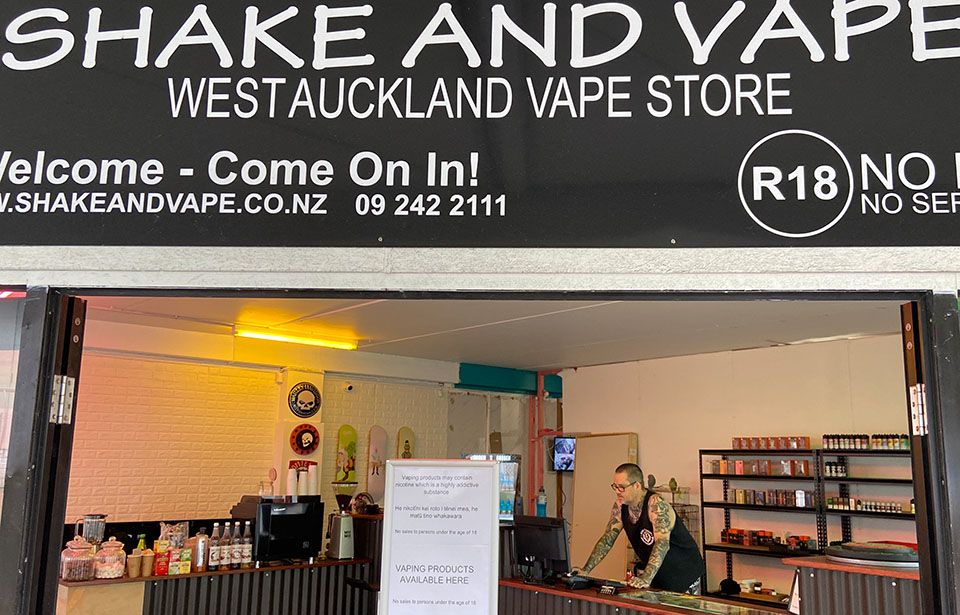 The West Auckland store has been robbed three times in less than two weeks. Image: Tofoi Lafaitele
A West Auckland vape shop owner is keeping an all-night vigil at his business after burglars targeted it three times in a fortnight.
Shake & Vape NZ Ltd in Glendene was targeted in three separate burglaries, with the latest on March 3.
Owner Jamie Bessant says the burglar arrived on a motorcycle and used power tools to break in.
"Someone came [on] a motorbike and brought portable grinders and things like that and ground all the doors and locks off of the store," he said.
Bessant says he was in a "very deep sleep" at the back of the store when the sound of the security alarm woke him.
"I was alerted [when] our security system and alarm all went off 10 minutes after the robbery happened," he said.
"Our alarm had gone off after the guy had already left the store," said Bessant.
Police were alerted after each incident.
Even so, Bessant expressed frustrations at the way that each burglary has been handled.
"[It's] absolutely terrible. They don't know what's going on . . . now they are telling me that they won't go and search for any footage [of the burglaries] because they don't have time," he said.
Detective Senior Sergeant Megan Goldie said the investigations remained in progress and that police had given the owners advice on better security measures.
"We're aware of three recent incidents at a particular address in Glendene while the business has been closed and police enquiries into all these events are ongoing.
"Police staff have engaged with the business owners and provided tailored prevention advice to improve its security and to reduce the risk of being targeted by offenders," she said.
With no insurance for his store, Bessant said the burglaries had left both him and his family financially and emotionally stressed.
"We've rinsed everything in our savings. We can't get insurance because we're a vape shop and they won't cover vape shops anymore due to how often they're getting ram-raided," he said.
"My partner and my kids, they're at home. I haven't seen them in weeks and weeks and weeks because I'm sleeping in the shop.
"I have to stay here . . . I have to sit up until four or five in the morning every night, keeping an eye on security," Bessant said.
Laws regulating the sale of vape products in New Zealand were proposed under the Smokefree Environments and Regulated Products (Smoked Tobacco) Amendment Act which took effect on January 1 this year.