Refugees in Mt Roskill are about to receive bicycles, restored and painted by prison inmates.
The old NZ Post bicycles will be given a new breath of life and put back in the community, continuing an ongoing endeavour to support new refugee families.
Auckland Prison (also known as Paremoremo Prison) rehabilitation and learning principal advisor, David Grear, said the project had resulted in more than 70 bikes being donated to a variety of different causes.
"Being involved in the scheme teaches them [inmates] the fundamentals of having a job as well as light engineering and bike maintenance skills that may lead to employment on release."
"We had one worker saying 'if I can fix a bike I can fix myself.' Helping the community can provide them with a real sense of purpose," said Mr Grear.
The project started with a bike kitchen on site which repaired bikes the prison collected from a community recycling group involved with inorganic collections.
"One of the managers here knows Steve Hodge of Roskill Youth Zone and saw it as an opportunity for us to expand our community support into other areas, especially refugees," said Mr Grear.
Manager of Roskill Youth Zone, Steve Hodge, helps facilitate the bikes to their new owners. He said he's just "doing his part".
"I enjoy seeing a poor bastard from Syria getting a new bike.
They are good bikes, with baskets for groceries, Mr Hodge said. "Mt Roskill is a melting pot of migrants. Some of these guys come here with nothing."
Roskill Youth Zone is a dedicated Auckland Council space for young people in the community, located in Wesley.
Mr Hodge said the project "just keeps growing."
"I started working with [a volunteer group]Earth Action down the road, who've been working with the refugee centre giving essentials to newly settled families.
"We also have a bike kitchen out here in the community, where we a have bunch of bike mechanics through Auckland Transport."
Mr Hodge said it was: "a beautiful and exciting community". He was keen to do more.
"The bike work is really labour intensive, so having the folks at the prison to help us out has really moved the whole process along.
"We took the first batch last week and it was a huge success."
The Paremoremo Prison bike programme has already donated more than 70 bikes to Women's Refuge, Resettled Communities (refugees) and the Prisoner Aid and Rehabilitation Society.
The Department of Corrections is seeking public bike donations.
"We would be interested in anyone who would like to volunteer and work with the men up here on the project," said Mr Grear.
Mr Grear can be reached at david.GREAR@corrections.govt.nz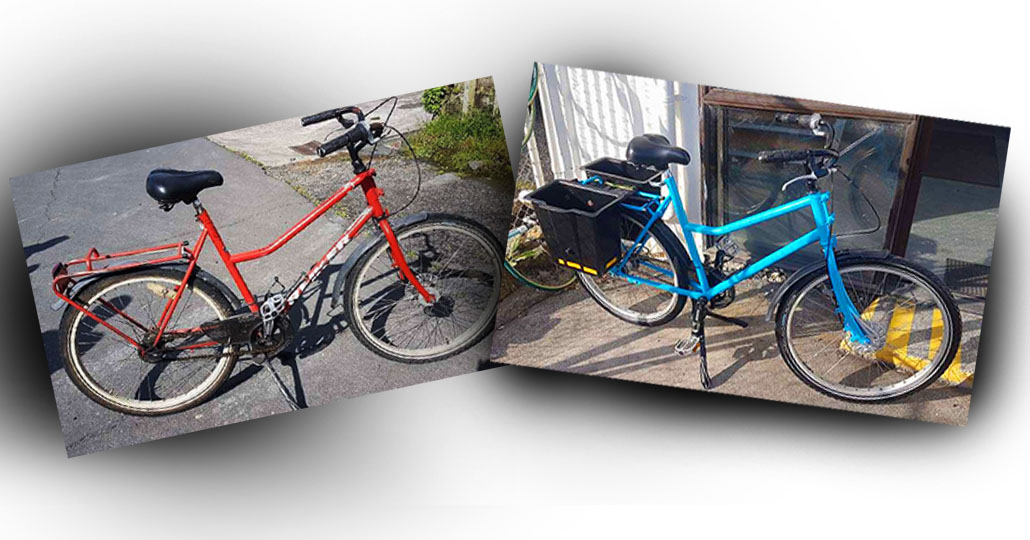 From old to new. Photo: Supplied