Welcome to 2016 – where you can buy a burger, without the meat, and it still tastes like the real deal.
Former engineer Tim Burrows, 27, is the founder of Wise Boys Burgers – claimed to be New Zealand's first fully-vegan food truck.
He, along with his brother Luke and friend Beka Hope, are trying to change the food industry, one patty at a time.
"To be honest, I just wanted to start a business that didn't destroy the world," Mr Burrows said.
"A business that, in all aspects of it, was sustainable and ethical – that was my drive."
They started in an old shack Tim put together, selling burgers like the 'Kiwi', 'Moroccan', and 'Spicy Mex'.
Their logo of choice – a cartoon-shaped torso shot of Prince Charles. The trio's popularity has since soared, made most evident by their recent PledgeMe campaign which raised $15,000 in just one month.
They used the money to build a brand new truck that enables them to peddle their wares to a wider audience. But it's hard to imagine a burger-making business that makes patties without meat.
Instead of using beef, lamb or chicken, Wise Boys use beetroot, beans and linseed.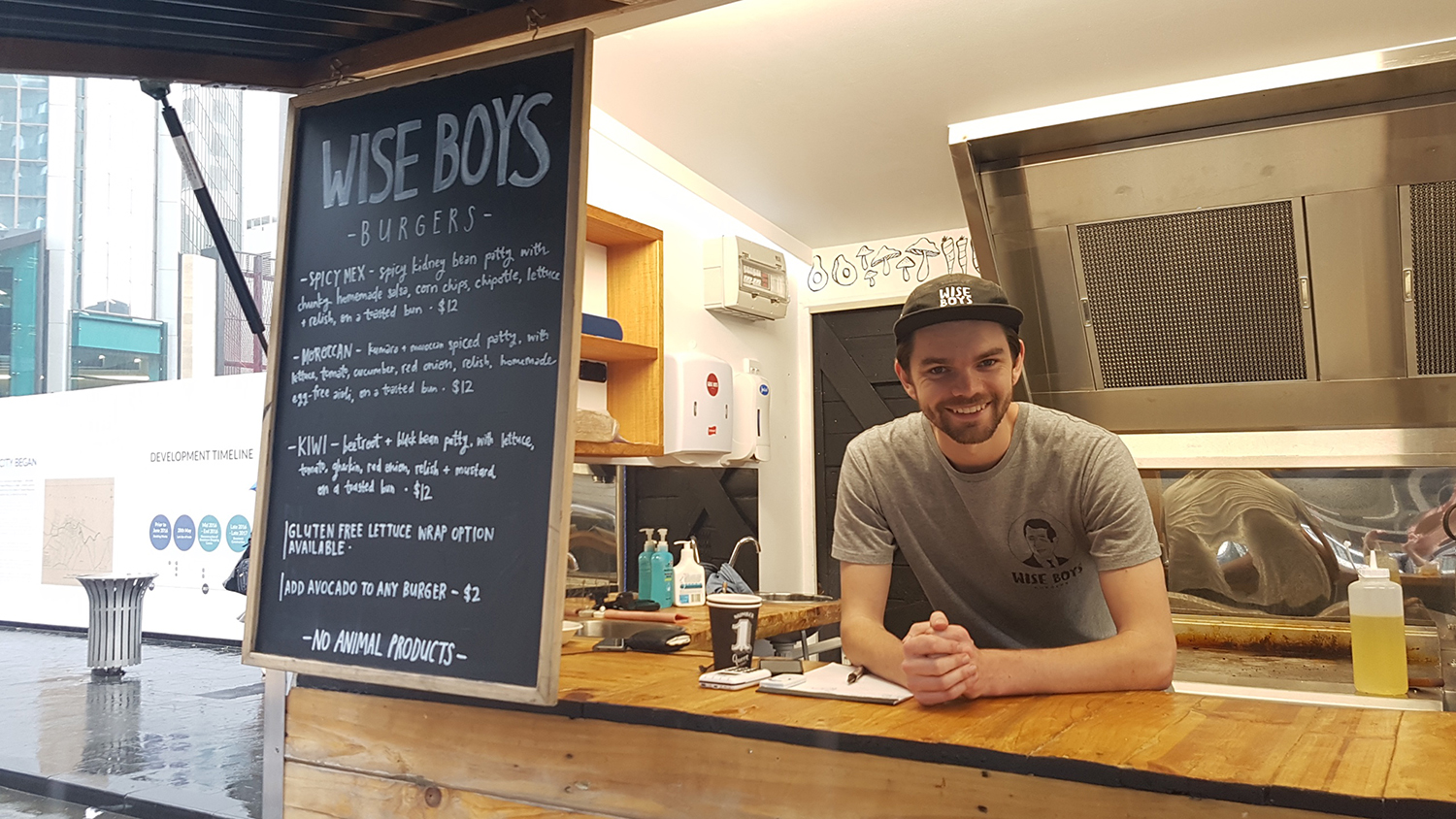 Tim Burrows engineered the Wise Boys Burgers food truck from scratch. Photo: Sam Hewat
They may have captured current trends, but pioneering restaurateur and AUT executive chef and culinary advisor, Warwick Brown, doesn't think food trucks are financially stable enterprises – though admits they could have a future in Auckland.
"They don't make a lot of money, and they don't get a lot of support from the council. If you look at New York, and San Francisco, where food trucks are huge, it's all a numbers game.
"They get support from the council, setting up areas that attract 10,000 to 15,000 people.
"Their menus aren't expensive, but the lines are 50 people deep and they just push through numbers."
Mr Brown does think Auckland could embrace a San Francisco or New York attitude, saying food trucks embrace the hip, new culture that resonates with the next generation.
At the same time, however, he questions the rise in vegan and other alternative menu options.
"Why, in the last 10 years? Why is this happening all of a sudden? Is it just trends?"
Liam Badger, a non-vegan customer, said he enjoyed the trio's meat-free meal not just because it was environmentally friendly, but because of the taste.
"They know how to make it so that you're not focused on the lack of meat," he enthused.
"You actually don't miss the meat, and they make it with such nice sauce and relish."
While Wise Boys is a mobile venture, Mr Burrows hopes the future has more growth in store.
"Having a permanent restaurant would definitely be the dream."