A new lecturer at Auckland University is teaching the science of psychology using cultural frameworks.
Dr Sam Manuela, who is of Cook Islands and European descent, graduated from the University of Auckland with a PhD in psychology.
Dr Manuela started his academic journey in 2005 and went on to complete a Bachelor of Science with honours, followed by his Masters and then a PhD.
He said it was a huge relief walking onto the stage to receive his doctorate after years of hard work.
"They read a little blurb of your research and it's really cool to hear what you've done with a large audience in a really prestigious ceremony."
His work focuses on the integration of Western psychological theory and indigenous, Pacific concepts of the self, ethnic identity and wellbeing.
Dr Manuela said psychological frameworks were not necessarily suited to Pacific populations, but hoped his work bridged that gap.
"When we look at people, people are from different cultural groups, so psychology should draw on those different elements as well," he said.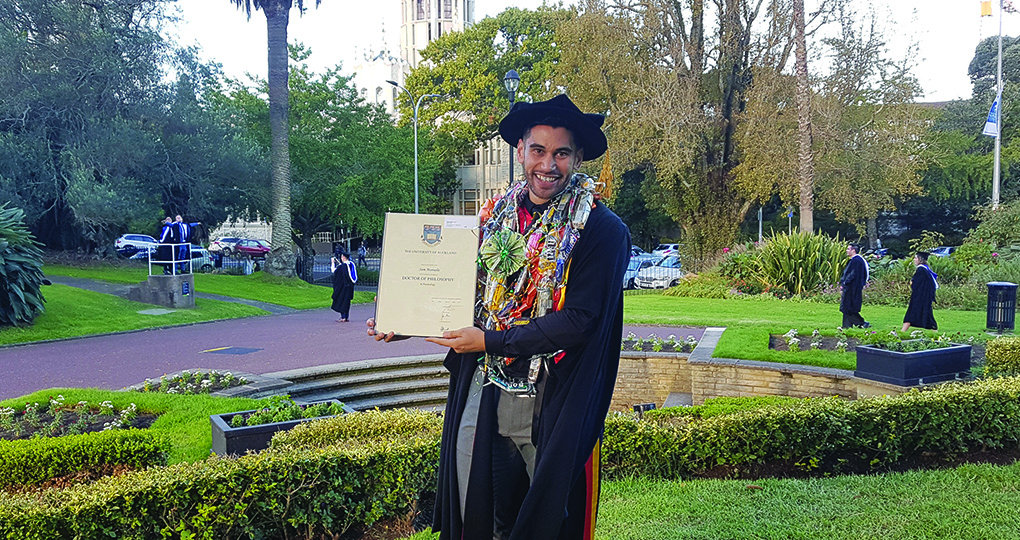 Dr Manuela was the first person to go to university from his family. Photo: Supplied
Head of School Professor Will Hayward said in a statement that Dr Manuela's presence at the university was very important as Pacific populations were under-served by the discipline - and mental health services in general.
The 30-year-old joined the university's teaching team this semester, becoming one of only a handful of Pacific lecturers in the School of Psychology.
"I'm really encouraged when I have students from various backgrounds come up to me and say 'I didn't know that you could do these kind of things', or when they see similarities with their own cultural background [with] the research I do," he said.
A PhD candidate at the University of Washington, Patrick Thomsen, said in an email that as a Pacific academic himself, successes such as Dr Manuela's set an important example for the rest of the community.
"Sam's success is like lighting a matchstick in the dark of the night. It illuminates for budding Pasifika academics the immense possibilities that we all covet," he said.
Dr Manuela said he saw his success as an achievement for the Pacific community as a whole.
"Hopefully other Māori and Pacific students who value their culture in science can see how the two can be integrated in a meaningful way that is beneficial, not just for scientific research but cultural research as well."