A survey conducted by the Ministry of Business, Innovation and Employment (MBIE) has shown tens of thousands of employees were dismissed via 90-day trial periods last year.
The National Survey of Employers found small businesses were only 10 per cent more likely than large employers to have used a trial period and 10 per cent less likely to have dismissed an employee under it.
Legislation passed by the Labour-led government recently will restrict the use of 90-day trial periods to businesses with fewer than 20 employees from May 6.
The MBIE survey found that about 20,000 workers lost their jobs while on trial.
The survey found the most common reasons for terminating a trial were "to check the person's skills or ability to do the job" or "to check the person was reliable and had the right attitude/fit".
However, 29 per cent of employers said the reason was "to avoid dismissal costs and issues if the person was unsuitable for the job".
Graph: MBIE
Josh Perry, a 23-year-old farm worker from the Waikato, was hired on a 90-day-trial at the start of calving season in June last year.
At the end of September, he was suddenly told there would be no more work.
"On the Sunday, the boss turns around and says that you're no longer needed," says Mr Perry.
"They didn't say why. They just told me [they] don't have to give an explanation."
Mariya Sadykova, a 24-year-old event coordinator from Auckland, was dismissed from a trial period after 10 weeks of work without being given a clear reason.
"The only reason they gave was, "You are on the right train but in the wrong seat'," says Ms Sadykova.
"After two and half months working there, I did not expect that and was upset."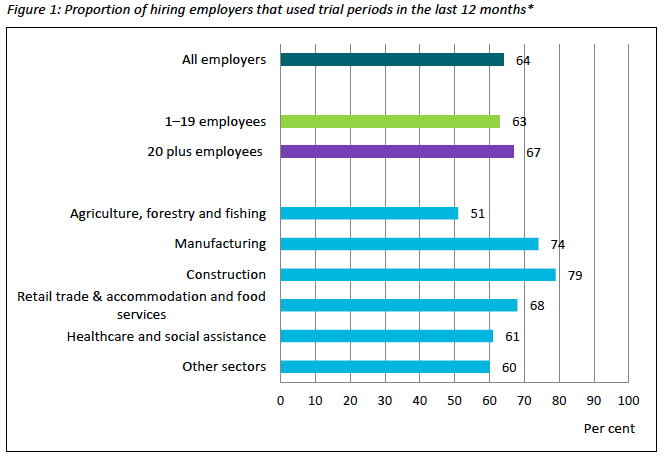 Graph: MBIE
President of the New Zealand Council of Trade Unions Richard Wagstaff says that 90-day-trials should be removed from law completely.
"The Government needs to act to ensure that working Kiwis are being treated fairly and removing trial periods from the law would ensure that employers were not able to treat working people as being a disposable resource," he says.
Graph: MBIE